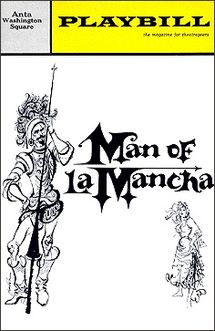 The following is really a personal tale of a story that helped me in a personal way at just the right time. But I'm telling it as a review of the play, Man of La Mancha. Spoilers abound throughout, but this is a rather old story by now.
As many of you know, I sometimes struggle with my faith, especially during times of depression. One night when I was at a low, my wife reminded me we had a play to go to that night. We'd already changed our date for the play once, so even though we didn't feel like going we decided to not waste the tickets. When we arrived at the theater, I saw that the play was Man of La Mancha. I groaned inwardly, "Ug! Not Don Quixote!" Boring! Or so I thought.
Half way through the play I still had no idea where the meandering storyline was going. I couldn't relate to the characters either, so I wasn't enjoying the play much.
Then all of a sudden the threads of the story came together in an unexpected way that.  As the play ended I turned to my wife and said "well… that was sort of like God shouting a message to me… just when I needed it the most."
I will explain the play and its theme and why its message was one that I needed to hear. Continue reading →