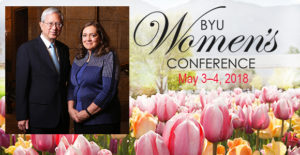 Sorry for the last minute notice for our readers. BYU Women's Conference starts today — YAY! The closing sessions today and tomorrow begin at 3:45 MDT, and will be live streamed on LDS.org. Today we will hear from the Relief Society General Presidency. and tomorrow the speakers will be Elder Garret W. Gong and his wife Susan Gong. Both days should be a spiritual feast!
To follow the Conference on social media, use the hashtags: #BYUWC #BYUWomensConference.
Just a plug for The Millennial Star on Facebook. Recently, Facebook changed what shows up in your newsfeed. Sadly, Millennial Star has been affected by this change. You are not seeing the links to our blog posts and other things we post on Facebook as much as you were in the past. If you get your Millennial Star updates via Facebook, please make sure to go to the "Following" button on our page, and choose the "See First" option. As always we love it when you like and share our posts with your friends.
See the LDS.org Broadcast Page HERE
We hope you enjoy BYU Women's Conference today. Check back for some thoughts on the Conference and tell us what you learned!