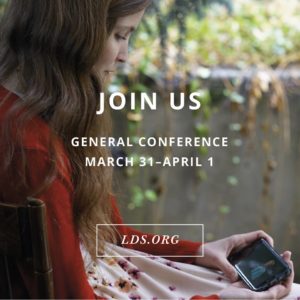 General Conference starts on Saturday morning here's how to watch:
LDS.org
MormonChannel.org
BYUtv.org
The Mormon Channel on Youtube
BYU Radio, from their website and their app
BYU Radio on SiriusXM, Ch 143
If you want to connect with other Latter-day Saints during the Conference, use and follow hashtags on social media. Some common hashtags to use are:
#LDSConf is the most popular and common. You can also use the name of the speaker, for example, #PresNelson or #SisterOscarson. You can click on a hashtag to see what others who are using that hashtag are saying, or you can use a service like Twubs.com to follow along in real time (it's very fast!).
Or you can just unplug, grab your journal and take notes on your own. I love taking notes during Conference and then going back to those notes to see what impressed me in the moment.
The Church usually has the audio available for download shortly after each session ends, with the transcripts coming later in the week. Also, you will probably see lots of LDS sites and facebook pages sharing memes (or picture quotes, as they are called on LDS.org). The Church has these in their media library HERE.
We hope you enjoy General Conference and come back to share your feelings with us here on The Millennial Star. Also, if you have not come over to Facebook and liked our Facebook page, please do. When you do that, make sure to click on the "Following" button and then choose, "See First" to see our posts.