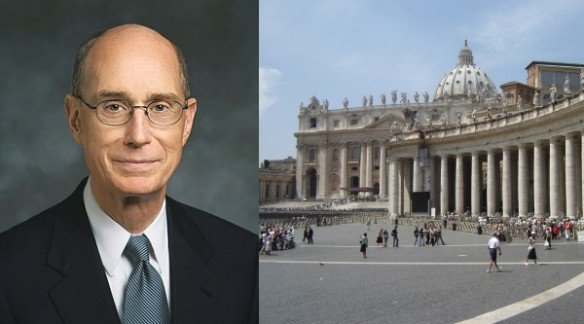 On November 18th, 2014, President Henry B. Eyring of the First Presidency of the Church of Jesus Christ of Latter-day Saints will be addressing a global meeting of faith leaders hosted by the Catholic Church at the Vatican. The meeting, called a "colloquium" will be opened by Pope Francis and is meant to bring world religious leaders together in support of the traditional, male-female definition of marriage.
President Eyring will be accompanied by Elder L. Tom Perry of the Quorum of the Twelve Apostles and Bishop Gérald Caussé of the Presiding Bishopric.
The Church of Jesus Christ of Latter-day Saints released the following statement regarding the colloquium:
"At this time of rapidly declining moral values and the challenges to traditional family structures and relationships throughout the world, we are pleased to unite with the Catholic Church, other fellow Christian denominations and other world religions in standing firm and speaking clearly about the sanctity of marriage between a man and a woman."
Read more about the colloquium at the announcement at LDS Church's Official Newsroom site and www.humanum.it.