Last summer I had the honor of speaking at Sunstone Symposium along with my research partner Marylee Mitchum. Our topic was on Sephardic Jews. I would like to share with you, dear friends, important information  with exciting new research that is currently being done in genealogy and Sephardic Studies. In the upcoming weeks, I will reveal the information we shared at Sunstone. I will teach you the knowledge to search for and possible locate hidden Sephardic Jews in your heritage. Lets get started.
Maybe you are a proud descendant of Mormon pioneers, confident in your knowledge of your Western European heritage.  Perhaps unknown to you, is that you may also have Hebrew ancestors hidden your linage.
Two years ago my husband and I decided to get DNA test to determine our ethnicity. We used a DNA company, called DNA Tribes, which analyzed ones DNA to determine ancestry for the last five hundred years. The DNA testing showed probability of ancestral origins only in stationary populations. When our DNA test results came back, we were confused, as Mayflower Pilgrim descendants, we expected to see traces of  Native American and African mixed with a lot of Western European.
On my husband's test he is predominantly India/Indian with African, Western European, Mediterranean and Middle Eastern.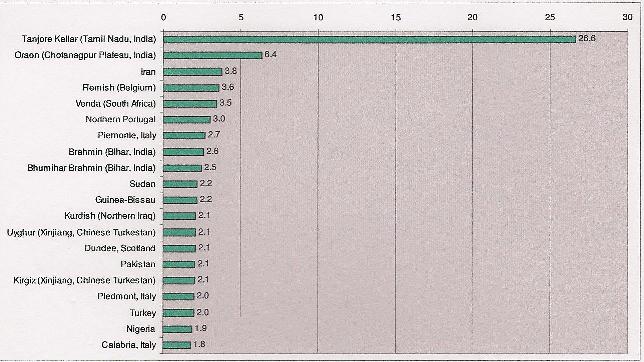 I am predominantly Eastern European and North African with Middle Eastern, Mediterranean and Western European. On another page (not shown)  revealed Mestizo ancestry; meaning European, African and Native American mix.
Later we had my parents DNA tested also by DNA Tribes, their results were close enough to validate my DNA test.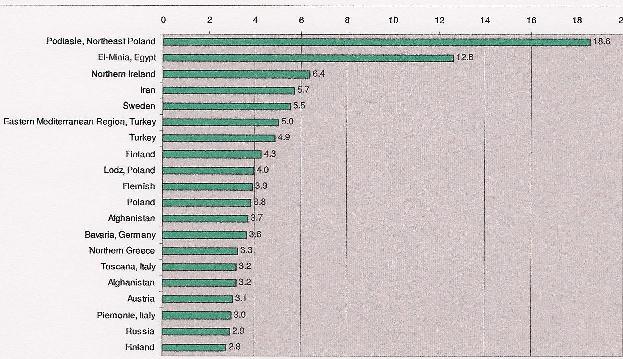 Our results were vastly different than what either of us had been led to believe. Both of us were descendants of Mormon pioneers on every familial line.  His ancestors first joined the church in 1831 and the last ones arrived in Idaho in the 1880's. Our combined line joined in 1831. My ancestors joined the church in the 1830's and were in Utah in the early 1860's. On paper my husband was British, Swiss and German. I was British, Danish and French. We thought ourselves to be the typical Western European Mormon pioneer stock. Here are the surnames of our ancestors who joined the LDS church. When they joined the LDS church and immigrated to Utah; where they were when they joined. If our convert ancestors were North Americans, what country their line came from. I believe that we must have thousands of cousins in the Mormon churches i.e. LDS, FLDS, Community of Christ etc…. Perhaps if you look closely you will see your ancestors as well.
Joanna's lines
Allen 1840's Hillsdale, Michigan England
Simmons 1850's Carthage, Illinois France/England
Vail 1830's Clark, Indiana England
Hood 1860's Carthage, Illinois Netherlands
Clegg 1840's  Preston, England
Hall 1840's Yorkshire, England
Hendry 1860's Durham, England
Savage 1850's Derby, England
Stewart 1860's Durham, England
Lewis 1850's Cardiff, Wales
Mc Coard 1860's Edinburgh, Scotland
Murdoch 1850's Aryshire, Scotland
Steele 1860's Aryshire, Scotland
Pedersdatter 1860's Fyn, Denmark
Marriager 1860's Copenhagen, Denmark
Peterson 1860's Copenhagen, Denmark
Jensen 1860's Praesto, Denmark
Olsen 1860's Aalborg, Denmark
Hansen 1850's Fyn, Denmark
OUR SHARED LINES
Benson 1830's Clark, Indiana England
Messenger 1830's Clark, Indiana England
Mike's LINES
Cummings 1840's Cayuga, New York England
Bybee 1840's Washington, Kentucky England
Lane/Layne 1840's Washington, Kentucky England
Dann 1870's Allegan, Michigan England
Harris 1870's Allegan, Michigan England
Barney 1840's Sangamon, Illinois England
Coltrin 1830's Kirtland, Ohio Scotland
Young 1830's Ontario, Canada unknown
Penrod 1830's Union, Illinois unknown
Smith 1830's Ontario Canada unknown
Tope 1830's Union Illinois                unknown
Heckman 1840's Montgomery, Pennsylvania Germany
Winegar 1840's Cayuga, New York Germany
Kunz 1860's Bern,           Switzerland
Karlen 1880's Bern,      Switzerland
Knutti 1860's Bern,       Switzerland
Fewkes 1860's Stafford,             England
Clark 1860's Warwickshire,     England
Robinson 1840's Durham, England

Hopkins 1860's Warwickshire, England
If you, dear reader, think that we might be your cousin please feel free to email me at: jabensonatmillennialstardotorg
PS  A big thank you to Ringo who fixed my technical difficulties.