The Festival of Advent is celebrated the four Sundays before Christmas. It is a time of preparation for the birth of Jesus Christ. This year, my family is celebrating Advent with activities and a devotional each Sunday night. Read about our first week HERE and our second week HERE.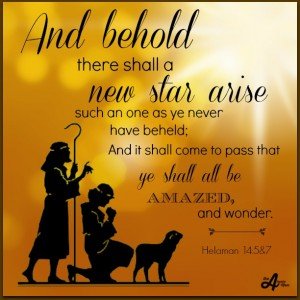 Last night as we were setting up our Christmas tree, my six year old son asked me if we believed in the star on the top of the tree. I thought it was a very insightful question for a six year old to ask. I said yes we do believe in the Christmas Star and asked him, what does the star symbolize? He said, "It's Jesus' birthday star."
We went on to talk about the signs of Christ's birth, specifically the signs given to the people on this continent by the prophet Samuel the Lamanite. In Helaman 14, we read:
2 And behold, he said unto them: Behold, I give unto you a sign; for five years more cometh, and behold, then cometh the Son of God to redeem all those who shall believe on his name.

3 And behold, this will I give unto you for a sign at the time of his coming; for behold, there shall be great lights in heaven, insomuch that in the night before he cometh there shall be no darkness, insomuch that it shall appear unto man as if it was day.

4 Therefore, there shall be one day and a night and a day, as if it were one day and there were no night; and this shall be unto you for a sign; for ye shall know of the rising of the sun and also of its setting; therefore they shall know of a surety that there shall be two days and a night; nevertheless the night shall not be darkened; and it shall be the night before he is born.

5 And behold, there shall a new star arise, such an one as ye never have beheld; and this also shall be a sign unto you.

6 And behold this is not all, there shall be many signs and wonders in heaven.

7 And it shall come to pass that ye shall all be amazed, and wonder, insomuch that ye shall fall to the earth.

8 And it shall come to pass that whosoever shall believe on the Son of God, the same shall have everlasting life.