The Festival of Advent is celebrated the four Sundays before Christmas. It is a time of preparation for the birth of Jesus Christ. This year, my family is celebrating Advent with activities and a devotional each Sunday night. Read about our first week HERE and our second week HERE.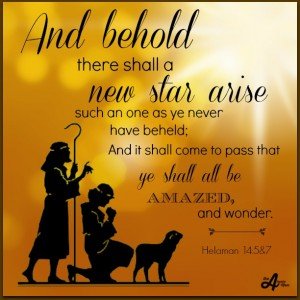 Last night as we were setting up our Christmas tree, my six year old son asked me if we believed in the star on the top of the tree. I thought it was a very insightful question for a six year old to ask. I said yes we do believe in the Christmas Star and asked him, what does the star symbolize? He said, "It's Jesus' birthday star."
We went on to talk about the signs of Christ's birth, specifically the signs given to the people on this continent by the prophet Samuel the Lamanite. In Helaman 14, we read:
2 And behold, he said unto them: Behold, I give unto you a sign; for five years more cometh, and behold, then cometh the Son of God to redeem all those who shall believe on his name.

3 And behold, this will I give unto you for a sign at the time of his coming; for behold, there shall be great lights in heaven, insomuch that in the night before he cometh there shall be no darkness, insomuch that it shall appear unto man as if it was day.

4 Therefore, there shall be one day and a night and a day, as if it were one day and there were no night; and this shall be unto you for a sign; for ye shall know of the rising of the sun and also of its setting; therefore they shall know of a surety that there shall be two days and a night; nevertheless the night shall not be darkened; and it shall be the night before he is born.

5 And behold, there shall a new star arise, such an one as ye never have beheld; and this also shall be a sign unto you.

6 And behold this is not all, there shall be many signs and wonders in heaven.

7 And it shall come to pass that ye shall all be amazed, and wonder, insomuch that ye shall fall to the earth.

8 And it shall come to pass that whosoever shall believe on the Son of God, the same shall have everlasting life.
Later on in these verses it mentions that after Samuel is done with his work among the Nephites he leaves and does not come back to them. I'm sure it took a lot of faith to live in such perilous times, and to have faith in this prophesy, but we know that the people did have faith in the words of Samuel. "But behold, they did watch steadfastly for that day and that night and that day which should be as one day as if there were no night, that they might know that their faith had not been vain" (3 Nephi 1: 8).
I love the phrase "they did watch steadfastly." Isn't that what being a disciple and follower of Jesus Christ is about? Steadfastly following him, looking to him and having faith in him?
My favorite part of this story is the fulfillment of the prophesy. The Book of Mormon tells us that the unbelievers had set aside a day to kill all those that believed in the prophesies of Samuel. Nephi the prophet went to the Lord in prayer on behalf of the believers. From 3 Nephi 1:
"10 Now it came to pass that when Nephi, the son of Nephi, saw this wickedness of his people, his heart was exceedingly sorrowful.

11 And it came to pass that he went out and bowed himself down upon the earth, and cried mightily to his God in behalf of his people, yea, those who were about to be destroyed because of their faith in the tradition of their fathers.
12 And it came to pass that he cried mightily unto the Lord all that day; and behold, the voice of the Lord came unto him, saying:

13 Lift up your head and be of good cheer; for behold, the time is at hand, and on this night shall the sign be given, and on the morrow come I into the world, to show unto the world that I will fulfil all that which I have caused to be spoken by the mouth of my holy prophets.

14 Behold, I come unto my own, to fulfil all things which I have made known unto the children of men from the foundation of the world, and to do the will, both of the Father and of the Son—of the Father because of me, and of the Son because of my flesh. And behold, the time is at hand, and this night shall the sign be given.

15 And it came to pass that the words which came unto Nephi were fulfilled, according as they had been spoken; for behold, at the going down of the sun there was no darkness; and the people began to be astonished because there was no darkness when the night came."
I'm sure the people were very relieved, but overjoyed and excited to see this prophesy fulfilled. I know I feel a profound sense of love and joy every time I read these verses. I also wonder how exciting it must have been for these people to see their faith turn into knowledge.
With all of this in mind, I hope that we are actively looking forward to, and preparing for, Christ's second coming by following the prophets and apostles, and being valiant in our testimonies and defense of the Church and its teachings. Christ does keep his promises to his people, and that is one of the greatest gifts we have from him, and of which we are reminded during this Christmas season.
Happy Advent and Merry Christmas!