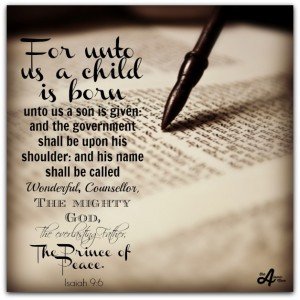 Today marks the first Sunday of Advent. Advent is a time of expectation and preparation for the Christmas holiday. During the weeks of Advent many Christians participate in readings, songs, worship, devotionals, and traditions that prepare them for the arrival of the Christ Child on Christmas Eve. Advent is not something that is normally associated with LDS Christmas worship, but in many countries around the world, LDS families, along with members of other Christian faiths, celebrate the four weeks before Christmas in preparation for the holiday.
After many years, I have finally decided to start this tradition in our family as a way to turn us toward the Savior instead of the holiday rush and the more secular aspects of Christmas. Starting today and over the next weeks, I am going to share our Advent devotionals here, and hope that you will join us in preparing for Christmas.
Traditionally, on the first Sunday of Advent the readings and devotionals focus on the Old Testament prophesies of Christ. This video from the Church focuses on the prophesies of Isaiah. Happy Advent and Merry Christmas!