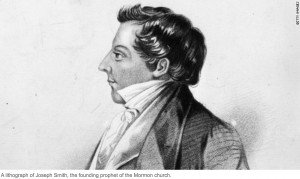 I recall blogging about the new articles on lds.org regarding plural marriage nearly a month ago (Mormon Polygamy, the Short Version). CNN (Daniel Burke) has finally twigged to these updates.
Of course, CNN uses a pithy title that lacks all nuance but is sure to catch the attention of random readers, Church: Mormon founder Joseph Smith wed 40 wives. Interestingly enough, the factual content of the lds.org articles does deflate the sensationalism one might have expected from an article with such a title.
Alas, there is no mention of the DNA analysis that debunks most the rumors of living children supposedly born to Joseph by other wives (and I submit strongly argues against Joseph's alleged paternity of Josephine Lyons). There is no commentary on the lack of contraceptive methods we take for granted today, and how a man with forty plural wives in the fullest sense might have been expected to engender children by them over the course of three years (almost a decade, if we count Fanny).
One the bright side, CNN includes enough information that the careful reader will not presume that Joseph was running around tupping every 14-year-old he could corner. I'm frustrated, though, by the pithy summaries at the side of the article:
Mormon founder wed as many as 40 wives, church says
Not quite. The Church article indicates that careful estimates put the number of wives between 30 and 40. Intriguingly, I think that slyly indicates who the Church does not consider to have made a careful estimate.
The church had previously painted its prophet as married to one woman
The Church doesn't paint. It is true that the Church in the latter part of the 1900s and the early 2000s didn't post a banner on the front of the website proclaiming "Yes, Joseph was a Polygamist!!!!" However that might have been in part because the Church had made quite the fuss about Joseph's actual practice of polygamy back in the 1840s through the 1900s. Very few individuals with any knowledge about Mormonism had missed the fact that Joseph had more than one wife.
Are there some who didn't know Joseph was a polygamist? I guess so. Are there some who didn't understand that the focus on Joseph loving Emma was an apology for the century of vilifying the wife Joseph adored? I suppose so. But it isn't that the Church painted Joseph as not being a polygamist. They simply didn't put it on the cover page.
Revelation comes as painful shock to some Mormons
Any Mormon who is shocked by the "revelation" that Joseph married plural wives has a serious case of ADD. That and/or they don't use the internet. Or they never read the comments below any article discussing matters related to Mormonism.
Might it have come as a shock to individuals when they did tumble across the fact of Joseph's marriages to women other than Emma? Sure. But it isn't as though the articles at lds.org caused the shock.
I myself am still somewhat dissatisfied by the portrayal in the lds.org articles. But then again, my viewpoint regarding a faithful Joseph isn't yet mainstream. Rather than view Emma as a duped and tormented spouse, I see her as a woman who was working with her husband side by side, though at times feisty enough about her view of how events should proceed that she cowed Joseph into remaining celibate in the vast majority (or even entirety) of his plural marriages and was willing to threaten him with divorce to get her way.
By now unknown millions have seen the title of that article and likely a few million have also read it. It should make for an interesting day or week for our thousands of teenaged missionaries.