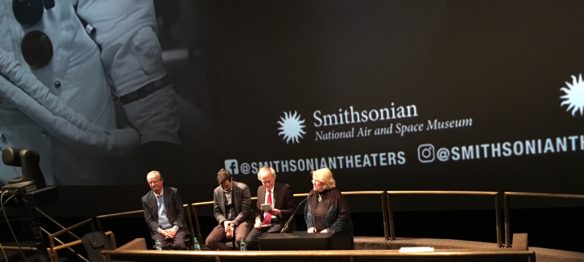 My family was excited to see the film about Neil Armstrong's moon landing. But as we emerged from the theatre in October, my husband commented:
"That wasn't a feel good movie. That was a feel nothing movie."
Despite the technical excellence of the film, I agreed that the overwhelming sense was of loss and isolation. Not being intimately familiar with Neil Armstrong, I chalked things up to 2018-era existential angst.
Yesterday I was given the chance to attend a screening of First Man at the National Air and Space Museum, with Q&A following the film with Armstrong biographer, Dr. James Hansen, and Academy Award-winning screen-writer of First Man, Josh Singer. Jeffrey Kluger, the author whose book inspired the film Apollo 13, rounded out the panel.
If you are a fan of history and space and film, First Man: The Annotated Screenplay is a fantastic look into all three topics.
Whether watching First Man for the first time or considering a return, here are a few things you really should know to properly understand the brilliance of the film created by Singer and director Damien Chazelle 1 based on Hansen's book. Continue reading →
Notes:
Damien Chazelle won an Academy Award for La La Land and was the driving force behind transforming Hansen's biography into a film. ↩