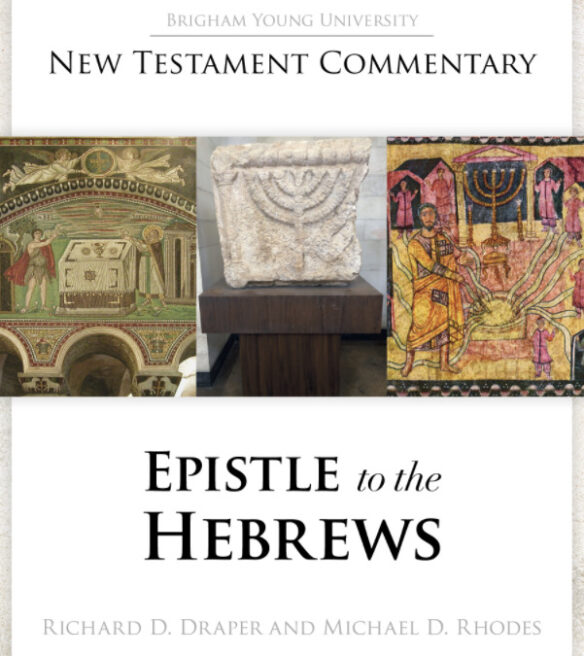 One of the delights of moving to home-focused, Church-supported study is implicit permission to take your own studies far beyond the level that is appropriate for a general audience meeting for less than an hour in Sunday School.
On April 16, BYU Studies will be releasing a much-anticipated commentary on the Epistle to the Hebrews, which was the subject of an entire online conference broadcast on March 6, 2021. 1
When I was provided an advance copy for review, I didn't understand why a commentary on 13 chapters in the New Testament could justify a book that runs nearly 900 pages. But gamely I dove in.
The Gem Painted in Pauline Authorship
The Epistle to the Hebrews is commonly attributed to Paul. But the early fathers noted that the Greek of this epistle is more elegant and refined than Paul's rather blunt language. It is as if one were to read something written by Neal A. Maxwell and be told it was the work of Bruce R. McConkie.
This beautiful and powerful early epistle clearly could not be entirely attributed to Paul. At best, it was an epistle that someone with a better command of Greek could have written based on the teachings of Paul, himself.
For hundreds of years, Christian leaders struggled to find a way to canonize this precious document. There were those who argued it had to be Paul, despite the wholly different nature of Greek usage. Eventually those who didn't agree the author was Paul felt it was more worthy to include the Epistle to the Hebrews than to allow this gem to be excluded because its unknown author could not be known to be an apostle.
[The unknown author of the Epistle to the Hebrews refers to himself as a man, so no spinning feminist theories about this one.]
Why read (buy, study, delight in) this Commentary?
The Epistle to the Hebrews was written to children of converts, pleading for them to remain true to Christ. All of us who have embraced the baptism of Christ benefit from the author's plea to reject today's faithless ones, embrace Christ, and unite with the faithful from the beginning of time.
Continue reading