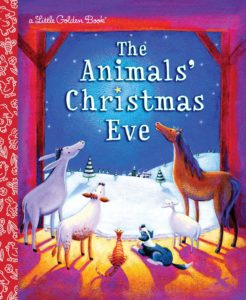 A few years ago, I set out to start a tradition of reading Christmas themed books in the month of December as a family. I wanted to wrap each book up and then have the kids pick a book and we'd read whatever book was under the wrapping paper. As it stands I had only enough juice in me to wrap all of those books once. (Because each kid had to have a book to open each night or there would be no peace on earth or goodwill toward men in our house. 24 books x 3 kids = 72 books YIKES!). So all of our Christmas story books just live, unwrapped in a Rubbermaid bin which gets toted out and set near the Christmas tree in December. The kids can pick and choose books as they want. Mama is much happier that way. This tradition has helped our family discover some very fun and tender Christmas books. One of our favorites is The Animals' Christmas Eve. This book talks about the animals that were in the stable and witnessed the birth of the Savior. It's one of my favorite books to read to my kids.
When I think of animals I'm very thankful that we have them. They enrich our lives as pets, they help us work and eat (as in they are beasts of burden on farms, and also raised as food).
It was prophesied by Zechariah in the Old Testament that Christ would come, riding a donkey, "Rejoice greatly, O daughter of Zion; shout, O daughter of Jerusalem: behold, thy King cometh unto thee: he is just, and having salvation; lowly, and riding upon an ass, and upon a colt the foal of an ass." (see Zechariah 9:9).
That prophesy was fulfilled in Mark 7: 1-3, "And when they came nigh to Jerusalem, unto Bethphage and Bethany, at the mount of Olives, he sendeth forth two of his disciples, and saith unto them, Go your way into the village over against you: and as soon as ye be entered into it, ye shall find a colt tied, whereon never man sat; loose him, and bring him. And if any man say unto you, Why do ye this? say ye that the Lord hath need of him; and straightway he will send him hither." Why a donkey though? Christ was the Prince of Peace, the donkey symbolized peace in ancient times, whereas a horse was an animal used in war. It's very fitting that Mary probably rode a donkey to Bethlehem, and Christ also rode a donkey from Bethlehem into Jerusalem. Continue reading →