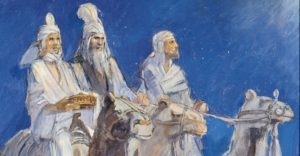 Matthew 2: 1-12 "Now when Jesus was born in Bethlehem of Judæa in the days of Herod the king, behold, there came wise men from the east to Jerusalem. Saying, Where is he that is born King of the Jews? For we have seen his star in the east, and are come to worship him. …and, lo, the star, which they saw in the east, went before them, till it came and stood over where the young child was. When they saw the star, they rejoiced with exceeding great joy. And when they were come into the house, they saw the young child with Mary his mother, and fell down, and worshiped him: and when they had opened their treasures, they presented unto him gifts; gold, and frankincense, and myrrh."
Growing up we spent Christmas Eve at our Great-Grandparents Randall's house. There were many, many people there to eat tamales that Grandma and her daughters (my Grandmother and her sisters) spend days making. We'd have our dinner, and then Grandma Pearl would shuffle all of the little kids — the second cousins — into the back bedroom and dress us for the annual presentation of the nativity. The angels were dressed in white garbage bags with sliver tinsel around our waists and bobby-pinned on our heads. Mary and Joseph were usually my sister and our cousin Keith. If there happened to be a newish baby that year, he or she would be Baby Jesus. If not there was the dolly we called "Kay" in the toy box that was a fabulous stand in. The oldest teenagers were the narrators and song leaders. And usually the rowdy boys were the "Wise Guys" (thank you Uncle Richard for that — it stuck!). The prized part was not Mary or Joseph, but those Wise Guys. Why? Because they got to wear paper Burger King crowns, and bath towels pinned over their shoulders. But from these many years of Christmas pageants, I came to love those Wise Men, they always had the fun part of the program — and those paper crowns!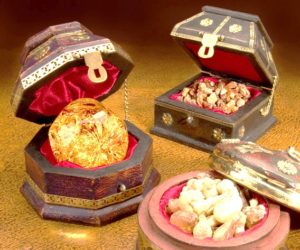 Of all the people in the Christmas Story we know the least about the Wise Men. We assume there were three because there are three gifts mentioned in the scriptures, but we really don't know how many of these men came to see the Christ child, or where they came from. The consensus is that they were Zoroastrians from Persia. I don't know if they were or not. I like to think they were Jews who'd been scattered, those Lost Tribes, who had righteous among them, who knew the prophesies of old, and who were looking for those prophesies to be fulfilled. We do know this, these men were faithful. They saw the signs of Christ's birth and they came to him. They made that incredible journey of faith across the miles, and the elements to come worship Christ. The star they followed went before them and stood over Jesus. I have often wondered who these men were, and where did they come from. Did they grow weary as they traveled? Or did their faith in Jesus Christ sustain them? What did they tell their families and people when they went home?
This article titled, Gold, Frankincense and Myrrh from the December 2016 New Era Magazine, has some short, yet powerful insights into the gifts of the Magi.
Gold: "People have always valued gold for its luster, beauty, malleability, and resistance to corrosion and tarnish. These attributes also led ancient civilizations throughout the world to associate gold with royalty, immortality, and deity."
Frankincense: "Historically, frankincense was a highly valued commodity. When burned as incense, it was often valued for its aroma as well as for its reputed ability to disinfect and repel insects and other pests." Part of the Bulgarian Christmas Eve tradition includes heating up frankincense and then taking the dish in which it is carried to all of the corners of the house. This is done to banish evil from the house for the year. Of course, frankincense was also used in the ancient temple as part of the ordinances of the Law of Moses.
Myrrh: "…has been valued for its aroma as well as for its use as an antiseptic, analgesic (topical painkiller), and other medicinal qualities. Myrrh was used in ancient Israelite temple worship as an ingredient in the holy anointing oil for consecrating priests, the tabernacle, and kings. It was used in the purification of Queen Esther."
The gifts given to the Savior were, useful, precious, respectful and worshipful. With that in mind, what gifts are we giving our Savior that are useful, precious, respectful and worshipful? Each of us has to think on that and decide what that might be. Christ did teach us though, about broken hearts and contrite spirits. This is our willingness to make covenants with him and to honor those covenants through repentance and obedience. When we are willing to do this, it opens up limitless possibilities for us.
We Three Kings Organ Trio by the Tabernacle Organ men — this is fun take on the old classic song.

Out of the East — this is a song that holds good memories of sitting around the piano at my mom's house singing. My brother was always willing to oblige me by playing, so I could sing.

In the Bleak Midwinter. This song briefly mentions the Wise Men, and it also talks about gifts. The refrain in the third verse has very deep meaning for me. "What can I give him, poor as I am? If I were a shepherd, I would bring a lamb. If I were a Wise Man, I would do my part. But what can I give Him? I must give Him my heart!" I had that written on a little paper for many years. It helped me keep my focus as I struggled thru my 20s.

The Wise Men Seek Jesus from the Mormon Channel