From the Prophet Spencer W. Kimball in 1976:
The Lord gave us a choice world and expects righteousness and obedience to his commandments in return. But when I review the performance of this people in comparison with what is expected, I am appalled and frightened. Iniquity seems to abound. The Destroyer seems to be taking full advantage of the time remaining to him in this, the great day of his power. Evil seems about to engulf us like a great wave, and we feel that truly we are living in conditions similar to those in the days of Noah before the Flood…

In spite of our delight in defining ourselves as modern, and our tendency to think we possess a sophistication that no people in the past ever had — in spite of these things, we are, on the whole, an idolatrous people — a condition repugnant to the Lord.
We are a warlike people, easily distracted from our assignment of preparing for the coming of the Lord. When enemies rise up, we commit vast resources to the fabrication of gods of stone and steel — ships, planes, missiles, fortifications — and depend on them for protection and deliverance. When threatened, we become anti-enemy instead of pro-kingdom of God; we train a man in the art of war and call him a patriot, thus, in the manner of Satan's counterfeit of true patriotism, perverting the Savior's teaching:
"Love your enemies, bless them that curse you, do good to them that hate you, and pray for them which despitefully use you, and persecute you;
"That ye may be the children of your Father which is in heaven" (Matthew 5:44-45).
So, who is profiting from the war in Ukraine and promoting idolatry in fabricating gods of stone and steel?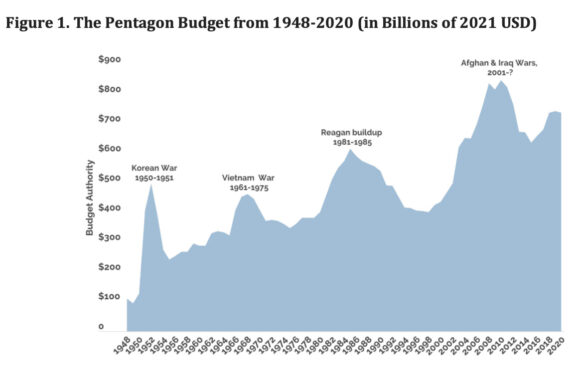 Read this story.
The war in Ukraine will indeed be a bonanza for the likes of Raytheon and Lockheed Martin. First of all, there will be the contracts to resupply weapons like Raytheon's Stinger anti-aircraft missile and the Raytheon/Lockheed Martin-produced Javelin anti-tank missile that Washington has already provided to Ukraine by the thousands. The bigger stream of profits, however, will come from assured post-conflict increases in national-security spending here and in Europe justified, at least in part, by the Russian invasion and the disaster that's followed.

Indeed, direct arms transfers to Ukraine already reflect only part of the extra money going to U.S. military contractors. This fiscal year alone, they are guaranteed to also reap significant benefits from the Pentagon's Ukraine Security Assistance Initiative (USAI) and the State Department's Foreign Military Financing (FMF) program, both of which finance the acquisition of American weaponry and other equipment, as well as military training. These have, in fact, been the two primary channels for military aid to Ukraine from the moment the Russians invaded and seized Crimea in 2014. Since then, the United States has committed around $5 billion in security assistance to that country.

According to the State Department, the United States has provided such military aid to help Ukraine "preserve its territorial integrity, secure its borders, and improve interoperability with NATO." So, when Russian troops began to mass on the Ukrainian border last year, Washington quickly upped the ante. On March 31, 2021, the U.S. European Command declared a "potential imminent crisis," given the estimated 100,000 Russian troops already along that border and within Crimea. As last year ended, the Biden administration had committed $650 million in weaponry to Ukraine, including anti-aircraft and anti-armor equipment like the Raytheon/Lockheed Martin Javelin anti-tank missile.

Despite such elevated levels of American military assistance, Russian troops did indeed invade Ukraine in February. Since then, according to Pentagon reports, the U.S. has committed to giving approximately $2.6 billion in military aid to that country, bringing the Biden administration total to more than $3.2 billion and still rising.
More here: