Several politicians have said recently that they describe themselves as "Christian nationalists."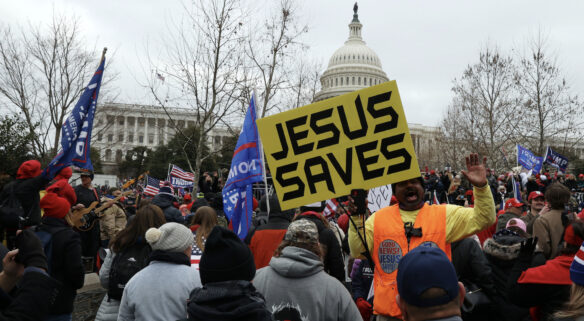 This story discusses the trend:
Representative Marjorie Taylor Greene, a Georgia Republican, and other conservatives have called on Americans to embrace Christian nationalism in recent days, drawing intense backlash from some fellow Christians and non-religious individuals alike.

In Saturday (July 24) remarks to the conservative Turning Point USA Student Action Summit in Florida, Greene argued that Christian nationalism is "a good thing."

"That's not a bad word," the GOP congresswoman said. "That's actually a good thing. There's nothing wrong with leading with your faith….If we do not live our lives and vote like we are nationalists—caring about our country, and putting our country first and wanting that to be the focus of our federal government—if we do not lead that way, then we will not be able to fix it."

Her remarks drew accusations that she was a "Nazi" and comparisons to the Taliban, the Afghan militant group that enforces an extremist version of Islamic law. Other Republican lawmakers have touted the ideology and taken aim at the long-standing principle of the separation of church and state in recent months.

"Christian nationalism is the belief that the American nation is defined by Christianity, and that the government should take active steps to keep it that way. Popularly, Christian nationalists assert that America is and must remain a 'Christian nation'—not merely as an observation about American history, but as a prescriptive program for what America must continue to be in the future," Dr. Paul D. Miller, professor of the practice of international affairs and co-chair for global politics and security at Georgetown University, explained in a 2021 article for Christianity Today.
So, what do I think about this from the Latter-day Saint perspective? I would not describe myself as a "Christian nationalist," and I don't think the Church supports Christian nationalism, but I think the opposition to such a description is WAY over the top compared to the supposed threat. And there are some points of the Christian nationalist perspective that are worth considering.