Those of us who go to church know that most active members of the Church of Jesus Christ of Latter-day Saints are generally good people who spend a lot of their free time with their families or doing service, either at the temple or in their callings.
President Gordon B. Hinckley famously said that the primary symbol of our faith is not the cross, like other Christian denominations, but instead "the lives of our people," meaning that President Hinckley was betting that most Church members lead exemplary lives. And in fact I can report, and I am sure all readers can report, that you often hear from non-members that church members "sure are nice," even if they don't accept the doctrines of our faith.
It also happens to be true that the vast majority of Church members are conservative, at least socially. Most Church members are against elective abortion and are traditionalists on the issue of same-sex attraction and gender issues. Utah and Idaho, the most LDS states, are heavily Republican.
This creates a dilemma for Progressive Mormons (many of them call themselves ProgMos). How can it be that Church members are 1)nice people and 2)not social justice warriors like they are?
I have lived this reality for 20 years in the LDS on-line world, and one of the things I have discovered is that there is a huge amount of cognitive dissonance among ProgMos. It just can't be true that your average member, the man or woman in your ward with the four kids and the job and the difficult calling and the monthly temple visits — it just can't be that these are good people. So, what ProgMos do, and I have seen literally hundreds of examples over the years, is make up stories showing how these members are really racists or sexists or transphobes or whatever the latest really, really bad thing is.
Let me give you a recent example. Check out this tweet today: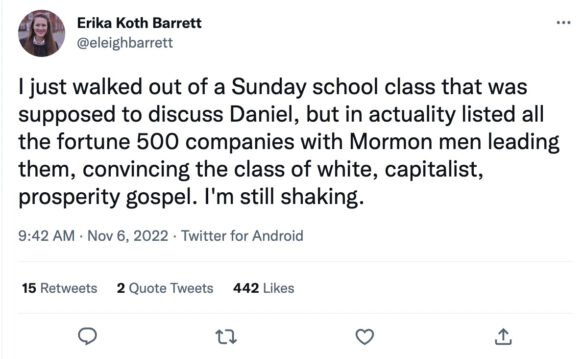 NOTE: READ THE COMMENTS OF THIS POST FOR SOME CONTEXT AND SOME CORRECTIONS.