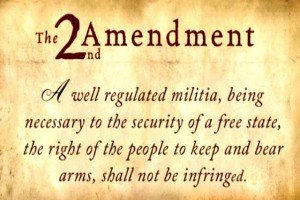 All over the Internet has been talk of gun control and the current President's executive order to extend background checks for those selling firearms. He and his supporters believe that too many guns have created a deadly culture of violence. Counter arguments have sprung up that all the crimes used to back laws for more gun restrictions would not have been avoided. No lives would have been saved by background checks because criminals don't follow the laws anyway. The other concern is that making it harder to obtain and carry guns puts handicaps self-defense and puts innocent lives at risk. Many believe the underlying problems of mental illness and unchecked illegal immigration are ignored or worse. Mormon scripture and history contains evidence that blocking people from having weapons is a death sentence when up against the hearts of murderers.
History has examples of government or hostile forces restricting or taking guns away from people and then attacking them. The Ottoman Empire in 1911 passed a law banning guns, and within a few years started what is known as the Armenian Holocaust with 1.2 million deaths. Armenian soldiers fighting for the same side as the Ottomans in WWI were disarmed and killed after placed in labor camps. Of course, Nazi Germany is the most famous example with a law in 1938 banning all guns for Jews while deregulating for almost everyone else. He also stated in 1942, "The most foolish mistake we could possibly make would be to allow the subject races to possess arms. History shows that all conquerors who have allowed their subject races to carry arms have prepared their own downfall by so doing. Indeed, I would go so far as to say that the supply of arms to the underdogs is a sine qua non for the overthrow of any sovereignty." (Hitler's Table-Talk at the Fuhrer's Headquarters 1941-1942, Dr. Henry Picker, ed. Athenaum-Verlag, Bonn, 1951). In other words, he taught those with the guns controlled those who didn't have them. The American frontier proved this many times with the U.S Government treatment of Indians. Most of the military raids were to disarm the Native Americans and drive them from their homelands or outright kill them. Custard's last stand represents what happens when armed resistance is possible against a hostile force. In the end one battle didn't matter against the tide of Western American history, but that day would have seen an Indian massacre instead.
As a matter of consideration, the true Gospel is one of peace and avoidance of violence. Jesus Christ who came to offer Salvation to humanity is known as "The Prince of Peace" (Isa. 9:6) preaching love. His greatest sermon proclaims, "Blessed are the peacemakers: for they shall be called the children of God" (Matt. 5:9). The faithful are required to "Love your enemies, bless them that curse you, do good to them that hate you, and pray for them which despitefully use you, and persecute you," (Matt. 5:44) because its easy to love those who already show love. It is much harder to do the same for people that are seen as an opposition.One of the stated reasons for the Great Flood was the constant violence (Gen. 6:11) that filled the Earth.
Modern prophets closer to our own time were no less expressive for the need for peace as a part of faith. Perhaps the strongest statement on this subject came from Pres. Spencer W. Kimball in his June 1976 Ensign article on other gods we cling to today:
We are a warlike people, easily distracted from our assignment of preparing for the coming of the Lord. When enemies rise up, we commit vast resources to the fabrication of gods of stone and steel—ships, planes, missiles, fortifications—and depend on them for protection and deliverance. When threatened, we become antienemy instead of pro-kingdom of God; we train a man in the art of war and call him a patriot, thus, in the manner of Satan's counterfeit of true patriotism, perverting the Savior's teaching . . .

What are we to fear when the Lord is with us? Can we not take the Lord at his word and exercise a particle of faith in him? Our assignment is affirmative: to forsake the things of the world as ends in themselves; to leave off idolatry and press forward in faith; to carry the gospel to our enemies, that they might no longer be our enemies.
Despite calls for peace as an ideal to strive to achieve, such a position is not always attainable. The Lord has at times commanded a more vigorous approach to the enemies of Israel. Rules for war in Deuteronomy 20 set differences between some groups encountered and other more spiritually dangerous foes. The soldiers of Israel must proclaim peace to a city and accept their surrender without incident, but free to attack if peace overtures are rejected. A list of other people are not given that chance, "But thou shalt utterly destroy them; namely, the Hittites, and the Amorites, the Canaanites, and the Perizzites, the Hivites, and the Jebusites; as the Lord thy God hath commanded thee: That they teach you not to do after all their abominations, which they have done unto their gods; so should ye sin against the Lord your God" (Deut. 20:17-18). When Israel was more of a nation, God sent them out as warriors to possess the lands He promised to the patriarchs.
Jesus during his ministry might have had a much more peaceful response to enemies of any kind, but he wasn't ignorant of conflict. He knew that the Gospel of peace he proclaimed would have the seeds of division, "The father shall be divided against the son, and the son against the father; the mother against the daughter, and the daughter against the mother; the mother in law against her daughter in law, and the daughter in law against her mother in law" (Luke 12:53). During the final Passover meal he told the Apostles the days of going to preach without preparation were soon to be over. They were to take with them (Luke 22:36) money, a "scrip" or personal belongings, and other items. Among the list was to be a sword, purchased by trading in clothing if necessary to acquire. Most likely this was for self-protection against thieves while traveling on preaching missions. The mention of bringing a sword was misconstrued by the Apostles (Luke 22:38) who no doubt thought Jesus was contemplating an insurrection. He quickly cut them off from pursuing that notion.
Until Christ comes the second time when the wolf and lion sits next to the lamb and calf (Isa. 11:6), those who pursue peace will have to do so at a price. For Mormons the best example of pacifists are Anti-Lehi-Nephites (see Alma 23-24) who are a group of Lamanites converted to the Gospel through missionary work of Ammon and his brothers. As part of their conversion, they covenanted to not take up arms for any reason to fight at any time. To signify their peaceful intentions, all weapons they owned were buried in the ground. Instead of defending themselves, many were martyred when their enemies attacked them. Other Lamanites converted after watching the massacres without resistance. They were spared the first time, but later attackers were more ferocious and hardened against them. Remaining where they were and pacifist would end in their destruction if they didn't take some kind of action. On the other hand, taking up arms would have ended in spiritual destruction. They couldn't stay a peaceful people on their own without help.
Through revelation and consultation the "Ammonites" (Alma 27) pleaded for the Nephites to allow them to live among them. Taking pity on them, they set aside the land Jershon for the Ammonites to settle. Even then the Ammonites were at the mercy of hate filled enemies who would do whatever it took to kill them all, along with the Nephites. They decided, "And now behold, this will we do unto our brethren, that they may inherit the land Jershon; and we will guard them from their enemies with our armies, on condition that they will give us a portion of their substance to assist us that we may maintain our armies" (Alma 27:24). There was no other choice but for one group to take up arms to protect another group who refused to protect themselves. Peace loving pacifists the Ammonites didn't take issue with both allowing the Nephites to defend them or ask for material support. For those who spiritually feel they cannot own weapons, they must be open to the possibility that others must take do so on their behalf and support them in this action.
Giving up weapons to gain peace is not always about receiving the same in return. More than likely doing this is less about resolving differences than submission to a stronger adversary. Right after the Hauns Mill Massacre of Oct. 30, 1838, Joseph Smith saw no alternative other than suing for peace and trying to negotiate. Instead of negotiations, he and the Mormons were given ultimatums:
Seeing no alternative, Joseph acceded to Lucas's terms. The Mormons were to give up their arms and leave the state. Those accused of crimes were to be surrendered and tried. Mormon property in Missouri was to be confiscated to reimburse the Davies citizens whose houses had been burned. The Mormons were to give up everything except their lives . . . With 2,500 Missouri militia men camped outside of Far West, he had no stomach for battle. The Mormons were to give up their Zion . . .

On November 1, Far West surrendered. The soldiers searched the city for firearms, threatening and ridiculing the Saints. A few days later, a force dispatched to Adam-ondi-Ahman accepted the surrender of the Mormon leaders, who followed Joseph's instructions not to resist. The Mormon men came one by one to a table where they signed away their property to the state of Missouri while militia men stood by and struck anyone who protested. By this time the Mormons were willing to go . . . (Richard L. Bushman, Joseph Smith: Rough Stone Rolling, pg. 367).
There was not peace after giving up arms. It might have protected against the total extermination of Mormons in a battle, but unprovoked attacks and assaults on women and children continued with little resistance. The heavily armed and large number of military and mob eventually evicted a minority at will.
Years later a group of Mormons would return the favor, although without any of the glory of victory. During the height of tension between Mormons and the U.S. pre-Civil War government, a "Gentile" wagon train of emigrants were crossing Southern Utah. The Mormons refused to sell them any supplies in accordance with Brigham Young's orders to not give the enemy any more advantage. This angered the emigrants who needed supplies to carry on their way. Both distrusted each other and made accusations of abuse and worse. Mormons and Indians attacked on Sept. 7, 1857, but only supplies were taken because of the robust defenses. That was enough to dishearten the emigrants who agreed to terms supplied by the same Mormons who attacked them with a larger Indian presence earlier. They were approached with a white flag and safe passage to Ceder City:
. . . Telling them they needed to take precautions to avoid instigating another Indian attack, Lee required the emigrants to surrender their weapons and exit the meadows according to his precise instructions. The wounded and small children would travel first in wagons, the older children and women would then proceed next, and the men would bring up the rear in a single-file line flanked by armed members of the militia. Despite their misgivings, the hungry, thirsty, and nearly hopeless emigrants accepted Lee's terms. (John G. Turner, Brigham Young: Pioneer Prophet, pg. 278).
As history records, the men were shot point blank and died. The rest of the emigrants, save about 17 very young children, were butchered. Why they decided to give the weapons away knowing the possible consequences is not easy to determine. They might have decided showing deference in hopes of relief was the gamble they had to take. It remains a terrible stain on Mormon history that could have had less impact if the men retained their weapons for self-defense. History might have recorded it as just another skirmish in the Utah War instead of a blight tragedy. Giving up arms was a death sentence.
Followers of Jesus Christ are required to "renounce war and proclaim peace" (Doctrine and Covenants 98:16) to become Saints worthy of His name. This should be the default position in any potential conflict. However, the mortal world is full of evil and those who wish to cause harm. No amount of pleading for mercy will deter those whose hearts are hard enough to not listen. The Lord stated, "Behold, I send you forth as sheep in the midst of wolves: be ye therefore wise as serpents, and harmless as doves" (Matt. 10:16). We should always be diligent in resolving conflicts and finding a peaceful solution to problems. That isn't always possible, especially when there is only enough time to take action to protect self and family. Never give away the right to own weapons without accepting the negative consequences. The same can be said about using weapons. A blanket ban or making it hard to acquire guns, as history provides evidence, does not necessarily make the world safer. It mostly identifies who has power and who doesn't.