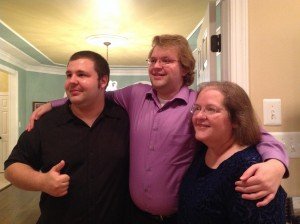 Six months ago now, I visited Nauvoo for the Untold Stories Conference, held in Nauvoo the first weekend of February each year. While there, one woman told me I just had to meet her friend, Kimberly Jo Smith, great-great-grand-daughter of Joseph Smith.
This weekend I finally got a chance to spend time with Kimberly Jo and her son Bryan (together on the right, posing with a recent convert after a fireside). They travel around the country giving firesides to help people understand Emma and the circumstances she faced after the death of Joseph. They talk about their own experiences finding the gospel. But most of all, they talk about the misunderstandings that cause hard feelings, and how we can overcome those hard feelings if we listen to the Holy Ghost and choose to love rather than hate.
Kimberly Jo is the daughter of a southern woman who had suffered greatly during childhood due to disease – and her family's attempt to rid her of the disease through corporal punishment. From the intense pain of these circumstances, Kimberly's mother learned to turn in complete faith to the One she knew of who had suffered more than her.
The one particular teaching Kimberly Jo learned as she herself grew was "The Holy Ghost trumps everything." Faith in Christ and communion with the Holy Spirit would become crucial in Kimberly's own life as tragedy struck.
One day, as a youth, Kimberly saw two pictures in the home of her paternal grandmother. One was of a man in old-fashioned clothes, looking out from the canvas with piercing blue eyes. The other was a woman with ringlets, wearing a shawl and a necklace of gold beads. She had no idea that these paintings were of Joseph and Emma Smith, or how she was related to these two. But Kimberly was drawn to the pictures, feeling that the people in the paintings were good people.
As she learned the identity of the people in the pictures, she was also told that Joseph was a fallen prophet. She was told that Brigham Young had murdered Joseph, Hyrum, and Samuel Smith. She was told that if Mormons learned who she was, they would try to murder her as well.
Years later, when Kimberly was a young mother, she decided to learn about her ancestors in earnest. This was before the internet. When she had exhausted the few resources available at the local library, she was told about the local Family History Center. She was afraid, but hoped she could get the information she sought without betraying her identity to the missionaries staffing the place. But you can imagine how excited the missionaries were when she said she was looking for an ancestor with the surname "Smith" and given name "Joseph" who happened to have been born on December 23, 1805.
It is now many years and countless miracles later. Despite the fear and hatred Kimberly had been taught, ultimately, she couldn't deny the Holy Ghost. The Spirit, who trumps all, persuaded her to embrace Mormonism, despite the terrible things she'd been taught in her youth.
These are a few of the details you will hear if you are privileged to hear Kimberly Jo speak at a fireside, typically hosted in private homes, much the way Joseph Smith preferred to teach the greatest truths of the gospel in modest homes to small groups of friends and family.
A Faithful Joseph and a Courageous Emma
Those who have followed my Faithful Joseph series here on Millennial Star know that I tend to believe Emma's deathbed testimony, where she claimed she had been Joseph's only actual wife.
Yet perhaps because of being raised in the heart of Mormon culture, I have retained some ambivalence towards Emma. I had seen Emma as the woman Joseph loved so much that he delayed and at times ignored the command of God regarding the New and Everlasting Covenant.
But as Kimberly and I chatted at length (surrounded by cavorting bunnies), I could see more clearly an Emma who was fiercely in love with Joseph, who would do anything and endure anything for Joseph's sake. Emma would have the courage to remain behind to honor Joseph's personal debts and protect his remains, though her family was at risk. Emma, who had taken so many into her home during Joseph's lifetime, continued to take the helpless and abandoned. One of these harbored innocents would grow up and marry Emma's son Alex, and would become Kimberly's great grandmother.
Emma's grandson, Kimberly's grandfather, was born in 1880, shortly after Emma's death. This grandson would join the Temple Lot Church, which believes Joseph was a fallen prophet after 1832. In his late fifties (in 1938), this grandson of Emma Hale Smith Bidamon would engender Kimberly's father.
Learn More
If you get a chance to hear Kimberly Jo speak, I highly recommend you take advantage of that opportunity. I've hinted at the arc of what she says, but there is so much more.
You can also read the book she wrote about this, Rising Hills, Sinking Valleys.