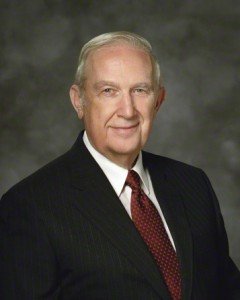 The Church has just announced the passing of Elder Richard G. Scott today. Our hearts, prayers, and condolences are with the Scott family, as well as the members of the Quorum of the 12 and First Presidency.
His passing marks the third member of the 12 to pass away since April General Conference. This upcoming Conference will give us all the chance to see how the mantle of responsibility is passed to the next, new apostles and to witness the Gospel in action. It's a testimony to the order the Lord has established in His Church.
Till we meet again, Elder Scott. Thank you for your years of wise council and wisdom. You will be missed.
UPDATE: Elder Scott's funeral will be held on Monday, September 28, 2015, in the Salt Lake Tabernacle at 11am MDT. The funeral will also be streamed online at LDS.org, MormonNewsRoom.org, BYUTV.org and on KSL, and KBYU tv in Utah.