A newly released study shows that the state of Utah had the best overall COVID policies in the United States.
Utah had a comparatively low mortality rate during the pandemic and was better than other states at maintaining economic activity and not destroying kids' futures.
There is an old saying from the Vietnam War: "we had destroy the village in order to save it." Now, it turns out that quotation may be false, but any case it came to symbolize the failure of the Vietnam War. During the pandemic, the equivalent may have been: "we had to close the economy, imprison the people and kill the kids in order to save a few older people." Because unfortunately this was the policy for most states, and that policy did not work in most cases because older people still died.
But the good news is that states like Utah avoided the worst policies during the pandemic, according to this study. Here are the results from the top states: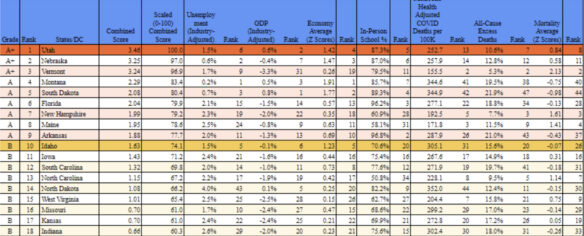 And here are the worst states:

If there is any trend that we can note, it is that the best states promoted personal freedom the most, whereas the worst states had the most tyrannical lockdowns. In addition, many of the best states (except Florida) were relatively sparsely populated and many of the worst states are more crowded, with the obvious exception of New Mexico.
Here is the summary from the study:

During the pandemic there were many commenters on this blog calling for more complete lockdowns like we are seeing today in China. It should hopefully be obvious now that these horrific policies kill many more people than they save, while completely destroying freedom. If only somebody in the LDS world had warned us that lockdowns would not work. Oh yes, somebody did.