Hymn #36, "They The Builders of the Nation" is one of my favorite hymns in our green hymn book. I actually like it more than "Come, Come Ye Saints", which I like too, but not as much. As I was listening to the words of Builders the other day, a line in the first verse stuck out at me and has been on my mind ever since, here is the first verse, and the line in bold,
"They, the builders of the nation,
Blazing trails along the way;
Stepping-stones for generations
Were their deeds of ev'ry day.
Building new and firm foundations,
Pushing on the wild frontier,
Forging onward, ever onward,
Blessed, honored Pioneer!
"Blazing trails for generations, were their deeds of every day." This picture collage below is of my ancestors. They came from England, Scotland, and Germany. Some of them joined the church in the early days — the 1830s, some later in the 1920s. All of them were pioneers in their own way.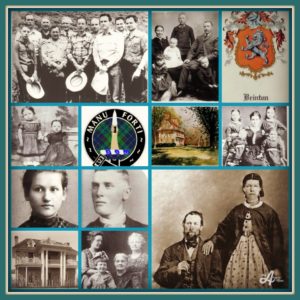 This lyric made me think about those every day deeds of my ancestors. What were they? What were the every day choices they made that laid a foundation of faith for their descendants? It was things like, reading the scriptures, praying with faith, acting in faith, following the prophet even when it was very hard, dedicating their lives to the gospel of Jesus Christ, building the temple, leaving their homes in far away lands to come to America to be with the Saints, leaving their families to serve missions, having children in hard circumstances, and sacrificing what they wanted for what the Lord needed from them. None of them had very easy lives.
Then asked myself, "What are my every day deeds that are the stepping stones for my posterity?" Reading the scriptures, praying with faith, acting in faith, following the prophet when it is not socially acceptable, even among fellow Mormons, dedicating my life to the gospel of Jesus Christ, keeping my temple covenants, leaving my hometown and living far away from family to build the kingdom in another state, serving a full time mission, having children in hard circumstances and later in life, and sacrificing what I want for what the Lord needs me to do.
Family History is more than just the numbers on the genealogy chart. The stories of our ancestors are important too. I grew up knowing that Grandma Willemena MacKay hid in a ditch to avoid being arrested on her baptism day — that was after they had chopped a hole in the ice of the creek to be baptized in, and that she held on to an ox tail when they crossed the Platte River as they crossed the plains so she would not drown. It's knowing that Grandfather David Brinton was one of the Missouri Saints, who had to flee the state to save his life. It was knowing that Grandfather Parley P. Pratt had a burning testimony of the Book of Mormon and gave his life for the gospel. It was knowing that Grandfather Benjamin Woodbury Driggs was only a young boy when the Nauvoo Temple was being built, so he took his wagon and went to carry tools for the brothers building the temple as a way to participate. It was Grandmother Maria Magdalena Plewe and her family joining the church in East Prussia after WWI, and then coming to America, where no one in their Utah ward would talk to them because they were German, but they remained faithful to the gospel anyway.
There are many more stories of faith in my family history. Do you know your family's stories? Are you telling them to your children? Do they know what the every day deeds of their ancestors were?
Through my work in LDS social media for the last 17 years, I have seen the rise and fall of the Bloggernacle and the coming and going of many bright and persuasive people. Some of them are persuading people to do good, others, not so much. Their deeds are the legacy they leave for others that follow them. My deeds are the legacy, the stepping stones for people that will come after me. I want to make sure I am laying a good foundation, with strong stones.
In the Book of Mormon, in Helaman 5: 12, Helaman teaches his sons, and us,
"And now, my sons, remember, remember that it is upon the rock of our Redeemer, who is Christ, the Son of God, that ye must build your foundation; that when the devil shall send forth his mighty winds, yea, his shafts in the whirlwind, yea, when all his hail and his mighty storm shall beat upon you, it shall have no power over you to drag you down to the gulf of misery and endless wo, because of the rock upon which ye are built, which is a sure foundation, a foundation whereon if men build they cannot fall."
That is a beautiful reminder of where we should be laying the stones of our life — on the Rock of Christ. It's only by this way that we will survive life with our testimonies and faith in tact.
My challenge to myself, and to you, if you want to take it up, is to evaluate your every day deeds and choices. what kind of a legacy path am I (are you) laying, and leaving for your posterity? In the future I want a descendant or two to look back at my life and say, "She exercised faith and did hard things, so I can too."