Some readers may know that the Fort Collins temple was dedicated over the weekend.  You can read about it here.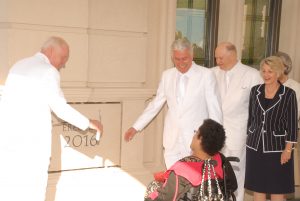 To sum up the details:  President Uchtdorf was in town with Elder Renlund and several other Church officials.  On Saturday there was a massive cultural celebration in Hughes Stadium, where the CSU football team plays.  More than 20,000 people were there.  On Sunday, President Uchtdorf placed mortar around the cornerstone and presided over three dedicatory sessions.
During the dedicatory sessions, many chapels were consecrated as extensions of the temple so all baptized members could watch the dedication.  We gathered in our local chapel with two of our baptized children.
All of the events were surrounded by a peaceful feeling of the sacred.  I kept on thinking back to past temple dedications — especially the Kirtland temple dedication in 1836 — and how temple dedications are accompanied by the Spirit and very often personal revelation.
And the exciting part for our family was that my wife and I had some personal revelations of our own.
My wife had a dream that she was present at the Tabernacle during Moses' time.  The ordinances were intended to remind people of the commandments. Many people felt guilt because they fell short of what God expected. Then she was transported to the modern temple.  She was expecting to feel the same guilt.  Instead, she felt overwhelming love and acceptance.
My wife felt like God was sending her the message that her actions were acceptable to the Lord.  The Lord was telling her she is on the right track in her life.  The Lord loves her and wants her in His temple.   A loving God opens his arms to her.
As I watched the cultural celebration, I felt the Spirit descend on me.  I was ready to tell the Lord I was sorry for falling so short of His expectations.  It was as if he put his hand on my shoulder and said, "stop."  Instead, He told me He loved me and was happy with my life.  He wanted me to feel pleased with the changes in my life that had brought me to temple worthiness.  He wanted me to know He loved me and was happy I was going to His temple.  I was accepted.  I was loved.  Tears of joy ran down my face as I pondered the fact that the Lord knows me and loves me.
My wife and I both had similar revelations, but they happened separately. They were personal revelations for each of us, but the revelations showed that we are united in purpose.  Isn't that one of the results of an eternal marriage:  two individuals united in purpose?
Today I felt at peace as I read D&C 110:5-6:
Behold, your sins are forgiven you; you are clean before me; therefore, lift up your heads and rejoice.  Let the hearts of your brethren rejoice, and let the hearts of all my people rejoice who have, with their might, built this house to my name.
Hosanna, hosanna, hosanna, to God and the Lamb!