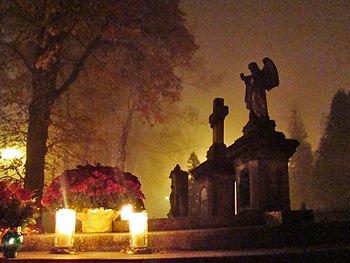 Everyone knows that Halloween is a time of spooks, monsters, and witches. What has been lost in the costumed time of begging for candy is the religious foundation of the festival. Some Christians, including Latter-day Saints, have a hard time with this season as they consider it a celebration of evil. There is truth to that, but only because of cultural transformation. It actually has a Christian devotional relationship.
From a William Hamblin and Daniel Peterson article about the holliday roots:
The word "Halloween," or "Hallowe'en," dates to about 1745. It's a contraction of "All Hallows' Eve," and it denotes the evening before the Western Christian feast of All Hallows' Day (i.e., "All Saints' Day") — a time, in the Catholic calendar, for remembering the dead, particularly saints, martyrs, and departed Christian believers. (It's akin to the Jewish "Yizkor" prayer and the Hindu period of "Pitru Paksha.") . . .

All Saints' Day became a Christian holiday in A.D. 609, but it was originally celebrated on May 13. By the end of the 12th century, all of Europe observed it. Churches rang their bells, and criers dressed in black paraded in the streets, summoning others to pray for the deliverance of the souls in Purgatory. (Act 2, Scene 1 of Shakespeare's "Two Gentlemen of Verona" recalls the sound of "a beggar at Hallowmas.") Skulls and skeletons were commonly depicted as reminders of death and the transience of human life. "Soul cakes" were baked and distributed in memory of all christened but departed souls, which suggests one possible origin for the treats given out at Halloween.

In 835, though, Pope Gregory IV changed the date of All Saints or All Hallows to Nov. 1. Some readers will be familiar, in this connection, with the common Hispanic observance of the "Dia de Muertos" or "Day of the Dead." . . .

Curiously, Martin Luther is said to have nailed his famous "95 Theses" to the door of All Saints' Church in Wittenberg — and, thus, to have launched the Protestant Reformation — on Oct. 31 because he knew that the church would be packed with worshippers on All Hallows' (or All Saints') Day the following morning. Hence, Oct. 31 is also celebrated as "Reformation Day."
In honor of the religious aspects of Halloween, I present Scripture stories that would fit in with the season. They can frighten and enlighten. Perhaps these can be a step in inviting back the spiritual aspect of the holiday. Another option is spending time contemplating the struggles and triumphs of family history before dressing up and celebrating.
A Wicked Family
An act of murder brings the downfall of a family lineage. From Moses 5 of the "Pearl of Great Price":
16 And Adam and Eve, his wife, ceased not to call upon God. And Adam knew Eve his wife, and she conceived and bare Cain, and said: I have gotten a man from the Lord; wherefore he may not reject his words. But behold, Cain hearkened not, saying: Who is the Lord that I should know him?

17 And she again conceived and bare his brother Abel. And Abel hearkened unto the voice of the Lord. And Abel was a keeper of sheep, but Cain was a tiller of the ground.

18 And Cain loved Satan more than God. And Satan commanded him, saying: Make an offering unto the Lord.

19 And in process of time it came to pass that Cain brought of the fruit of the ground an offering unto the Lord.

20 And Abel, he also brought of the firstlings of his flock, and of the fat thereof. And the Lord had respect unto Abel, and to his offering;

21 But unto Cain, and to his offering, he had not respect. Now Satan knew this, and it pleased him. And Cain was very wroth, and his countenance fell.

22 And the Lord said unto Cain: Why art thou wroth? Why is thy countenance fallen?

23 If thou doest well, thou shalt be accepted. And if thou doest not well, sin lieth at the door, and Satan desireth to have thee; and except thou shalt hearken unto my commandments, I will deliver thee up, and it shall be unto thee according to his desire. And thou shalt rule over him;

24 For from this time forth thou shalt be the father of his lies; thou shalt be called Perdition; for thou wast also before the world.

25 And it shall be said in time to come—That these abominations were had from Cain; for he rejected the greater counsel which was had from God; and this is a cursing which I will put upon thee, except thou repent.

26 And Cain was wroth, and listened not any more to the voice of the Lord, neither to Abel, his brother, who walked in holiness before the Lord.

27 And Adam and his wife mourned before the Lord, because of Cain and his brethren.

28 And it came to pass that Cain took one of his brothers' daughters to wife, and they loved Satan more than God.

29 And Satan said unto Cain: Swear unto me by thy throat, and if thou tell it thou shalt die; and swear thy brethren by their heads, and by the living God, that they tell it not; for if they tell it, they shall surely die; and this that thy father may not know it; and this day I will deliver thy brother Abel into thine hands.

30 And Satan sware unto Cain that he would do according to his commands. And all these things were done in secret.

31 And Cain said: Truly I am Mahan, the master of this great secret, that I may murder and get gain. Wherefore Cain was called Master Mahan, and he gloried in his wickedness.

32 And Cain went into the field, and Cain talked with Abel, his brother. And it came to pass that while they were in the field, Cain rose up against Abel, his brother, and slew him.

33 And Cain gloried in that which he had done, saying: I am free; surely the flocks of my brother falleth into my hands.

34 And the Lord said unto Cain: Where is Abel, thy brother? And he said: I know not. Am I my brother's keeper?

35 And the Lord said: What hast thou done? The voice of thy brother's blood cries unto me from the ground.

36 And now thou shalt be cursed from the earth which hath opened her mouth to receive thy brother's blood from thy hand.

37 When thou tillest the ground it shall not henceforth yield unto thee her strength. A fugitive and a vagabond shalt thou be in the earth.

38 And Cain said unto the Lord: Satan tempted me because of my brother's flocks. And I was wroth also; for his offering thou didst accept and not mine; my punishment is greater than I can bear.

39 Behold thou hast driven me out this day from the face of the Lord, and from thy face shall I be hid; and I shall be a fugitive and a vagabond in the earth; and it shall come to pass, that he that findeth me will slay me, because of mine iniquities, for these things are not hid from the Lord.

40 And I the Lord said unto him: Whosoever slayeth thee, vengeance shall be taken on him sevenfold. And I the Lord set a mark upon Cain, lest any finding him should kill him.

41 And Cain was shut out from the presence of the Lord, and with his wife and many of his brethren dwelt in the land of Nod, on the east of Eden.

42 And Cain knew his wife, and she conceived and bare Enoch, and he also begat many sons and daughters. And he builded a city, and he called the name of the city after the name of his son, Enoch.

43 And unto Enoch was born Irad, and other sons and daughters. And Irad begat Mahujael, and other sons and daughters. And Mahujael begat Methusael, and other sons and daughters. And Methusael begat Lamech.

44 And Lamech took unto himself two wives; the name of one being Adah, and the name of the other, Zillah.

45 And Adah bare Jabal; he was the father of such as dwell in tents, and they were keepers of cattle; and his brother's name was Jubal, who was the father of all such as handle the harp and organ.

46 And Zillah, she also bare Tubal Cain, an instructor of every artificer in brass and iron. And the sister of Tubal Cain was called Naamah.

47 And Lamech said unto his wives, Adah and Zillah: Hear my voice, ye wives of Lamech, hearken unto my speech; for I have slain a man to my wounding, and a young man to my hurt.

48 If Cain shall be avenged sevenfold, truly Lamech shall be seventy and seven fold;

49 For Lamech having entered into a covenant with Satan, after the manner of Cain, wherein he became Master Mahan, master of that great secret which was administered unto Cain by Satan; and Irad, the son of Enoch, having known their secret, began to reveal it unto the sons of Adam;

50 Wherefore Lamech, being angry, slew him, not like unto Cain, his brother Abel, for the sake of getting gain, but he slew him for the oath's sake.

51 For, from the days of Cain, there was a secret combination, and their works were in the dark, and they knew every man his brother.

52 Wherefore the Lord cursed Lamech, and his house, and all them that had covenanted with Satan; for they kept not the commandments of God, and it displeased God, and he ministered not unto them, and their works were abominations, and began to spread among all the sons of men. And it was among the sons of men.

53 And among the daughters of men these things were not spoken, because that Lamech had spoken the secret unto his wives, and they rebelled against him, and declared these things abroad, and had not compassion;

54 Wherefore Lamech was despised, and cast out, and came not among the sons of men, lest he should die.

55 And thus the works of darkness began to prevail among all the sons of men.

56 And God cursed the earth with a sore curse, and was angry with the wicked, with all the sons of men whom he had made;

57 For they would not hearken unto his voice, nor believe on his Only Begotten Son, even him whom he declared should come in the meridian of time, who was prepared from before the foundation of the world.

58 And thus the Gospel began to be preached, from the beginning, being declared by holy angels sent forth from the presence of God, and by his own voice, and by the gift of the Holy Ghost.

59 And thus all things were confirmed unto Adam, by an holy ordinance, and the Gospel preached, and a decree sent forth, that it should be in the world, until the end thereof; and thus it was. Amen.
The Warning on the Wall
A mysterious hand writes strange words on a wall. A prophet interprets it to mean disaster is coming. From Daniel 5 of "The Old Testament":
5 ¶In the same hour came forth fingers of a man's hand, and wrote over against the candlestick upon the plaster of the wall of the king's palace: and the king saw the part of the hand that wrote.

6 Then the king's countenance was changed, and his thoughts troubled him, so that the joints of his loins were loosed, and his knees smote one against another.

7 The king cried aloud to bring in the astrologers, the Chaldeans, and the soothsayers. And the king spake, and said to the wise men of Babylon, Whosoever shall read this writing, and shew me the interpretation thereof, shall be clothed with scarlet, and have a chain of gold about his neck, and shall be the third ruler in the kingdom.

8 Then came in all the king's wise men: but they could not read the writing, nor make known to the king the interpretation thereof.

9 Then was king Belshazzar greatly troubled, and his countenance was changed in him, and his lords were astonied.

10 ¶Now the queen, by reason of the words of the king and his lords, came into the banquet house: and the queen spake and said, O king, live for ever: let not thy thoughts trouble thee, nor let thy countenance be changed:

11 There is a man in thy kingdom, in whom is the spirit of the holy gods; and in the days of thy father light and understanding and wisdom, like the wisdom of the gods, was found in him; whom the king Nebuchadnezzar thy father, the king, I say, thy father, made master of the magicians, astrologers, Chaldeans, and soothsayers;

12 Forasmuch as an excellent spirit, and knowledge, and understanding, interpreting of dreams, and shewing of hard sentences, and dissolving of doubts, were found in the same Daniel, whom the king named Belteshazzar: now let Daniel be called, and he will shew the interpretation.

13 Then was Daniel brought in before the king. And the king spake and said unto Daniel, Art thou that Daniel, which art of the children of the captivity of Judah, whom the king my father brought out of Jewry?

14 I have even heard of thee, that the spirit of the gods is in thee, and that light and understanding and excellent wisdom is found in thee.

15 And now the wise men, the astrologers, have been brought in before me, that they should read this writing, and make known unto me the interpretation thereof: but they could not shew the interpretation of the thing:

16 And I have heard of thee, that thou canst make interpretations, and dissolve doubts: now if thou canst read the writing, and make known to me the interpretation thereof, thou shalt be clothed with scarlet, and have a chain of gold about thy neck, and shalt be the third ruler in the kingdom.

17 ¶Then Daniel answered and said before the king, Let thy gifts be to thyself, and give thy rewards to another; yet I will read the writing unto the king, and make known to him the interpretation.

18 O thou king, the most high God gave Nebuchadnezzar thy father a kingdom, and majesty, and glory, and honour:

19 And for the majesty that he gave him, all people, nations, and languages, trembled and feared before him: whom he would he slew; and whom he would he kept alive; and whom he would he set up; and whom he would he put down.

20 But when his heart was lifted up, and his mind hardened in pride, he was deposed from his kingly throne, and they took his glory from him:

21 And he was driven from the sons of men; and his heart was made like the beasts, and his dwelling was with the wild asses: they fed him with grass like oxen, and his body was wet with the dew of heaven; till he knew that the most high God ruled in the kingdom of men, and that he appointeth over it whomsoever he will.

22 And thou his son, O Belshazzar, hast not humbled thine heart, though thou knewest all this;

23 But hast lifted up thyself against the Lord of heaven; and they have brought the vessels of his house before thee, and thou, and thy lords, thy wives, and thy concubines, have drunk wine in them; and thou hast praised the gods of silver, and gold, of brass, iron, wood, and stone, which see not, nor hear, nor know: and the God in whose hand thy breath is, and whose are all thy ways, hast thou not glorified:

24 Then was the part of the hand sent from him; and this writing was written.

25 ¶And this is the writing that was written, MENE, MENE, TEKEL, UPHARSIN.

26 This is the interpretation of the thing: MENE; God hath numbered thy kingdom, and finished it.

27 TEKEL; Thou art weighed in the balances, and art found wanting.

28 PERES; Thy kingdom is divided, and given to the Medes and Persians.

29 Then commanded Belshazzar, and they clothed Daniel with scarlet, and put a chain of gold about his neck, and made a proclamation concerning him, that he should be the third ruler in the kingdom.

30 ¶In that night was Belshazzar the king of the Chaldeans slain.

31 And Darius the Median took the kingdom, being about threescore and two years old.
A Monster Described
The greatness and majesty of a mighty beast is detailed. From Job 41 of the "Old Testament":
1 Canst thou draw out leviathan with an hook? or his tongue with a cord which thou lettest down?

2 Canst thou put an hook into his nose? or bore his jaw through with a thorn?

3 Will he make many supplications unto thee? will he speak soft words unto thee?

4 Will he make a covenant with thee? wilt thou take him for a servant for ever?

5 Wilt thou play with him as with a bird? or wilt thou bind him for thy maidens?

6 Shall the companions make a banquet of him? shall they part him among the merchants?

7 Canst thou fill his skin with barbed irons? or his head with fish spears?

8 Lay thine hand upon him, remember the battle, do no more.

9 Behold, the hope of him is in vain: shall not one be cast down even at the sight of him?

10 None is so fierce that dare stir him up: who then is able to stand before me?

11 Who hath prevented me, that I should repay him? whatsoever is under the whole heaven is mine.

12 I will not conceal his parts, nor his power, nor his comely proportion.

13 Who can discover the face of his garment? or who can come to him with his double bridle?

14 Who can open the doors of his face? his teeth are terrible round about.

15 His scales are his pride, shut up together as with a close seal.

16 One is so near to another, that no air can come between them.

17 They are joined one to another, they stick together, that they cannot be sundered.

18 By his neesings a light doth shine, and his eyes are like the eyelids of the morning.

19 Out of his mouth go burning lamps, and sparks of fire leap out.

20 Out of his nostrils goeth smoke, as out of a seething pot or caldron.

21 His breath kindleth coals, and a flame goeth out of his mouth.

22 In his neck remaineth strength, and sorrow is turned into joy before him.

23 The flakes of his flesh are joined together: they are firm in themselves; they cannot be moved.

24 His heart is as firm as a stone; yea, as hard as a piece of the nether millstone.

25 When he raiseth up himself, the mighty are afraid: by reason of breakings they purify themselves.

26 The sword of him that layeth at him cannot hold: the spear, the dart, nor the habergeon.

27 He esteemeth iron as straw, and brass as rotten wood.

28 The arrow cannot make him flee: slingstones are turned with him into stubble.

29 Darts are counted as stubble: he laugheth at the shaking of a spear.

30 Sharp stones are under him: he spreadeth sharp pointed things upon the mire.

31 He maketh the deep to boil like a pot: he maketh the sea like a pot of ointment.

32 He maketh a path to shine after him; one would think the deep to be hoary.

33 Upon earth there is not his like, who is made without fear.

34 He beholdeth all high things: he is a king over all the children of pride.
Exorcism of the Legion
A mad man is healed by the casting out of devils. Unclean animals are possessed by the unclean spirits. From Mark 5 of the "New Testament":
1 And they came over unto the other side of the sea, into the country of the Gadarenes.

2 And when he was come out of the ship, immediately there met him out of the tombs a man with an unclean spirit,

3 Who had his dwelling among the tombs; and no man could bind him, no, not with chains:

4 Because that he had been often bound with fetters and chains, and the chains had been plucked asunder by him, and the fetters broken in pieces: neither could any man tame him.

5 And always, night and day, he was in the mountains, and in the tombs, crying, and cutting himself with stones.

6 But when he saw Jesus afar off, he ran and worshipped him,

7 And cried with a loud voice, and said, What have I to do with thee, Jesus, thou Son of the most high God? I adjure thee by God, that thou torment me not.

8 For he said unto him, Come out of the man, thou unclean spirit.

9 And he asked him, What is thy name? And he answered, saying, My name is Legion: for we are many.

10 And he besought him much that he would not send them away out of the country.

11 Now there was there nigh unto the mountains a great herd of swine feeding.

12 And all the devils besought him, saying, Send us into the swine, that we may enter into them.

13 And forthwith Jesus gave them leave. And the unclean spirits went out, and entered into the swine: and the herd ran violently down a steep place into the sea, (they were about two thousand;) and were choked in the sea.

14 And they that fed the swine fled, and told it in the city, and in the country. And they went out to see what it was that was done.

15 And they come to Jesus, and see him that was possessed with the devil, and had the legion, sitting, and clothed, and in his right mind: and they were afraid.

16 And they that saw it told them how it befell to him that was possessed with the devil, and also concerning the swine.

17 And they began to pray him to depart out of their coasts.

18 And when he was come into the ship, he that had been possessed with the devil prayed him that he might be with him.

19 Howbeit Jesus suffered him not, but saith unto him, Go home to thy friends, and tell them how great things the Lord hath done for thee, and hath had compassion on thee.

20 And he departed, and began to publish in Decapolis how great things Jesus had done for him: and all men did marvel.
The Deep Sleep
Members of a house fall into a coma that some fear is a curse, causing panic and fear. Out of the perceived horror comes miracles and truth. From Alma 19 of "The Book of Mormon":
1 And it came to pass that after two days and two nights they were about to take his body and lay it in a sepulchre, which they had made for the purpose of burying their dead.

2 Now the queen having heard of the fame of Ammon, therefore she sent and desired that he should come in unto her.

3 And it came to pass that Ammon did as he was commanded, and went in unto the queen, and desired to know what she would that he should do.

4 And she said unto him: The servants of my husband have made it known unto me that thou art a prophet of a holy God, and that thou hast power to do many mighty works in his name;

5 Therefore, if this is the case, I would that ye should go in and see my husband, for he has been laid upon his bed for the space of two days and two nights; and some say that he is not dead, but others say that he is dead and that he stinketh, and that he ought to be placed in the sepulchre; but as for myself, to me he doth not stink.

6 Now, this was what Ammon desired, for he knew that king Lamoni was under the power of God; he knew that the dark veil of unbelief was being cast away from his mind, and the light which did light up his mind, which was the light of the glory of God, which was a marvelous light of his goodness—yea, this light had infused such joy into his soul, the cloud of darkness having been dispelled, and that the light of everlasting life was lit up in his soul, yea, he knew that this had overcome his natural frame, and he was carried away in God—

7 Therefore, what the queen desired of him was his only desire. Therefore, he went in to see the king according as the queen had desired him; and he saw the king, and he knew that he was not dead.

8 And he said unto the queen: He is not dead, but he sleepeth in God, and on the morrow he shall rise again; therefore bury him not.

9 And Ammon said unto her: Believest thou this? And she said unto him: I have had no witness save thy word, and the word of our servants; nevertheless I believe that it shall be according as thou hast said.

10 And Ammon said unto her: Blessed art thou because of thy exceeding faith; I say unto thee, woman, there has not been such great faith among all the people of the Nephites.

11 And it came to pass that she watched over the bed of her husband, from that time even until that time on the morrow which Ammon had appointed that he should rise.

12 And it came to pass that he arose, according to the words of Ammon; and as he arose, he stretched forth his hand unto the woman, and said: Blessed be the name of God, and blessed art thou.

13 For as sure as thou livest, behold, I have seen my Redeemer; and he shall come forth, and be born of a woman, and he shall redeem all mankind who believe on his name. Now, when he had said these words, his heart was swollen within him, and he sunk again with joy; and the queen also sunk down, being overpowered by the Spirit.

14 Now Ammon seeing the Spirit of the Lord poured out according to his prayers upon the Lamanites, his brethren, who had been the cause of so much mourning among the Nephites, or among all the people of God because of their iniquities and their traditions, he fell upon his knees, and began to pour out his soul in prayer and thanksgiving to God for what he had done for his brethren; and he was also overpowered with joy; and thus they all three had sunk to the earth.

15 Now, when the servants of the king had seen that they had fallen, they also began to cry unto God, for the fear of the Lord had come upon them also, for it was they who had stood before the king and testified unto him concerning the great power of Ammon.

16 And it came to pass that they did call on the name of the Lord, in their might, even until they had all fallen to the earth, save it were one of the Lamanitish women, whose name was Abish, she having been converted unto the Lord for many years, on account of a remarkable vision of her father—

17 Thus, having been converted to the Lord, and never having made it known, therefore, when she saw that all the servants of Lamoni had fallen to the earth, and also her mistress, the queen, and the king, and Ammon lay prostrate upon the earth, she knew that it was the power of God; and supposing that this opportunity, by making known unto the people what had happened among them, that by beholding this scene it would cause them to believe in the power of God, therefore she ran forth from house to house, making it known unto the people.

18 And they began to assemble themselves together unto the house of the king. And there came a multitude, and to their astonishment, they beheld the king, and the queen, and their servants prostrate upon the earth, and they all lay there as though they were dead; and they also saw Ammon, and behold, he was a Nephite.

19 And now the people began to murmur among themselves; some saying that it was a great evil that had come upon them, or upon the king and his house, because he had suffered that the Nephite should remain in the land.

20 But others rebuked them, saying: The king hath brought this evil upon his house, because he slew his servants who had had their flocks scattered at the waters of Sebus.

21 And they were also rebuked by those men who had stood at the waters of Sebus and scattered the flocks which belonged to the king, for they were angry with Ammon because of the number which he had slain of their brethren at the waters of Sebus, while defending the flocks of the king.

22 Now, one of them, whose brother had been slain with the sword of Ammon, being exceedingly angry with Ammon, drew his sword and went forth that he might let it fall upon Ammon, to slay him; and as he lifted the sword to smite him, behold, he fell dead.

23 Now we see that Ammon could not be slain, for the Lord had said unto Mosiah, his father: I will spare him, and it shall be unto him according to thy faith—therefore, Mosiah trusted him unto the Lord.

24 And it came to pass that when the multitude beheld that the man had fallen dead, who lifted the sword to slay Ammon, fear came upon them all, and they durst not put forth their hands to touch him or any of those who had fallen; and they began to marvel again among themselves what could be the cause of this great power, or what all these things could mean.

25 And it came to pass that there were many among them who said that Ammon was the Great Spirit, and others said he was sent by the Great Spirit;

26 But others rebuked them all, saying that he was a monster, who had been sent from the Nephites to torment them.

27 And there were some who said that Ammon was sent by the Great Spirit to afflict them because of their iniquities; and that it was the Great Spirit that had always attended the Nephites, who had ever delivered them out of their hands; and they said that it was this Great Spirit who had destroyed so many of their brethren, the Lamanites.

28 And thus the contention began to be exceedingly sharp among them. And while they were thus contending, the woman servant who had caused the multitude to be gathered together came, and when she saw the contention which was among the multitude she was exceedingly sorrowful, even unto tears.

29 And it came to pass that she went and took the queen by the hand, that perhaps she might raise her from the ground; and as soon as she touched her hand she arose and stood upon her feet, and cried with a loud voice, saying: O blessed Jesus, who has saved me from an awful hell! O blessed God, have mercy on this people!

30 And when she had said this, she clasped her hands, being filled with joy, speaking many words which were not understood; and when she had done this, she took the king, Lamoni, by the hand, and behold he arose and stood upon his feet.

31 And he, immediately, seeing the contention among his people, went forth and began to rebuke them, and to teach them the words which he had heard from the mouth of Ammon; and as many as heard his words believed, and were converted unto the Lord.

32 But there were many among them who would not hear his words; therefore they went their way.

33 And it came to pass that when Ammon arose he also administered unto them, and also did all the servants of Lamoni; and they did all declare unto the people the selfsame thing—that their hearts had been changed; that they had no more desire to do evil.

34 And behold, many did declare unto the people that they had seen angels and had conversed with them; and thus they had told them things of God, and of his righteousness.

35 And it came to pass that there were many that did believe in their words; and as many as did believe were baptized; and they became a righteous people, and they did establish a church among them.

36 And thus the work of the Lord did commence among the Lamanites; thus the Lord did begin to pour out his Spirit upon them; and we see that his arm is extended to all people who will repent and believe on his name.
And finally,
Spirit Detection
A short introduction to determine what kind of spirit is visiting with a message. From Doctrine and Covenants section 129:
1 There are two kinds of beings in heaven, namely: Angels, who are resurrected personages, having bodies of flesh and bones—

2 For instance, Jesus said: Handle me and see, for a spirit hath not flesh and bones, as ye see me have.

3 Secondly: the spirits of just men made perfect, they who are not resurrected, but inherit the same glory.

4 When a messenger comes saying he has a message from God, offer him your hand and request him to shake hands with you.

5 If he be an angel he will do so, and you will feel his hand.

6 If he be the spirit of a just man made perfect he will come in his glory; for that is the only way he can appear—

7 Ask him to shake hands with you, but he will not move, because it is contrary to the order of heaven for a just man to deceive; but he will still deliver his message.

8 If it be the devil as an angel of light, when you ask him to shake hands he will offer you his hand, and you will not feel anything; you may therefore detect him.

9 These are three grand keys whereby you may know whether any administration is from God.
Having read these, go out and enjoy the secular ghouls, imaginative costumes, and candy with the family. Think of it as a way to remember that evil only has the power we give it in our lives. Be ever vigilant of the wickedness that surrounds us every day. Most importantly the celebration comes from a memorial to those of faith who came before to forge a path for future generations.