I'm not a British Royal watcher at all. But the fact that a new prince was born this week has dotted my social media feeds to the point of not being able to avoid this story. That said, I'm always happy when a new baby is born and I'm happy for the new parents as they start on the crazy road of parenting. Parenting is everything you never knew you wanted to know, and needed to feel — it refines you and tests you in ways you didn't know existed.  But there is also indescribable joy and love that come with parenting too.
That all said, and this week being Mother's Day, I don't want it to seem like I'm trying to steal Mom's thunder but time is of the essence today, and it relates to the new prince being born. Someone I follow on twitter, retweeted the following: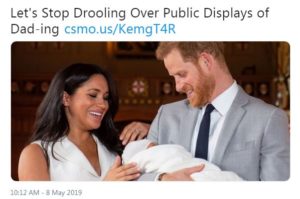 This tweet came from a popular women's magazine, the title of which I'm not going to say.  But 127 people were woke enough to give it a thumbs up. Sorry, that's just wrong.  Kids need their dads.  They need there dads to provide, not just temporal things, but also emotional and spiritual things.  Fathers are important.
The Plan of Salvation has roles for men and women — men's and women's roles are obviously different, but equally important.  Data shows the importance of father's as well.
"Children with involved dads are less likely to break the law and drop out of school. Guided by close relationships with father figures, these kids disproportionately grow up to avoid risky sex, pursue healthy relationships, and hold down high-paying jobs. They're unlikely to become homeless or rely on welfare and more likely to have higher IQ scores than their peers by age three. Longer term, they suffer from fewer psychological problems and may be less prone to obesity"
Data Show the Benefits of Fathers, by Fr. John Flynn
The Significance of a Father's Influence, Q&A, from Focus on the Family
10 Facts About Father Engagement, by The Fatherhood Project
And there are many more articles published about the importance of fathers.  To the women's magazine I tweeted back, "Nope.  Dad's are so important.  I wish that my Dad would have been more involved in my life growing up."
To our readers who are Dads, thank you for what you do.  Teach your kids, love them, help them, be there for them. They will love it if you do.