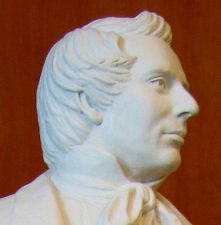 In yesterday's discussion on Meg's first post I started to write a comment that (as sometimes happens) became a tangent that then became a whole post.
I'm not even sure what comment originally prompted this. But I was thinking about Joseph Smith's younger wives, particularly Helen Mar Kimball. Meg and I also got talking and she pointed to Nancy Winchester as being about the same age when they 'married' Joseph Smith.
The evidence is currently against either having consummated their marriages to Joseph. In the case of Helen Mar Kimball she actually tells us in her own writing what she didn't like about being married to Joseph and her top complaint was that she didn't get to go dancing. And for Nancy Winchester we have a direct account from Heber C. Kimball stating that the marriage was not consummated. As with all things in history, if you want to see Joseph Smith in as bad a light as possible, certainly you can come up with reasons to interpret what's in the historical record how you see fit. But its safe to say that there is no reason at this time to favor the view that the marriages were consummated.
In any case, that got me thinking about a question that I find far more interesting. How did our 19th century counterparts — both in and out of the Church — view age of marriage differently from us? And at what age (or circumstance) would they have seen a marriage of an older man to a teenaged girl as morally acceptable?
During my own studies into polygamy, I had noted that the women we know Emma approved Joseph to marry were, from our point of view today, girls. Emma was hardly a roaring fan of polygamy, yet to her these girls were marriageable women. I also noticed that there are several stories in the historical record of these teenaged wives being asked if they wanted to marry Joseph or not precisely because family members perceived them as capable of making such a decision on their own, whereas today we do not perceive a girl of that age as capable of making such a decision.
Interestingly we are inconsistent on this point today. I was reading a news article about a law that was changed (in a court, of course) to allow more "women" to receive abortions. The various feminist organizations talked about how this was a great victory for "women" everywhere. They used "women" over and over all through the article and about how these women were getting the access to abortions they needed and how terrible it was that previously some "women" were bared from abortions until the courts changed this law. But then I realized that the law change was to allow girls under 17 to receive abortions without parental permission.
Without starting any sort of argument over that specific issue, I did find it interesting that this was clearly a case where these organizations did see these "girls" as "women" and "capable of making their own decisions" including when to start having sex and when to get an abortion. And the news media picking it up had no problem not challenging their classification as "women" instead of "girls" so it wasn't just the feminist organizations that saw these teenage girls as capable of making their own sexual decisions.
Further, we seem to be increasingly unsqueamish over teen girls having sex so long as the man is merely close to her age, even if the man is not a minor. (Or vice versa as well.) For example, some states do not consider it illegal for a man aged 18 or 19 to have sex with a girl aged 17. He was probably sexual active with her last year when both were in high school anyhow. How much sense does it make to decide that now that he's had a birthday it's illegal?
In fact, if our 19th century counterparts knew that we moderns considered a girl aged 17 years and 364 days incapable of choosing to have sex with or marry a 23-year-old man, but that we thought she was fully capable of making that decision the next day, I suspect they'd question our sanity.
In any case, we think teen girls are capable of making such sexual decisions — even with someone who is not a minor — so long as it doesn't violate our cultural norms about what age is appropriate for that girl to be having sex with.
And maybe that isn't so surprising given that there is a long evolutionary history for why nature matures teens for sex at those ages and with girls maturing sooner. Throughout the history of the world nature intended sexual activity to begin around that age. It's really the existence of a modern world where extended education is such a necessity (an artificial circumstance) that makes this a particularly bad idea today. (i.e. Specifically for teens to marry, since we now expect them to become sexual active at that age.)
So maybe were not really as different from our 19th century counterparts as we first think we are and maybe the differences are far more cultural and pragmatic rather than the absolute moral fact we act like it is. Thanks to the taboo-based nature of our biological morality, it's hard for us to really step outside our specific cultural context and try to see a different context from another time.
Based on my own readings of history, I think I've come to a tentative conclusion about how 19th century people looked at teen marriages to older men. It was not common, to be sure by the 19th century. I think there is enough evidence that it didn't happen regularly and that sometimes (but not always) it was treated somewhat scandalous. But it never gets treated as actually immoral of a punishable offense.
If I might make an analogy, I think the marriage of a 19th century teenage girl to an older man was perceived the same way we view an 18-year old girl getting married to an older man today. We think it a bit weird or maybe even a bit scandalous, but we also accept that it's her choice.
And maybe even this analogy isn't quite right because if you look at a 19th Century story like Under the Greenwood Tree it's hard for us to relate to the actual tension intended in the story because it just obvious to us that Fancy should marry her hunky but poor romantic suitor rather than the older but affluent vicar. But the story really suggests that the audience was supposed to consider it a closer race then we moderns see it as. I'm not sure this story could even be written in a modern setting without Fancy seeming like a gold-digger for even considering it.
Bolstering my view that a teen marriage at the time was more like how we view an 18-year old marriage today is that while such marriages were not common, they were common enough that you trip over them regularly in genealogy or any study of history. I can pretty much guarantee that even all non-Mormons have ancestors where the girl was 13 or 14 years old when she first married. If you are alive today, it probably happened in your family within the last couple of centuries. Maybe more than once.
Even in a history like Todd Compton's In Sacred Loneliness — where he is specifically militating against polygamy because it causes things like teen marriages — he's forced to throw in examples of monogamous teen marriages because you can't cover that much history without a few just showing up. (See, for example, In Sacred Loneliness, p. 372 with the marriage of Adaline and Gilbert Belnap.)
I am not suggesting that it wouldn't have been better for teen marriages to not take place. Based on our science today I think we know that a teen girl, despite looking physically mature by a certain age, isn't really physically mature. And, as I mentioned, we have special reason today to be against teen marriages due to our more advance public schooling system and today's necessity for an education. A teen girl who gets pregnant and can't continue her education is barring herself from getting out of poverty in many cases.
But our 19th century counterparts didn't have our science or education system. So I would not expect them to see the world through our eyes.