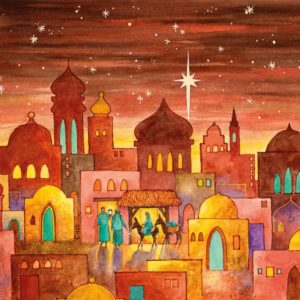 In Luke 2:4 we read, "And Joseph also went up from Galilee, out of the city of Nazareth, into Judæa, unto the city of David, which is called Bethlehem; (because he was of the house and lineage of David:)" Bethlehem means house of Bread. It's fitting that Christ, who proclaimed himself as "the Bread of Life" was born there.
This hymn was written as a poem by Dubliner, Cecil Frances Alexander. It was first published in 1848 in Miss Cecil Humphreys' hymnbook Hymns for little Children". English organist, Henry John Gauntlett, set the poem to music the next year. This version is the Henry Mann arrangement, and is always the first song on the program at King's College every Christmas.
On a personal note, this is my favorite Christmas hymn from the LDS Hymn book. In my ward, at least, we usually don't sing this at all over the Christmas season. One year we sang Christmas songs before Sacrament meeting started each week. Each week we sang every song, but this one. It's #205 in the hymn book if you're wondering — if we have any ward music people reading this post, please, oh please, put this song into the rotation!
The lyrics:
Once in royal David's city,
Stood a lowly cattle shed,
Where a mother laid her Baby,
In a manger for His bed:
Mary was that mother mild,
Jesus Christ, her little Child.
He came down to earth from heaven,
Who is God and Lord of all,
And His shelter was a stable,
And His cradle was a stall:
With the poor, and mean, and lowly,
Lived on earth our Saviour holy.
And our eyes at last shall see Him,
Through His own redeeming love;
For that Child so dear and gentle,
Is our Lord in heaven above:
And He leads His children on,
To the place where He is gone.