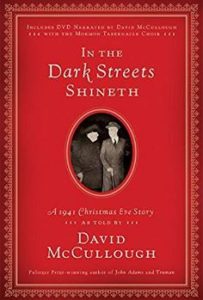 One of my favorite books of all time is "In the Dark Streets Shineth: A 1941 Christmas Story" by David McCullough. It's a short book and mostly pictures, but it tells the story of Christmas 1941, right after the US had been attacked at Pearl Harbor. It was a very dark time in our nation's history. This book also tells the story of how the Christmas hymn, "O Little Town of Bethlehem" came to be and how that song, written in the 1850s, had a part in the Christmas of 1941. I think I also want to nominate David McCullough to narrariate the Ken Burns 9 part documentary on my life (haha).
Some of my other favorites by David McCullough are: 1776, John Adams, Harry Truman, The Great Bridge, and The Wright Brothers. Go HERE to see all of his books.
You always feel smarter after reading a David McCullough book. But seriously, I really hope you enjoy this short clip of Mr. McCullough telling this story.
Oh Little Town of Bethlehem