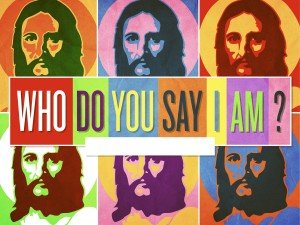 In the New Testament books of Matthew and Luke, Jesus was praying alone with his Disciples when he asked what people thought of him. They answered according to Matt 16:14, "Some say that thou art John the Baptist: some, Elias; and others, Jeremias, or one of the prophets," with Luke 9:19 adding he might be, "one of the old prophets [who] is risen again." He then asked what they thought, and one of his chief Apostles Peter answered boldly that he was the Christ of God (Luke 9:20) with Matt 16:16 adding "the Son of the living God." Peter essentially was claiming that Jesus was the prophesied Messiah come down to save Israel. There was no rebuke, but an acknowledgement by Jesus that is exactly who he was, and praising his spiritual insight as coming from God. Considering the violent ending of those who claimed the Messianic mantle, Jesus warned them the same fate was coming. Peter rebuked him for saying such negative expectations, and Jesus rebuked back that Satan inspired rejecting the path he was destined to walk.
Who do men say that Jesus is? Today the question is no different than when Jesus and his Disciples walked the dusty road of Jerusalem. What might be surprising is the answers. They go from the mundane of lucky preacher who gained literate followers to the traditionally religious grandiose God and Savior of the world. Like the days of his life and death, he is both mocked and praised. It could even be said that while there is a sizable world wide number of believers in his Divinity, he is slowly becoming obscure or irrelevant. This is opposite the rival religion of Islam and some other Eastern faiths. The Western views that kept Jesus "alive" have changed over the last few centuries. He is in metaphorical fragments.
It wasn't always like this. During the first great upheaval of arguments over his identity, the questions asked exactly how divine was Jesus in relation to God. The answer more than a millenium ago, that remains the cornerstone of most modern definitions of the Christian faith, proclaimed he was God in a different form. During his life, he was likewise both fully Man and fully God. The creed of Jesus was set and a catholic church dominated, until what came to be known as the reformation sprouted Protestantism. Despite serious disagreements, for the most part Protestants shared the same creed as the church they left. Whole countries developed around particular Christian identities and churches, defending and fighting among themselves for dominance. For centuries Jesus was a driving force for both good and evil actions of history.
That began to change a century after the "enlightenment" when people started to focus more on the mind than on the spirit. For the past two centuries views of who Jesus is and was began to be questioned in ways never before taken seriously. The answers have become so mixed and branching that one method employed actually used voting over a color scheme to decide the truth about Jesus. The colors represented the probability of what Jesus did or said, ultimately to determine who he was. Most likely these new questions and the modern views they inspire came from the relatively recent Western culture of skepticism. Answers have become less important than questions about history, authority, and existence itself. Science and academics, positive as they have been, is the new religion with scientists and professors the theologians; politicians the Priesthood authority. Jesus is quickly, to the ecstasy of many, becoming sidelined. Continue reading →