In April 2005 Janet Christiansen was killed.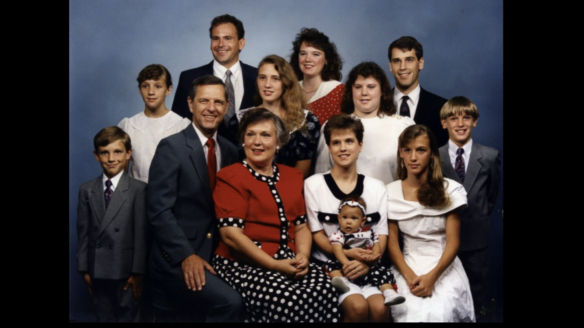 Janet was a tall, willowy woman, seventh of ten children in a family that even now belongs to the Church of Jesus Christ.
This Friday evening, ABC will air another special focused on how Janet, a stunning beauty, was murdered by Raven, her handsome husband. No doubt the wedding photo taken the day Janet and Raven married in the DC temple will be featured, symbol of the hope and love shattered by Janet's death.
To you Janet and Raven are likely strangers, though perhaps you will feel some kinship because of the Church. But I had known Janet since she was born. I coached her Church basketball team. She was in the same classes at Church as my two youngest sisters.
Raven, convicted of felony embezzlement in the months prior to Janet's killing, had been struggling financially. Janet's life had been insured with a policy worth $500,000.
Raven maintained he'd come home after a soccer game and found Janet stabbed, apparently after getting ready for bed. The couple's baby son was asleep in the adjacent bedroom. Yet all the other killings in Janet's North Carolina region that year were caused by guns. So the stabbing stood out as uniquely intimate. While Raven proclaimed his innocence, there was none of the usual outrage one would expect an innocent husband to direct at Janet's murderer, even when it became known Janet had been pregnant at the time of her death.
The funeral was held in the college town where Janet met Raven Abaroa. Raven was there with his baby son, as were many members of Janet's large family.
It was an awkward funeral, the grieving husband socializing with the Christiansens when so many already suspected he was Janet's murderer.
I remember our mutual neighbor, Patti White, swiveling in the pew to glare at Raven. Patti hissed something audible, shocked that Raven would pretend to mourn the wife he had stabbed to death.
Despite grief, Janet's parents bore no animosity towards Raven. But they did not wish to stand idly by as Raven preyed on other young women. Their forgiveness while hoping for justice was awe inspiring, long before the North Carolina District Attorney had enough evidence to arrest Raven.
Immediately after the funeral, Raven left the area. He settled near his family in the west, entrusting the care of his son to his kin, the distance making it difficult for Janet's parents to see their grandson regularly. Raven remarried, but in time his second wife left, terrified that he intended to kill her as well. Raven relocated to Idaho, where he had a sexual relationship with a 17-year-old, impregnating her. Throughout these years of Raven's freedom, Janet's friends and family kept in touch with North Carolina authorities, seeking justice for Janet.
In 2010 Durham police apprehended Raven in Idaho and returned Raven to North Carolina to stand trial. A constant worry was that the evidence might prove insufficient to prove Raven had killed Janet.
Raven claimed Janet had been attacked while she was relaxing at home. In life, Janet had worn soft contacts. She had been in the habit of removing her contacts when she relaxed at the end of her day. But no contacts were found at the scene of the crime.
Janet's body was exhumed, and remnants of contacts were found in her eyes. When rehydrated, the contact fragment became clearly recognizable as such, including the etched serial number associated with Janet's particular brand of contact lenses. This, added to the other evidence, seemed sufficient to obtain a conviction.
In 2013 Raven was tried. Eleven jurors found Raven guilty. But one juror refused to agree, leading to a mistrial.
In the case of a mistrial, one of three things typically happens: the prosecutor dismisses the charges, a plea bargain is made, or another criminal trial is scheduled on the same charges. In this case, the prosecutor refused the dismiss the charges, convinced that Raven was guilty.
In 2014, Raven Abaroa entered into a plea agreement. While coming short of actually admitting guilt, Raven agreed that there was sufficient evidence that a jury could find him guilty. Raven was sentenced to nearly eight years, with credit for time already served. This meant Raven was freed in December 2017.
Aftermath
Janet's parents sit in the same front pew where I and my family habitually sit. Janet's mother, face framed by soft white hair, is often smiling. But at the end of the Sacrament service she has to leave, unable to endure more than the hour of relative commotion. And Janet's parents would return to participate in choir.
Janet's mother often sits next to me in choir. She has a sweet voice, but doesn't read music. She tells me how music feeds her soul. Janet's father sings as well, his tender bass voice a pillar of our performances.
I remember the weeks after Raven's release, hearing of the fear Janet's mother felt and the reasons for that fear. I remember comforting my fellow choir member, suggesting Raven wouldn't be so dumb as to act against Janet's parents. And if he were to act, it seemed likely Raven would be the prime suspect in any harm committed against Janet's family.
Janet's mother is apologetic as she explains the way the murder has altered her memory and made anything other than silence a torment. Only the joy of singing in choir is bearable in the otherwise silent world she must inhabit.
Since Raven's conviction, Janet's parents have not been permitted to have any contact with their grandson, who is now nearly 15 years old. Following Raven's release, he found employment in the west. He was fired when he was found committing larceny against his new employer.
Come, Ye Disconsolate
Those who are new to the congregation have no reason to know the sorrow Janet's parents have suffered. Janet's parents are quiet but always pleasant, void of hate or any meanness.
If you happen to catch the ABC special this Friday, know that Janet and her family are among the best people I have known. If ever anyone was blameless of the suffering they have faced, Janet and her parents are blameless.
Knowledge of the gospel neither prevents sin nor protects believers from harm. Yet despite all the harm that may befall, we can remain loving and humble.
As for those responsible for harm, they remain children of God. I believe one day they will stand before their Father to account for their actions. A loving Father will embrace them through tears, then protect them from any glory they are ultimately unable to bear.
In the meantime, hold your family close. Tell them how much you love them. Raise them to love good and seek light. And if any harm should befall, cast yourself on the justice and forgiveness of God, that you may walk through the shadow of death with your hands clean and your heart whole.
[Minor edits incorporated based on comments from Janet's father.]