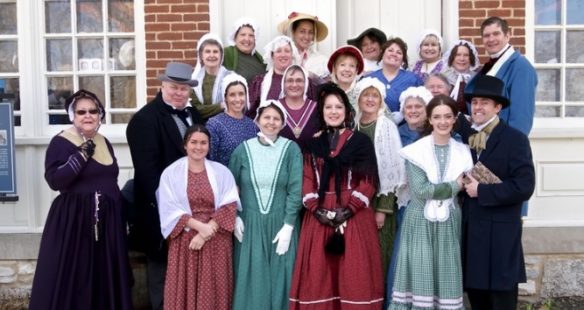 This coming week is 17/3/17, the 175th anniversary of the formation of Relief Society.
Throughout the world local Relief Societies are holding celebrations, often focused on service, though I've been to some parties where belly laughs were the fare of the night.
Whatever the women in these celebrations will do, it is a celebration of womanhood and sisterhood.
For this anniversary, I will be at the Women's Retreat in Nauvoo participating in two days of great activity, along with re-enactments of Relief Society's founding at the Red Brick Store.
The formal Relief Society organization went into hiatus as a formal Church-wide organization between 1844 and 1880. However even during that hiatus, the sisterhood formed in Nauvoo continued to bring women together to do good and strengthen one another.
Membership in Relief Society, during 1842, could be seen as virtue signaling, but it was a time when signaling was desperately needed. There were those in the community participating in gross iniquity, because they had been pressured into believing it was acceptable. These individuals needed to be rescued, and the Relief Society rose to the task.
On March 25 I will be reprising a bit of Relief Society celebration, celebrating in brief conversations with my Stake sisters the life of Jane Nyman. She was the first to act as a proxy in providing a deceased relative the ordinance of baptism. It was her anguish over the matter that had prompted Joseph Smith's revelation that proxy baptism was the way in which salvation (as decreed by the Bible) could be offered to all mankind. Yet her daughters, and possibly she herself, became embroiled in the illicit intercourse scandal of 1841-1842. When she attempted to join Relief Society in Nauvoo, she was refused because of her association with or involvement in illicit intercourse. Yet the Relief Society did provide Jane needed support because she was a widow, even though refusing her formal membership.
Yet charity would cover knowledge of many of these sins. Even those instances that would be published in newspapers in 1844 were largely dropped from collective memory. Not that those who had lived through the terrible events of 1841-1842 had forgotten, but because they valued one another as children of God. No matter what sins had been committed, repentance could wipe the slate clean.
After arriving in Utah, Jane Nyman was selected to serve as Relief Society President in her congregation in Beaver. She who had been refused entry during a time of heresy had repented, and was now fully acceptable to lead her sisters in doing good.
While it isn't directly related to Relief Society, I am delighted by William W. Phelps. He is rightly honored as one of the stalwarts of the initial Mormon movement. Yet he was excommunicated twice. The first excommunication was related to his betrayal of Joseph Smith in Missouri. At that time he briefly believed it was right that Joseph die. But in 1840 Phelps begged to be allowed to return to fellowship in the Mormon faith.
In 1850 Phelps again found himself on the wrong side of the prophet, this time for entering into plural marriage without proper authorization while serving a mission to England. But Phelps accepted the correction and moved forward in faith.
So as I celebrate the 175th anniversary of Relief Society, I will celebrate the charity that sees all as children of God, willing to help and support independent of whether the child of God in question is "worthy," seeing all as able to someday receive all that the Father hath.