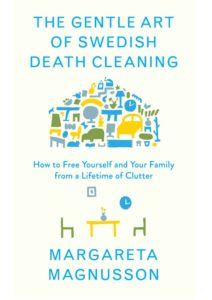 "To hunt for misplaced things is never an effective use of your time." – Magnusson
In 2011 Marie Kondo gave us The Japanese Art of Decluttering and Organizing as a bright young woman who had spent her short life being organized. At the time it is not clear she had to share a household with an uncooperative spouse. Children did not come into her life until years after she told us there was a magical way to be organized.
Where Marie Kondo speaks from idealistic youth, Margareta Magnusson talks to us from her age, "between eighty and one hundred," a matriarch whose grandchildren are now adults.
In The Gentle Art of Swedish Death Cleaning, Magnusson tells us that the Swedes have a word for dealing with the life possessions of a person when they are no longer around. And though the point is to be considerate of the burden others may bear upon your passing, it doesn't hurt that your life is easier when everything has a place and you don't retain things you no longer need.
Magnusson is an artist, and the book is illustrated with her delightful drawings such as a favorite dog, a treasured wok, a day skiing in a bikini, and a basket of blossoms like the ones her mother-in-law introduced to Sweden from Japan in her Mt. Fuji gift shop.
As Magnusson told of her three formative "death cleaning" instances, I realized I have experienced similar requirements to "death clean." But in some circumstances, as a helpful member of my congregation, the time allotted to accomplish the task was hours rather than the weeks Magnusson had. Continue reading →