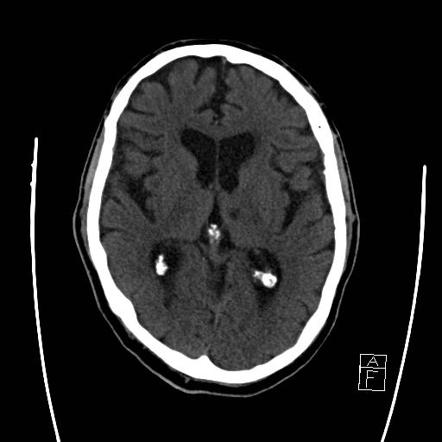 A few months ago I posted about Riley, a relative I am seeking to protect.
Earlier this week Riley drove from the east coast to a western state without stopping. After at least one encounter with highway troopers, Riley eventually drove off the road into a highway median, then left their car and walked into the traffic lanes of the interstate. Riley was pulled from the road by a concerned passerby, to whom Riley's friends and family owe a great debt of gratitude.
In two ER visits since then, Riley has been given a diagnosis of dementia, complete with pretty pictures of Riley's brain showing evidence of the silent stroke that likely occurred in 2015. Apparently silent strokes occur 14 times more often than the strokes that manifest as physical weakness such as slurred speech. While there is no obvious outward manifestation of a silent stroke, a silent stroke can damage the portion of the brain related to impulse control, judgement, and mood regulation.
Dementia
As various health problems, such as silent stroke, are associated with aging, we see one reason some are nervous about the advanced age of most Church leaders, given that death by assassination and apostasy no longer keeps the average age of the leadership relatively low. 1
Yet as I am observing in the case of Riley, it is possible for a person to continue to function with dignity when surrounded by loving friends and family. The Bible gives us the analogy, telling us of a time Noah was impaired. One group mocked him, inviting others to see the drunken nakedness of their leader. The other group covered his nakedness and allowed him to sleep off the inebriation in peace.
If the Church were led by a Q1 (as in the case of Riley with their own estate and person), I would agree there could be concern. But the Church is led by a Q15, making it unlikely that failure of any single individual could derail the Church.
Traitors
But it is not the ravages of old age on Church leaders that causes most to lose faith. It is a belief that Church leadership at some point became traitors to the cause of Christ. We see this with Snuffer and his followers. For many of those losing faith over "polygamy," their concern is that Joseph allowed carnal desire to overcome his devotion to God's path. Continue reading →
Notes:
Deaths (David W. Patten, Joseph Smith Jr., Parley P. Pratt) and apostasy (roughly half of the apostles and other senior leaders of the Church from 1837 to 1847) kept the average age of Church leaders relatively young in the first decades of Church history. ↩