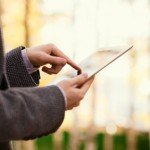 When looking for a picture to show in Sunday School, the ward library is sure to have an image. Plenty of Scriptures are available if not all the students have them. There is also a collection of Presidents of the Church manuals for Relief Society and Priesthood meetings. A well used copy machine exists for handouts and the latest Conference Report lesson. Occasionally there might be a video produced by the LDS Church to pass the time or make a short point during class. It also has pencils, paper, and even crayons if the occasion requires. These are the most common uses on any given Sunday for the small room often taken for granted staffed by familiar faces.
Maybe "library" is the wrong name at times. It is a place of resources more than reference or reading material. The collection of books is small and often of old vintage. Almost none of them are ever checked out. Books of any consequence can easily be found in the local public library. There are some places owned by the LDS Church that do have good collections. It isn't surprising the Brigham Young University in all of its franchises probably has the best and most number of Mormon reading and resources for average members. That includes writings that its critics would not believe would be carried. Scattered all over the United States are college seminary libraries of varied quality. Good as these places might be, they are few and far between. The problem with public libraries can be a lack of control over what might be available, even for Mormon majority populations. The needs of ward members are not always the same as the community they belong.
The point of all this is that no matter how many Mormon must read lists are devised, it won't make any difference when few can get access to the books. This isn't even related to how realistic or contested such lists might be to average members. Regardless of how thick our Scriptures might be or the call for daily writing and journal keeping, Mormonism isn't a reading culture. What can be found in the Ward library is one testament to this fact. Evidence can also be pointed out by the scarce reading material in most homes. It can be a shock coming from a book culture family to see the famine of words in both places.
I would like to share a personal story to illustrate the possible power of having a decent ward library with more than paper and pictures. While on my mission I got bored as happens during gatherings of wards you don't actually belong. We had already done our greetings and pressing for names of people who might be good candidates for teaching. Me and my companion wandered down the Church building hallway and found the library still open. My memory of what he did is gone, but I picked through the small collection of books that always calls out to me in new places. Among the mostly boring or repetitive choices was a book about and called The First Vision by Milton V. Backman. What I learned from him inspired my confidence in this event and gave me a greater testimony of the truth of the Restoration. No doubt I would have found and read it some other place, but there it was in an inconsequential LDS ward library in a forgettable Midwestern town.
My current place of residence makes me sad when I go inside the ward library. Sorry, but that is the truth. Yes, I can go into my hometown public library and find all kinds of Mormon related books to read. It would be nice to do the same where it matters most; a place of worship. Certainly there could be reading material that no public library would have reason to carry, such as local theology authors or the most recent General Authority publications. Not even those are present in any buildings I have visited. The most in depth informative books are the Encyclopedia of Mormonism probably included just about everywhere.
The suggestions at lds.org for ward libraries are a necessary start up. It includes entries for Gospel Art, DVDs, Music, Scriptures naturally, Books and Manuals, and Equipment and Furnishings. The books and manuals section is heavy on manuals and light on books, almost all of them found in most any Mormon household. Obviously this isn't exhaustive because, "Wards or branches may add to these materials depending on their needs from materials available through store.lds.org." What can be found at the distribution site isn't much more expansive.
None of this is to say that the ward has to replace the public library or become like the ancient Alexandria. It would be nice to give it the meaningful name of library where the needs of members can be satisfied. What can be found there might be less important than the idea that something can be found. Despite the outdated and currently out of favor status of Mormon Doctrine by Bruce R. McConkie, seeing it on a shelf would be an improvement over the even older missionary books stocking the shelves. The only acceptable excuse for lacking is poor funds. That is if the books would end up read and checked out. Perhaps more robust choices can create a culture of reading that leads to an opening of more spiritual knowledge and faith. With that said, time to get busy with the inevitable discussion of what books would be useful and important to included in the ward library.