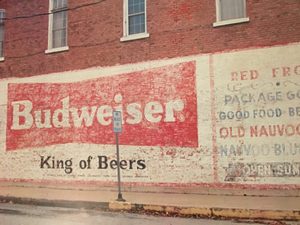 If you travel Mulholland Street in Nauvoo, you will see a large Budweiser sign near the Mormon temple.
At the 2018 Untold Stories Symposium, I was delighted to learn more about this surprising landmark.
The sign dates to the early 1950s, as can be determined by the early form of the red bow, the distinctive font, and the title "King of Beers" rather than "King of Bottled Beers."
Locals tell that the sign came about from a deal cut by Nauvoo's Mayor. Each fall Nauvoo hosts a Grape Festival, a fantastic event which brings people from all over the region. The mayor asked Budweiser to send the iconic Clydesdales to participate in the Grape Festival Parade for a certain number of years. In exchange, the Mayor arranged for a large brick wall to host the painted sign. Budweiser's artists traveled to Nauvoo to create the sign according to exacting standards.
For over sixty years the sign has greeted Nauvoo's predominantly Catholic and German residents. It has become a core element of Nauvoo's identity.
Enter the Mormon return to Nauvoo, culminating in the reconstruction of the Nauvoo temple. Teetotaling Mormons walked Mulholland Street and were jarred by the historic sign. "Why doesn't someone get rid of that thing!" is no doubt a sentence that has been thought or said more than once.
But this isn't just a painted sign in a small town. This Budweiser sign is the only remaining painted sign in all America that isn't on Budweiser property. The Budweiser sign honors Nauvoo's German heritage and the culture that has characterized Nauvoo since 1846.
Dottie's Gets Auctioned
A while ago the store where the sign lives went up for auction. Mormon Matt Kennedy, owner of Nauvoo businesses including the Woodruff Hotel, pointed out the auction to his wife.
"You're not thinking of buying Dottie's!" Dena exclaimed.
"No, Matt replied. "But I do want to attend the auction."
The Kennedy's entered the hall where the auction was being held. The auctioneer cleared his throat and said, "Let's start the bidding. Do I hear $25,000?"
The silence was painful. No one spoke as time stretched.
Matt looked at Dena, and she nodded. He raised his hand, and without ever planning it, Dottie's was his.
Reaction
Shortly after the auction, Matt was in Duck's to buy something. A woman came up to Matt.
"Are you the one who bought Dottie's?"
When Matt nodded, the woman pled, "Please don't paint over the Budweiser sign!"
As the days passed, Matt would overhear others in the city who didn't know he was the new owner. "You heard about Dottie's? Bought by a Mormon. Hear he's going to paint over the sign." Anger was clear.
As owners of the Woodruff Hotel, the Kennedys also heard from the Mormon tourists. "Who owns that shop? They should paint over that sign. It's a disgrace!"
Some intrepid souls found out who owned the shop. Some of these came forward with offers to pay for all supplies and labor. Please, they pled, paint over that Budweiser sign.
But Matt couldn't forget the woman in Duck's. So he politely declined their offers.
The Phone Call 
[edited 2/12/18 per feedback from Matt Kennedy]
Then Dena answered the phone. "Matt," she said, her voice strange. "It's Church Headquarters."
Matt took the phone.
"Is this Brother Kennedy?"
Matt said he was.
"This is the Church PR Department. We understand you own a bar."
"Uh, no…"
Papers rustled. Matt offered, "I do own a store that used to be a bar. But that was years before I bought the place."
"Ah. Is there a Budweiser sign on the side of your store?"
Matt thought about the woman in Duck's. He thought about the men angrily speculating the sign would be overpainted by the new Mormon owner. The PR folks didn't know what they were asking. He was going to refuse. But he cleared his throat and admitted he owned the store with the sign.
"We don't want to give you the impression that we're trying to influence you or that we're trying to make a suggestion.  We are just wondering, of all the things you're considering doing with that Budweiser sign could we kindly add one more thing for you to possibly consider?"
Matt braced himself.
They then said: "Would you consider not painting over the sign?"
Matt was surprised, and wondered for a brief moment if this was a friend joking with him.
They went on to explain:  "The church's effort is to be good neighbors by blending into our communities wherever we are and to become a part of our communities…not to change or take over the community. In researching surrounding areas, Nauvoo is more and more getting the reputation of being a 'Mormon' town… and few things in Nauvoo can help beguile people of the impression that Nauvoo is only a Mormon town better than that big Budweiser sign right in the middle of town."
Matt thanked the PR folks for calling and hung up.
Old Mortar
Alas, the bricks of that building are old. They are held together by mortar, rather than cement. The mortar is crumbling and will soon need to be redone.
But I'm hoping that when that day comes we'll all be able to come together to help the Kennedy's so they can restore the Budweiser sign when it comes time to fix the wall.
In the meantime, I'll forever in future look at that sign with fondness. I'll remember that Budweiser used to sell hot chocolate when beer was prohibited. I'll remember the high-stepping Clydesdales clopping down Mulholland Street. I'll remember a company created by Germans 1 that became so American that Americans don't even think Budweiser is a German name anymore. And I'll think of the German forebears of my future Nauvoo neighbors, their English a bit stilted since they'd grown up speaking German in Nauvoo, the most German-speaking town in all of Illinois before World War I. And I'll remember Matt, prepared to defy Church headquarters only to find out they wanted the same thing he did, to preserve a heritage that Nauvoo holds dear.
Notes:
Budweiser is produced by Anheuser-Busch. Both Everhard Anheuser and sin-in-law Adolphus Busch were born in Germany. However Anheuser was naturalized in 1848 before he got involved in the beer business and Busch was naturalized in 1867, after marrying Anheuser's daughter and getting involved in the beer business. ↩