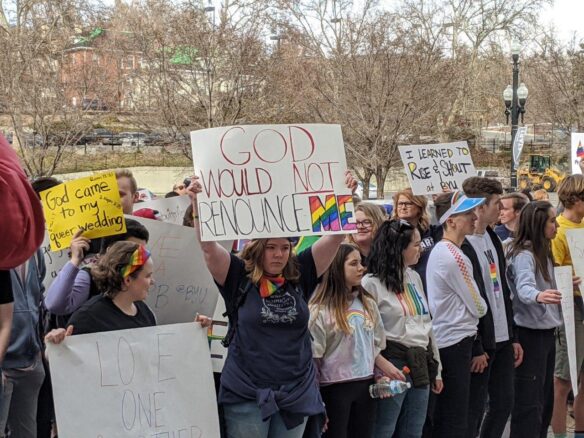 In February, news media reported that BYU had dropped its blanket prohibition on homosexual behavior and would no longer discipline students for same-sex dating, hand-holding or kissing. USA Today ran the headline "BYU removes 'homosexual behavior' ban from honor code, reflecting Mormon church stance", suggesting that the church's doctrine had itself softened.
Two weeks later, the change in BYU policy would be reversed, and it would become clear that the church never had any intention of allowing gay dating at its schools. But the narrative had already taken on a life of its own. It culminated, on March 6, in an unprecedented protest at church headquarters by a group of dissenting BYU students and supporters.
The skirmish over gay dating crystallized tensions that had been building up at BYU and other church institutions for years. A faction of dissenting progressives, hostile to church teachings on sex and marriage and heterodox on core doctrine, has quietly formed within the North American church over the last few decades. Unable to acquire formal, ecclesiastical authority in the church, this faction has operated by gaining influence in non-ecclesiastical church institutions and shaping conversations about the church in online spaces and news media.
It is worth examining the events of the gay dating fiasco at BYU, which make for an illustration of these tactics and give insight into inevitable future conflicts.
I.
In February, the Church Educational System approved a new Honor Code for all church colleges and universities, made up of eight principles of conduct, replacing a previous, similar, Honor Code Statement the schools had shared but adding new language about vaping, among other tweaks. This move standardized the form of the Honor Code across schools: previously, BYU had included school-specific policies in the text of its Honor Code along with the Statement (following the change, these policies were moved to another webpage).
On February 19, the same day an updated church General Handbook was released, BYU and other schools announced the new CES Honor Code to students and faculty. Within hours, journalists and students noticed another change: the "Honor Code Related Policies" on BYU's website, the BYU-specific policies which expounded on the eight Honor Code principles and which had previously been included in the text of BYU's Honor Code, did not include previous language explicitly forbidding "homosexual behavior". Some speculated that the change meant same-sex dating, hand-holding and kissing would now be permitted at BYU.
That afternoon, a group of jubilant students posted selfies taken with BYU Honor Code Office employees on Twitter, saying staff had confirmed students would no longer be disciplined for same-sex dating. Photos of gay couples kissing in front of the school's statue of Brigham Young were widely shared on social media and published by news outlets that evening. Employees had also told students these changes reflected not just BYU policy, but church teaching. The law of chastity, they said, only dealt with sex, not with other romantic behavior.
The same day, BYU communications released a statement saying that while the text of the Honor Code policies had changed, the principles of the Honor Code had not. But the final tweet in the statement said that discipline would be "case-by-case" and that dating "means different things to different people". The question of whether same-sex dating was permitted by BYU, or even by church teaching, was left up in the air. At the same time, there were reports from BYU-Idaho that gay dating was still prohibited there—BYU-I's Honor Code policies had never included explicit language about homosexual behavior, apparently seeing it as superfluous.
Over the next week, the BYU HCO continued to tell students and faculty that same-sex dating and kissing would not be disciplined. A video of a finance professor celebrating the change went viral online. The professor told his students the policy change was a "massive watershed" and suggested those unhappy with the change didn't have a testimony. He repeated a statement reportedly from the HCO to the effect that anyone who made negative comments about same-sex relationships would themselves be subject to Honor Code discipline.
There was widespread confusion as students and members wondered whether the church had changed its teaching, or if perhaps the law of chastity had somehow always allowed same-sex dating. On social media, the belief that church teaching permitted homosexual dating was becoming entrenched, even among many faithful members, who were accustomed to assuming that any statement from BYU represents the views of the church.
Relatively few members expressed skepticism that the church had really intended to allow same-sex dating at BYU, and those who did (correctly, as it turned out) were often chided by progressive dissenters and ordinary members alike.
The confusion wasn't resolved until March 4, when Elder Paul V. Johnson, Commissioner of the Church Educational System (CES), sent a letter to students and faculty explaining that the principles of the Honor Code had not changed and that same-sex dating is not permitted because, unlike opposite-sex dating, it cannot lead to marriage.
While the CES letter resolved the confusion, it incensed progressive students, who began protesting outside the Honor Code Office with posters, chants, and a "die-in" (where protesters lie on the ground). These campus protests quickly fell flat, as it was clear the HCO agreed with the protesters.
The protest was then taken to the church itself, at its headquarters in Salt Lake City, two days after the CES letter. A large crowd of protesters called for gay dating to be permitted at BYU and for the church to change its teachings on sexuality. A spokesman for the church gave a characteristically mild response, reiterating church teaching and requesting mutual kindness and respect. Within days, everyone's attention turned toward the novel coronavirus, and the matter was put out of mind for several months.
II.
Both the letter from Elder Johnson and the protest at church headquarters were unusual. The church has only very rarely issued public corrections of church institutions. What happened? One possibility is a rift between the church and BYU administration, as asserted by two people who claim to have been in contact with administrators.
A March 4 tweet from Shayla Frandsen, whose husband is a BYU faculty member, claimed a member of the BYU administration told her that the CES letter from Elder Johnson "seriously blindsided" most of the administration and that there was likely "tension between BYU & CES/Salt Lake". Calvin Burke, a high-profile BYU student who has often claimed to know "upper-level admin" well, replied to confirm the report and suggested separately in other tweets that BYU administration agrees with his progressive, dissenting view on church teachings on sexuality. One of the tweets, suggesting a rift between admin and the Board of Trustees over the gay dating affair, is still up.
Church leaders may have appealed to BYU in February to correct the HCO policy on gay dating, only to be rebuffed by bureaucrats who assumed the church, averse to conflict, would not publicly force the issue. This would explain the two-week delay before a correction was made, but would represent a significant escalation in the conflict between the church and its progressive faction.
The protest in Salt Lake City was also unusual: while it is commonplace to see anti-Mormon fanatics distributing literature or organizing small demonstrations near the temple in Salt Lake City, protests against the church by apparently observant members, such as BYU students, are rare. The protest was even more striking for the fact that some employees of BYU, if not in attendance, appeared to be on the side of the protesters.
While BYU students have protested BYU policies before, they have always done so on campus, directing their frustration at administrators. The March protest appears to have been the first where dissenters did not seem to believe that BYU and the church were on the same side.
III.
Latter-day Saints are known for their loyalty to the church and its leadership, believing that only the church president and apostles have the authority to receive divine revelation pertaining to church affairs. There have always been progressive dissenters in the church, but during the twentieth century they were a fringe. In the worldwide church this is still true. Virtually no Latter-day Saints in the Philippines, Ecuador or Cote d'Ivoire, for example, are asking to join the sexual revolution.
In the North American church, however, progressive dissenters (distinct from political liberals who are faithful to church teachings) have grown in numbers and visibility, especially online. Most Latter-day Saint blogs are run by progressive dissenters, who spend much of their time critiquing their religion from a liberal perspective. Many English-language Facebook groups and online spaces for members are dominated by people with liberal views of church teachings—hence the ease with which the far-fetched idea that the church permitted gay dating became conventional wisdom online.
But the influence of these progressive dissenters goes beyond online spaces. Virtually always white, upper middle class and college-educated, the dissenters are also over-represented at the church's non-ecclesiastical institutions in the US. At BYU alone, the HCO, university administration, several academic departments and schools and the Neal A. Maxwell Institute for Religious Studies, formerly a home for apologetics, have proven vulnerable to infiltration by progressives who reject church teachings.
It is the combination of their control of online narratives with their expanding institutional power that progressives use to great effect in their efforts to change the church. The story of the February-March Honor Code affair is a story of progressives in the BYU Honor Code Office and administration cooperating with Utah and national news media, a minority of students and faculty, and a chorus of heretics on social media to spin up a narrative of changing church teachings on sexuality, that, absent public correction from the church's ecclesiastical leaders, would have become the de facto reality through sheer manipulation. Nothing prevents similar scenarios from playing out in the future—recently, American progressives have threatened to publicly press for Brigham Young's name to be removed from the name of the university.
IV.
The danger the progressive faction presents to the church is not so much that it will succeed in changing it, but that Latter-day Saints will not see dissenters and rogues for what they are. There were at least two groups of members left confused and disillusioned by the February-March Honor Code drama at BYU. On the one hand, there were ordinary members of the church disoriented by what appeared to them to be a shift in church teaching not communicated by ecclesiastical leaders. On the other, many liberal members of the church were susceptible, thanks to a popular online narrative that the church is perpetually on the verge of changing its teachings, to the false messaging that the church now permitted same-sex dating. They were left disappointed and, in some cases, disaffected when they realized there had been no such change.
Many ordinary church members have a tendency to place too much trust in non-ecclesiastical church institutions, rather than the church itself, and run the risk of not noticing wolves amid the flock. Many liberals still hold out hope, reinforced by endless progressive propaganda, that the church will soon assimilate to contemporary secular views on sexuality. Some make their faith conditional on this hope. Both groups make the mistake of confusing a growing progressive faction in the North American church with the church itself. Until this perception is corrected, future ruses by progressive dissenters will lead, like the HCO fiasco, to confusion, disappointment and disillusionment.