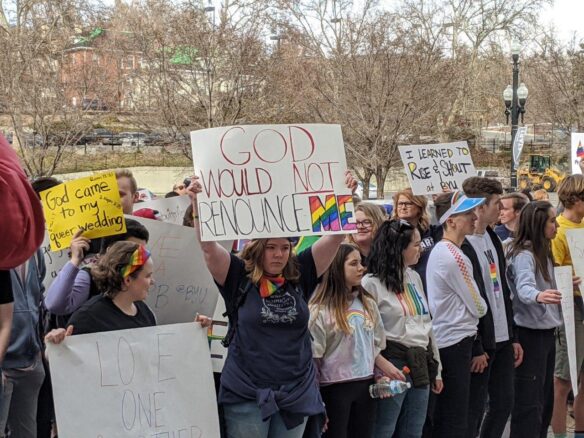 In February, news media reported that BYU had dropped its blanket prohibition on homosexual behavior and would no longer discipline students for same-sex dating, hand-holding or kissing. USA Today ran the headline "BYU removes 'homosexual behavior' ban from honor code, reflecting Mormon church stance", suggesting that the church's doctrine had itself softened.
Two weeks later, the change in BYU policy would be reversed, and it would become clear that the church never had any intention of allowing gay dating at its schools. But the narrative had already taken on a life of its own. It culminated, on March 6, in an unprecedented protest at church headquarters by a group of dissenting BYU students and supporters.
The skirmish over gay dating crystallized tensions that had been building up at BYU and other church institutions for years. A faction of dissenting progressives, hostile to church teachings on sex and marriage and heterodox on core doctrine, has quietly formed within the North American church over the last few decades. Unable to acquire formal, ecclesiastical authority in the church, this faction has operated by gaining influence in non-ecclesiastical church institutions and shaping conversations about the church in online spaces and news media.
It is worth examining the events of the gay dating fiasco at BYU, which make for an illustration of these tactics and give insight into inevitable future conflicts.