It seems like we encounter references to members or former members of the Church of Jesus Christ of Latter-day Saints everywhere we look in popular culture these days. There is an HBO Max series called "Tokyo Vice," and lo and behold one of the primary characters is a fictionalized former sister missionary who decides to leave the Church and stay in Japan where she works in the…ahem…female entertainment industry. Then there is the "Under the Banner of Heaven" TV series, which is all about Church members, who are mostly portrayed in a negative light.
Lindon Utah native Kaytlin Neil gets a much more positive portrayal on "The Ultimate Fighter," which is airing every Tuesday on ESPN.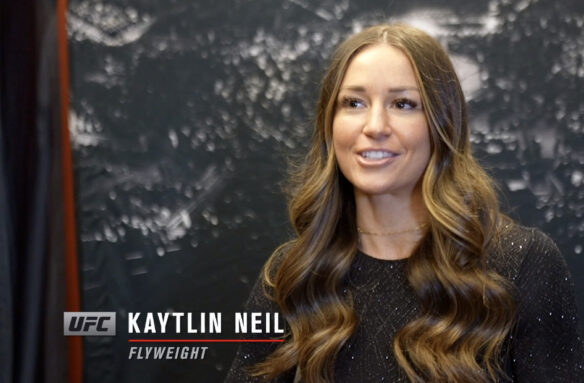 Kaytlin describes herself as the "black sheep" in her LDS family. Her two sisters are married with children, and Kaytlin likes to fight in a cage. We see images of Kaytlin training with teammates in Las Vegas and we see her in a Zoom video with her large Utah family. It's almost as if Kaytlin went on a mission, but in this case the mission is to knock out or submit other young women.
The Ultimate Fighter pits eight flyweight (125 pound) women — and eight heavyweight men — against each other in weekly fights. If you win the first round, you go to the semi-finals, and if you win the semi-finals you get to compete on air at a UFC event to determine "The Ultimate Fighter" and win a guaranteed UFC contract. I am happy to say that women compete against other women, and men against other men. It is worth pointing out that many people who lose fights still eventually compete in the UFC, so we may see Kaytlin at UFC events even if she does not become The Ultimate Fighter.
Kaytlin's father, who left the home because of intense addiction problems, died the week before her first fight. Kaytlin was obviously devasted, but she pulled through to win her fight by split decision against a tough fighter from Iowa. This means Kaytlin will advance to the semi-finals, which will be shown in the coming weeks on the show.
What many readers may not know is that US professional martial artists are a very diverse group. A surprising number, perhaps up to half of them, are born again Christians who credit Jesus after winning a fight. And of course there are a lot of people who are avowed secularists. Most martial artists are covered in tattoos, which is not the case with Kaytlin. She talks just like a returned missionary, which is definitely strange — but not unheard of — in the world of martial arts. Watch this video here:
https://www.ufc.com/video/get-know-flyweight-kaytlin-neil-ultimate-fighter-team-pena-vs-team-nunes
I have been following professional martial arts for more the a decade, and I have gotten to know dozens of martial artists personally, and I have never met an LDS martial artist before. So I will be rooting for Katylin.