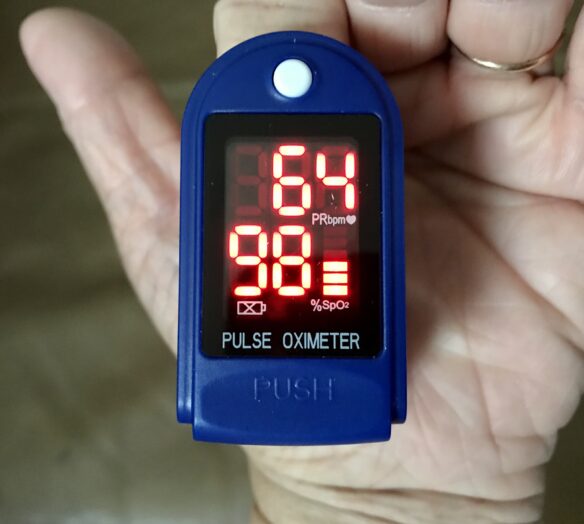 Last month, as I discussed COVID with my sister who is a registered nurse, I mentioned the large number of cases without symptoms. She rolled her eyes, and replied:
All cases have symptoms.
Then she said some medical stuff I didn't understand.
This week we were talking about our dying parent, whom so many of us have traveled to visit. Reasonably, some were concerned about whether anyone was showing symptoms of COVID. So my sister, the RN, shared about the various positive cases amongst her co-workers and the inaccuracies of the rapid tests.
Given the exposure these medical folk have to so many, the known presence of COVID in their work environment, and the inaccuracy of rapid testing, the nurses have taken to testing the one measurement they've seen change for all COVID patients, even those who are supposedly without symptoms:
The amount of the body's hemoglobin that is carrying oxygen.
We all grew up taking our temperature. Many of us have been taught how to take a pulse. But few of us had a device at home to test how much oxygen was in our blood. But it turns out you can get such a device, a pulse oximeter, for less than those rapid forehand thermometers so many of us have.
Normal is in the 90s. If the reading is only 90 or even less, then your breath is not giving you sufficient oxygen. This is the symptom my sister and these other nurses find to be correlated with true positive COVID diagnoses, even when other symptoms are not (yet) present.
Knowing whether or not your ability to absorb oxygen is compromised doesn't protect you from COVID any more than a clean STD test protects you from getting a future STD. But it can provide a level of comfort in this uncertain time where COVID infection rates are rising in so many places.
Meanwhile, I recommend taking precautions and obeying local laws, much as you might do to avoid STD infection. You are free to choose what you wish, but you are not free to reject the natural consequences of your choices.
_____________
N.B. – %SpO2 stands for peripheral capillary oxygen saturation, an estimate of the amount of oxygen in the blood. Specifically, it is the percentage of hemoglobin containing oxygen compared to the total amount of hemoglobin in the blood measured at your fingertip, detected by the pulse oximeter measuring how red your blood is at its brightest, using infrared light. It gets your pulse by detecting how often the red changes per minute. Alas, since you need infrared light for this measurement, this isn't something a phone app can measure, since phone cameras only use visible light.