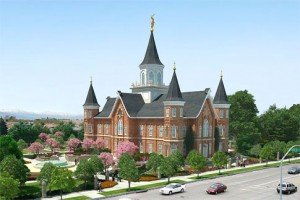 As a BYU student, I lived right down the street from the Provo Tabernacle, and had many opportunities to attend church services and other events there. It was a beautiful building. I, along with many others, were heart broken in 2010, when it burned down. When the Church decided to rebuild this wonderful building as a temple, I was beyond happy.
Today, the Church announced the open house dates for the new Provo City Center Temple. From the Mormon Newsroom:
The free public open house starts on Friday, January 15, and will go through Saturday, March 5, 2016. It will run every day except for the Sundays of January 17, 24 and 31 and February 7, 14, 21 and 28.

The temple will be dedicated in three sessions on Sunday, March 20, 2016, with the cultural celebration taking place on Saturday, March 19.

The dedicatory sessions will be held at 9:00 a.m., 12:00 p.m. and 3:00 p.m. and will be broadcast to Utah meetinghouses. The three-hour block of meetings will be cancelled for that Sunday.

Church President Thomas S. Monson announced the second Provo temple in October 2011, and ground was broken to begin construction May 12, 2012.

The temple is located on University Avenue between Center Street and 100 South.

The Church's 112-year-old Provo Tabernacle burned in December 2010 and only the shell of the building was left. After the burned-out structure was gutted, Mormon leaders decided to use the building's exterior to house the temple.
Temples are everywhere. We're excited for the people of Provo.