I have spent countless hours mulling over the loss of my marriage covenant, what went wrong, what mistakes I made, and what meaning my experiences have for the larger picture of life. I believe I have gleaned yet another lesson by comparing marriage to the contract of citizenship.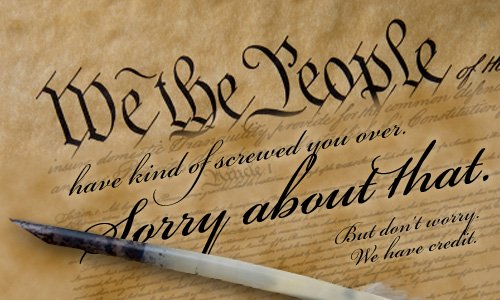 Growing up in the Church of Jesus Christ of Latter-day Saints with parents who have a strong marriage, I was taught what a marriage entails. There are many explicit agreements, including a wife listening to her husband when he listens to the Lord and the covenant to remain together throughout eternity. Even as a teenager and before I had a husband, I took the marriage covenant seriously enough to study it and to shape my life around its expectations. In doing so, I adopted several implicit obligations in a covenant marriage, including the expectation to grow together, to be patient and forgiving of my spouse's faults, to give everything I had.
Under the government, in one sense my life and my liberty are theoretically unalienable, which means that even I do not have the right to sell them or trade them. I cannot put myself into indentured servitude or slavery, request a doctor to end my life to donate organs to save another, nor legally volunteer to be executed or incarcerated on another's behalf.
But like everything, there are shades of grey. I can accept employment which pays me far less than the work is worth, or risk my life to donate organs to save another, so long as death is not guaranteed. I can sacrifice my time, talents, and even my personality for another. I can be raised or manipulated to believe I have no other choice. So these so-called unalienable rights are not as unalienable as we sometimes think. There is not really any such thing as an unalienable right in reality, only in the world of legality. And many people, as I claimed in the last post, confuse the difference between reality and legal rights.