On Saturday our stake hosted a fireside with Terryl and Fiona Givens, the authors of The God Who Weeps, The Crucible of Doubt, and The Christ Who Heals.
One of the delightful visual points they made was based on a recent trip to France. They had a picture they'd taken of one of the rose windows at Chartres cathedrale, showing glorious color. Then there was another picture of the same window, taken from the outside. While beautiful, it was void of color.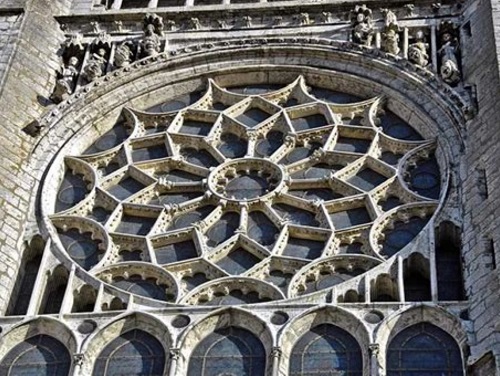 They suggested that if we have experienced the glory of spiritual conviction in the past but now find that spiritual conviction lacking, that perhaps it is not the Church that is different. Perhaps it is where we have positioned ourselves that has caused the change.
The Importance of Words
One of the points I so appreciated in the Givenses' The Christ Who Heals was their demonstration that the loving, caring God of Restoration Christianity is the same God taught by the earliest Church fathers, the ones who had learned from those who had learned at the feet of Christ himself.
A challenge we have is that the words we use to describe the gospel are often the same words that were used by Catholic and Protestant Christians during the numerous hundreds of years during which Christianity rejected the idea of a loving, caring God. Traditional Christianity, as it is called, codified the idea that God was completely other, without physical form or "passion," in other words, without any ability to interact with or care about mortals. Another crucial corruption was the idea that only a few could possibly be saved, despite constant scriptural assertions that God wishes to save all mankind.
These are the specific creeds it appears Joseph identified as abominations in the eyes of God.
In contrast to traditional Christianity, Restoration Christianity[ref]My term.[/ref] glories in the hope that any individual can return to God, even those who die without any knowledge or action associated with belief in God. As Terryl Givens recounted telling a Jewish radio host in the wake of the uproar over "Mormons baptizing Holocaust victims," we wish to have all mankind join us in a wedding feast with the Messiah. And so we are trying very hard to get the invitations to all, even knowing that some might ultimately refuse to attend.
In our words and deeds, do we in fact embrace all as fellow children of God, individuals we expect to reunite with in eternity with God? Are we willing to bear our fellows up? Do we mourn with those who are broken hearted? When we covenant to keep the commandments, do we realize that these loving and caring acts are among those commandments?
It has been delightful for me to see recent changes to vocabulary which move towards the ideal taught by Christ and reiterated by Joseph Smith and later Restoration Prophets. But we have a fair way to go, aside from the fact that over 90% of the world still hears traditional Christianity meanings when we say the words of God's desire to save all mankind.
Understanding History
Other times it is not just that we misunderstand the words, it is that we don't know pertinent history. While this was not discussed during the main fireside, follow-up discussion with the Givenses touched on the reasons behind the large loss of young members the Church of Jesus Christ has experienced in recent years.
I was reminded of John Hyde, who was baptized in 1848 in Middlesex, England, at age 15. John Hyde was filled with the fire of the Lord and was instrumental in converting many others. As a teenager, John went to France to join John Taylor in preaching the gospel.
John Hyde was too young to know what had happened in Nauvoo or why it was that Church leaders in England and France constantly preached against immorality and "polygamy". Eager to unite himself to God's work, John Hyde and his 11-year-old brother left Liverpool aboard The Jersey on February 5, 1853. They crossed the plains in the Joseph Young company that arrived in Utah on October 10, 1853. A month later John married Lavinia, a fellow convert from Middlesex.
John Hyde was distressed to find that "polygamy" was being practiced by the saints. He didn't know about the difference between illicit intercourse/spiritual wifery and Celestial marriage. He kept his doubts to himself, but he was eager to learn all he could about the origins of this practice from English folk who had been in Nauvoo before Joseph Smith was killed. They told him stories, which a horrified John Hyde stored up on a shelf in his mind, unwilling to be parted from the glory of the gospel.
John Hyde didn't know what had been written to Britons in the 1840s,[ref]Letters printed in the Millennial Star prior to 1848 make it clear the English converts were unusually "familiar" outside of marriage, engaging in non-sexual co-sleeping (which occasionally produced a child), and individuals needing to be warned not to marry in America if they had a legal (and often believing) spouse in England[/ref] how they were prone to inappropriate intimacy, how they had to be warned to travel to Nauvoo together with their spouses, as inappropriate liaisons had occurred when individuals found themselves on the other side of the world without their legal spouse. The Millennial Star issues that contained that information were published before John Hyde joined the Church. It's unlikely John Hyde ever read the journals from leaders such as Joseph Fielding and William Clayton that contained additional details. So John Hyde had no reason to be skeptical about the tales his fellow Britons told him suggesting that wanton behavior had been acceptable to the Church in Nauvoo.
In 1854 it was decided that the Church should go to additional isles of the sea. John Hyde, though barely twenty-one and newly married, was tapped to be President of the Sandwich Islands mission. A young Joseph F. Smith was one of the missionaries put in John Hyde's care.
Once away from the Saints, however, John Hyde had a chance to bring his doubts off the shelf. Surrounded by the beauty of Hawaii's shores, John Hyde decided the Church had betrayed him. John Hyde returned to California, where he attempted to proselytize Church members away from the Restored Gospel. John Hyde continued on to Salt Lake City, where he found his first-born son had died. John Hyde tried to convince Lavinia to leave Utah with him.[ref]I infer this from the fact that John engendered a second child with Lavinia following his time decrying the Church in California.[/ref] Though Lavinia loved John Hyde, she loved the Saints more.
John Hyde left Lavinia in Salt Lake City and continued on to New York. There he produced a book documenting his outrage, recounting the tales his fellow Britons had told him, filling chapter after chapter. John Hyde was authentically in anguish. But he did not document his sources in any useful fashion.
John Hyde certainly would have wished to reunite with Lavinia. Perhaps he sent her a copy of his published book in hopes of finally breaking her away from a religion he now despised. If he received any answer, it would have been the news that their second son had died.
John Hyde returned to England. Eventually he remarried, as Lavinia had done in Salt Lake. John Hyde died when he was only 42 years old, undoubtedly convinced the Church had betrayed him.
What does John Hyde have to do with the Restored Gospel?
In every other modern philosophy or religion, John Hyde would be judged solely according to his choices in life. In these other belief systems, he would have no chance after death to change his fate.[ref]Even in the case of belief in reincarnation, a subsequent incarnation is believed to be associated with choices in the prior incarnation. If there is a belief system I have incorrectly maligned in this statement, feel free to comment.[/ref]
Only the Restored Gospel teaches that in the afterlife, each of us a will have a chance to interact with those we'd known in life, able to learn things we didn't know in life. We mostly focus on the chance this gives those unacquainted with Christ to embrace the fulness of the gospel.
But it is also a time for those who felt betrayed to examine their mortal convictions in light of a more complete understanding. It is a time for them to see with new eyes and to be embraced by the love of the God who is their father (and the God who is their mother). It is a time for them to regret their mortal blindness and cast themselves on the mercy of that Savior who from all eternity stands ready to make us whole.
I look forward to a day when I may meet my loved ones beyond this life. And I hope my ancestor, John Taylor, will bring me to meet John Hyde. In that day, after this life, I expect to find that John Hyde has made his peace with all that occurred, a John Hyde who understands all that he so tragically misunderstood in life. I expect to find how our respective deceased infants are working to unite the family of mankind, with all their billions of fellow innocents. I expect to find a glory of unity, borne of repentance and forgiveness and love.
I look forward to the day when all of us and all our loved ones see with those new eyes, with a pure understanding of the love of God and that great good news that our Savior taught and made real so many years ago now.