As we consider scripture, we see great individuals who have overcome a terrible past.
Saul, later Paul, began his career of tormenting Christ's followers by volunteering to hold the clothing of those who stoned Stephen, a believer. He went on to actively persecute Christians, until he was stopped by a divine revelation on the road to Damascus. Yet he went on to become one of the greatest of the early Christian apostles.
Alma, son of the Alma who had been a priest in the court of King Noah, went about actively destroying the Church of God. It is unclear how much of the later apostasy and warfare that troubled the Nephite and Lamanite peoples were directly attributable to the youthful actions of Alma "the younger." Yet the younger Alma went on to become a great political and religious leader, honored in his own time as well as by modern Mormons.
I have suggested that some early Mormons were like Alma the younger and Saul/Paul. We know them and honor them for their great goodness. But I detect the traces of a troubled past of which they repented.
This past month, as a tangential result of my foray into an alternate Mormon-themed website, I tumbled across something that has stood in plain site, yet unseen across the decades. It makes sense of things, yet it does not make me glad. I am now persuaded that someone I previously saw as uncorrupted had an episode in their past that rivals the evil of Saul and the youthful Alma.
Alma had a chance to talk about his ruinous past with his sons and those to whom he preached. Paul worked vigorously to proclaim Christ, in part because he had fought so hard against Christ in his younger days, a past he could not hide or deny.
The individual of whom I speak did not have the chance to openly confess. I suspect the others who had erred maintained their own silence about their errors in part because to confess would be to expose this good individual.
Martha Brotherton and Her Story
I was in Milwaukee in early July when I tumbled across the obvious which we have willfully ignored. My beloved husband believes me, but he also needs to see the proof. And he has a terrible memory for things that he doesn't much care about, such as the details of my reconstruction of Nauvoo history.
I had been talking with my husband about Martha Brotherton, whose family had arrived in the vicinity of Nauvoo on November 25, 1841. As he wasn't tracking why that was important, or what Martha had said, I browsed to the April 1842 newspaper report that gives us the earliest extant version of Martha's story.
I had summarized it often. Martha was invited to the Red Brick Store by Brigham Young and Heber Kimball while staying with her married sister. Once Martha arrived at the store, Brigham Young asked Martha to consider being his partner, even though Brigham already had a wife. A third person who Martha would later claim was Joseph Smith then came in and endorsed Brigham and what he was requesting.
I knew the April rebuttal specifically mentioned Brigham and Heber. But in pulling the account out to show my sceptical/forgetful husband, I saw that a third individual was specifically mentioned in conjunction with the story.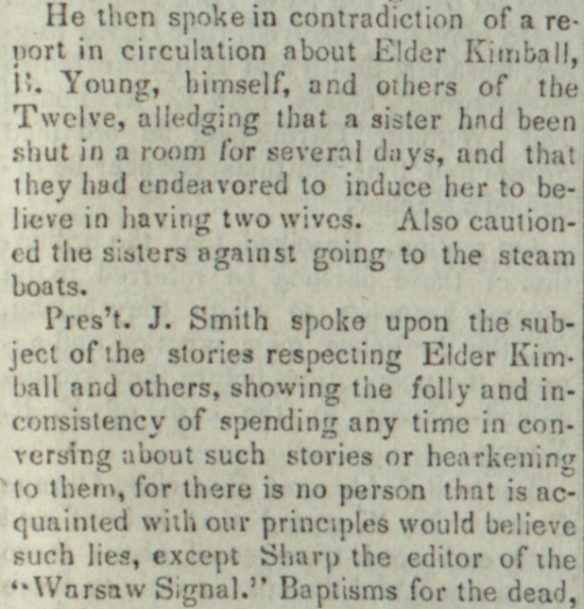 You have to go up a paragraph to see who it was, this individual who spoke in contradiction of the "report in circulation about Elder Kimball, B. Young, himself, and others…"
It was "Pres't H. Smith." 1
I am not sure if I was literally sick to my stomach at realizing Hyrum had named himself as implicated in the tale Martha Brotherton was telling. But I have certainly been sad for weeks.
Martha's Affidavit
In July 1842 Martha Brotherton produced an affidavit 2 at the request of someone, presumably Dr. John C. Bennett or Thomas Sharp. Martha and her parents had fled Nauvoo and were then living in St. Louis. A company of Saints had arrived a few weeks earlier, including Martha's older brother, Jo[seph], and a Wm Brotherton with his young family. 3 Of the two hundred Saints who arrived in America with these other Brothertons, fully fifty would never reach Nauvoo. 4
Martha's July affidavit is very detailed, supporting the impression that this is a true account. Yet when she claims that Joseph Smith came in, she puts words in Joseph's mouth that don't make sense coming from Joseph. The words specifically suggest Hyrum Smith was the third man.
Martha may not have been clear regarding the identity of the third man who involved himself in the discussion. Though Hyrum had outed himself as the third man rumored to have been involved, a careless reading of the April newspaper report could have left one with the impression that Joseph Smith was the one contradicting the report regarding the young woman locked in a room for days. So the person who requested Martha produce an affidavit may well have requested she document her interaction with Heber, Brigham, and Joseph.
Alternately, John C. Bennett and even Thomas Sharp may have wanted to specifically implicate Joseph Smith in the story. We certainly see John C. Bennett twist at least two other stories 5 and place Joseph Smith in the position of villain where other credible affidavits suggest Bennett himself had acted the villain in those particular tales.
Martha describes her conversation with the third man who plays a major role in the event as follows:
"I know that this is lawful and right before God, and if there is any sin in it, I will answer for it before God…"
It is striking that the third individual claims he, rather than Martha, will be responsible for any sin associated with the thing she is being asked to do. We never see Joseph Smith use this rationale in any other credible report. On the other hand, we have multiple instances in sworn testimony where women asserted that Dr. John C. Bennett and his followers said that if there were any sin associated with engaging in illicit intercourse, the sin would be answered by the man requesting the activity. In particular, Catherine Laur [Fuller Warren] claimed that this was part of Dr. Bennett's effort to persuade her to become his mistress in the early summer of 1841.
Martha's account continues:
I have the keys of the kingdom, and whatever I bind on earth is bound in heaven, and whatever I loose on earth is loosed in heaven, and if you will accept of Brigham, you shall be blessed—God shall bless you, and my blessing shall rest upon you; and if you will be led by him, you will do well; for I know Brigham will take care of you, and if he don't do his duty to you, come to me, and I will make him; and if you do not like it in a month or two, come to me, and I will make you free again; and if he turns you off, I will take you on."
The power to make what is bound on earth honored by heaven is clear to Mormons as the sealing power, by which marriages solemnized by proper authority are recognized in eternity by God. However Christians who do not subscribe to the Mormon view are familiar with this phrase "whatever you bind on earth will be bound in heaven, and whatever you loose on earth will be loosed in heaven…" It appears in the New Testament twice, in Matthew. In the general Christian context there is no understanding that this phrase and associated power have anything to do with uniting a couple for eternity. There's even a Wikipedia article on the binding and loosing that is deliciously uninformed by Mormon theology. 6
Consequently, someone who thought they had the power to bind and loose would not necessarily see this as related to eternal or Celestial marriage. The subsequent discussion of dissolving the union within "a month or two" should Brigham turn Martha "off" is entirely inconsistent with the doctrine of eternal marriage as taught by Joseph Smith. The overtly sexual language is also inconsistent with credible reports regarding Joseph Smith.
Hyrum Smith would not know about the correct doctrine of Celestial marriage until the spring of 1843, over a year after contradicting the reported incident with Martha Brotherton.
Further, a search of LDS scriptures for the phrase "bind in heaven" yields the two instances in Matthew acknowledged by all Christians and several instances in the Doctrine and Covenants. When we arrange the mentions in the Doctrine and Covenants chronologically, only one mention occurs prior to Martha Brotherton's reported ordeal:
D&C 124

91 And again, verily I say unto you, let [Hyrum…] take the office of Priesthood and Patriarch, which was appointed unto him by his father, by blessing and also by right;

92 That from henceforth he shall hold the keys of the patriarchal blessings upon the heads of all my people,

93 That whoever he blesses shall be blessed, and whoever he curses shall be cursed; that whatsoever he shall bind on earth shall be bound in heaven; and whatsoever he shall loose on earth shall be loosed in heaven.

94 And from this time forth I appoint unto him that he may be a prophet, and a seer, and a revelator unto my church, as well as my servant Joseph…
D&C 124:93 is specifically referring to Hyrum Smith. Given the final verse in this passage, it would be appropriate for Brigham and Heber to refer to Hyrum as prophet, as Martha reports they described the third man in her affidavit. 7
Martha concludes her description of the conversation with the third man as follows:
"I see no harm in her having time to think, if she will not fall into temptation."

"O, sir," said I, "there is no fear of my falling into temptation."

"Well, but," said Brigham, "you must promise me you will never mention it to anyone."

"I do promise it," said I.

"Well," said [the third man], "you must promise me the same."

I promised him the same.

"Upon your honor," said he, "you will not tell[?"]

"No, sir, I will lose my life first," said I.

"Well, that will do," said he; "that is the principle we go upon. I think I can trust you, Martha," said he.

"Yes," said I, "I think you ought."

[The third man] said, "She looks as if she could keep a secret."

I then rose to go, when [the third man] commenced to beg of me again. He said it was the best opportunity they might have for months, for the room was often engaged.
Two things are notable about this final series of exchanges.
First is the willingness of the third man to let Martha go with a simple promise of secrecy. Others, long-time acquaintances of Joseph, describe Joseph at this time swearing them to secrecy and claiming that his very life was in their hands. Yet this third man is willing to let a teenage girl he has never previously met leave with a simple promise. It is she, rather than he, who mentions loss of her own life if the secret should be told, an oath she clearly didn't honor.
Second is the idea that Joseph Smith would have to worry about whether the upper room of the Red Brick Store was "often engaged," with the implication that the location was somehow key to what was taking place. Joseph Smith's reported interactions with others regarding the New and Everlasting Covenant (aka Celestial marriage) didn't occur in the upper room of the Red Brick Store. Yet if Joseph had chosen to reserve the upper room of the Red Brick Store for an emerging need, it is entirely unclear why it wouldn't be his prerogative to use it as he wished.
Other Puzzle Pieces that Fit
In the case of Brigham Young, it appears Joseph Smith had cause to plead with the Lord to spare Brigham from death 8 for transgressing his covenant, though Brigham would claim he hadn't actually transgressed (William Clayton journal of 23 Jun 1843). The other men Joseph mentioned to Clayton 9 died in 1841-1842, spanning the timeframe during which Martha's reported ordeal occurred. The reported interaction with Martha Brotherton fits the Clayton journal entry and there is no other known episode that comes close to explaining the Clayton entry.
In the case of Heber Kimball, oral histories eventually recorded by Stanley B. Kimball indicate that Joseph "had to warn him [Heber Kimball] that he could lose his apostleship and to command him three times to obey." 10 Heber had come to Joseph requesting guidance on asking the Pitkin spinsters to be his, a plan which Joseph strenuously rejected.
In the case of Hyrum, we have two curious things. One is that some of the women eventually seduced by members of John C. Bennett's group resisted until someone they trusted, who they did not name, told them it was right. This individual was not Joseph Smith, yet it was someone other than Dr. John C. Bennett who they believed spoke for the Church regarding doctrine. Dinger suggests that this someone was William Smith, however based on my review of the handwritten testimonies, I did not see William Smith's name mentioned in that context. [Update 8/7/16: A review of the women's testimonies shows that other than Catherine Laur [Fuller Warren], the women who testified were all seduced in the spring of 1842, after I propose that Hyrum would have ceased any involvement.] Indeed, prior to this past month I also subscribed to the idea that William Smith was the [sole] ring leader of "faithful" individuals who had embraced Bennett's variation of polygamy. Yet William Smith only arrived in Nauvoo in November 1841 and was not well-respected among the apostles. Therefore it is questionable whether he could have been the one who apparently persuaded Brigham Young, Heber Kimball, Robert Thompson, Vinson Knight, and various women and other men that Bennett's "doctrine" was correct. Indeed, Robert Thompson was Hyrum's brother-in-law, and died months before William Smith arrived in Nauvoo.
Next, we have two women 11 who covenanted with Joseph Smith within weeks of the Martha Brotherton incident who attempt to tell Hyrum's son, Joseph F. Smith, things about Nauvoo and Hyrum of which Joseph F. Smith was unaware. It is possible that Mary Elizabeth Rollins merely wanted to convey stories of historical interest, as she mentions Far West and complains that she had never spent more than 5 minutes with Joseph F. Smith, Hyrum's son.
Agnes Coolbrith [Smith], however, was Joseph F. Smith's aunt, someone with whom Joseph F. Smith's wife stayed for a time. There is no reason to believe that she lacked opportunity to convey general stories to Joseph F. Smith regarding his father, Hyrum. Yet Agnes wrote in 1864:
"those that belong to the household of Joseph our Dear Dear Dear departed one Joseph there is none greater there is none better none more honest and upright and tries to do right… I could say many things to you [nephew] that I know and that has been told me by those that are dead and gone but perhaps you would not believe me no I know that you would not so it is best for me to keep silent." 12
In the case of Brigham and Heber, Joseph Smith began involving them in officiating at Celestial marriages shortly after the likely timing of the Martha Brotherton incident, seemingly after reprimanding them sharply and abjectly pleading before the Lord for at least Brigham Young. 13
Per an account told by Brigham, Joseph Smith attempted to talk with Hyrum about the New and Everlasting Covenant prior to the spring of 1843, but Hyrum wouldn't listen. Yet there is evidence in early January that Hyrum is working to preach righteousness and undo his possible wrongful teachings. It is Hyrum who insists in January 1842 that the priesthood go to every home and teach the people their duty, an exercise that evolved into the 1842 census of Nauvoo. As seen by the report of the April 1842 Conference, Hyrum openly contradicted what Martha claimed someone had endorsed. It is not knowable who first said Martha had been locked in the room for days, but this one element made the story Hyrum contradicted something that could be truthfully denied.
Why We Shouldn't Say Martha was entirely a Liar
If you are as sad as I have been to consider that Hyrum might have lent himself to promoting Dr. Bennett's version of polygamy, it may be easier to consider that Martha was simply lying.
Yet Martha's tale was able to turn dozens of those who knew her best from joining the Mormons in Nauvoo. At the time of the incident Martha was seventeen, making her too old for her tale to be dismissed as the imaginings of a child. Yet she was too young to have produced a studied confabulation that aligned with so many factual elements.
Other than her claim that Joseph Smith was the third man involved in her ordeal, her account includes verifiable elements. Even the words she puts in Joseph's mouth show signs of aligning with other contemporary experiences reported in 1842, not to mention the exact wording of the power to bind which Hyrum had been given in January 1841.
Perhaps most sobering is the fact that Brigham Young chose to perform a ceremony where Martha Brotherton was sealed to him in 1870, following her death. This is not the kind of thing Brigham would have done for a woman who had entirely lied about the incident Martha reported. To me it appears to be the kind of thing a man would do if he believed he had driven a promising young woman away from the gospel, hoping to persuade her in eternity of the pure intentions of the correct doctrine in contrast to the corrupted ordeal he had subjected her to in life. Certainly to others it has seemed the kind of thing a Brigham who really had propositioned Martha would do, securing in eternity a young woman he had failed to secure in life.
A Culture of Perfectionism
If Hyrum had lived and if I am right about his involvement in the Martha Brotherton ordeal, there might have been a time when it was appropriate for him to explain what happened in Nauvoo, as the great individuals of the Bible and Book of Mormon had done regarding past wrongs of which they had repented.
But Hyrum died without the story being known to those who hadn't been directly informed. Neither Brigham Young nor Heber Kimball could discuss the matter without exposing the identity of the third man.
The historians of the Church for many decades were either direct descendants of Hyrum Smith or close colleagues of those descendants. None of them would have believed it could be possible that Hyrum would lend himself to encouraging a young woman to yield to her seducer. They either presumed Martha had lied or supposed she twisted her account of what they believed was a legitimate request that she become a plural wife within the context of Joseph Smith's doctrine of Celestial marriage.
As a people we Mormons have become intolerant of sin, relatively unwilling to forgive those around us who have fallen. We look to our past and see icons of perfection, great individuals of spiritual depth, and we have convinced ourselves they were purified simply by trials, rather than having ever had a need to cast themselves upon the saving mercy of Jesus Christ.
I may be entirely wrong. And yet would it be so terrible if a great man (e.g., Hyrum) had erred and then repented of his sin? Would it be so terrible if a great woman (e.g., Eliza Snow) had been deceived and then repented of the wrong she committed while persuaded of the deception?
When Moses was communing with God, his brother Aaron built an idol for the people to worship. Yet Aaron repented, and the temporal priesthood is known by his name. Can we consider that the great ones of our past may have desperately needed the Atonement of Christ, yet consider that they became whole, once cleansed by His sacrifice?
I have tossed this around in my own mind now for weeks. If there is something that requires that Hyrum couldn't have been the third man, I haven't found it. Analysis of the words Martha put in the mouth of the third man suggests that individual could not have been Joseph Smith. The refined timing regarding Martha's ordeal fixes it as occurring before we have evidence that any of the three men involved in the reported interaction were necessarily aware of the New and Everlasting Covenant. This places Martha's ordeal within the context of the rash of seductions and liaisons conducted within Dr. John C. Bennett's scheme of illicit intercourse and commitment-free spiritual wifery.