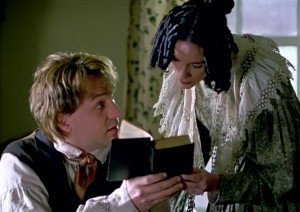 Monday I finally sat down and watched the hour-long film, Joseph Smith: The Prophet of the Restoration.
This is a motion picture created by the Church to provide an introduction to the life and legacy of Joseph Smith, the founding prophet of The Church of Jesus Christ of Latter-day Saints. This is a nice enough film, but I could wish for a few improvements.
Most of the ways this film differs from reality are artifacts of film. For example, some characters are composites, representing a large number of individuals. When it comes to family, we are only introduced to those individuals who play a part in the story that is being told. In other cases, the opposition Joseph faced is simplified into terms that would resonate with us now, based on the most popular of Joseph's many re-tellings of the events of his past. And in all too many scenes, the space is simply too large, presumably because it would be hard to film action in the actual tiny spaces involved, such as Liberty Jail.
After Joseph's first vision in 1820, Joseph is shown being harangued for apparently having told people about his vision. However it was not unusual in those days for folks to have visions. It was his recounting God's assessment of existing Churches that produced the hostility.
I felt the portrayal of the courtship between Joseph and Emma included way too much mushy stuff. Interestingly, this romanticizing of their relationship plays into the idea that Joseph was quite the romancer, leading credence to the idea that he might have been similarly romancing women later in his life.
I was upset to see this movie again portraying Joseph translating directly from the plates, without using the Urim & Thummim or the seer stone. People (other than folks who make it look like Joseph is throwing up into a hat) need to find a way to portray the documented manner of 'translation.' To introduce this for the first time in this film as a faith-promoting depiction of the recorded manner of translation would have been really cool.
The movie skates through the Kirtland period very quickly. If you didn't know better, you wouldn't be aware that it was a combination of economic downturn and Oliver Cowdery's apostasy that primarily tore apart the Mormon community in Ohio. Interestingly, this makes Joseph look a bit silly for leaving relatively calm Kirtland once we learn about the horrors of Missouri.
The film does nothing to mention the role some Mormons (not Joseph) initially played in the acerbic rhetoric. I would have liked to see a show of this internal tension, which would have shown Joseph's wisdom in calming the rhetoric, and ironically being the one to pay the price for the hostile environment initially caused by the strident statements of Sidney Rigdon and Danites. Haun's Mill depicts lots of dead bodies on the ground, but none of the rapes. They tone down the language the mob actually used when talking about shooting the kids.
There is absolutely no mention of polygamy or of Dr. John C. Bennett. This is likely the most irritating thing for folks who are aware of the history. In a future variation of this film, I would love to see Dr. Bennett introduced, then intone the words about many being called but few chosen, followed by scenes implying Bennett is helping himself to sex in exchange for food, then railing against Joseph. We could have one of the iconic women from the Haun's Mill scene coming forward Emma, telling her of what Bennett had taught. At the same time, I would be interested in seeing a scene where Joseph is sealed (say to Louisa Beaman) and then we follow them into the bedroom, where Joseph explains to Louisa about the doctrine, but letting her know that he daren't betray Emma's trust lest he lose her in heaven.
The film shows Jane Manning and members of her family. But we do not learn that Emma wished Jane to be sealed to them. This is also out of context, as Jane and her band of black converts wouldn't arrive in Nauvoo until late in the fall of 1843. I suppose they wanted us to recognize Jane when they would cut to her later in the movie.
This movie doesn't show Eliza Snow. There is no Relief Society. All the men working on the temple are wearing sturdy clothing.
They don't show the 1840 mob attack on Nauvoo, they don't show Joseph's abduction in 1841, they don't indicate Joseph had to go into hiding several times, most particularly 1842. They show us Joseph getting banged around in what is supposed to be the arrest at Inlet Grove in 1843. But the level of violence is appropriate for very young audiences. The rescue attempt is a modest horse chase. They do highlight the fact that Joseph invited the deputies to be his guests of honor, but given that there was hardly any violence implied, this invitation seems a bit more triumphalist than turning the other cheek.
Next we see Hyrum reading a note that the Governor has demanded Joseph and Hyrum surrender themselves into custody. There is no indication of the reason for the tensions. There is no Expositor, no opposition faction. I personally think this was a lost opportunity, in a Church which is emphasizing the need to support the prophet.
Throughout the film Emma is shown as a silent support, the good little woman suffering (and looking mighty pretty doing so). She is not a figure of power. Ironically, I think the movie gets it right that Joseph was entirely devoted to Emma. However for those who know about polygamy and don't believe Joseph rarely (if ever) consummated his plural marriages, this characterization will feel completely false and manipulative.
As Joseph and Hyrum ride out of town, we see Jane Manning gazing on in concern. However Jane Manning had been evacuated by the time Joseph and Hyrum had to give themselves up to authorities. I think they could have alluded to the panic and fear, and shown Jane's reaction upon learning of Joseph's death to better effect that the scene shown of her looking on with concern.
We see Joseph and the others at Carthage. The mob storms up the stairs, and the Mormons in the upper room attempt to hold the door closed with their bodies. We see Hyrum get shot in the face, but there is no indication of the killing shot that came from outside the jail. Joseph looks toward the window, which is shown as being shattered by bullets from outside. The sky grows bright and fills the screen. Type on the screen tells us Joseph and Hyrum were killed.
I think an ending that showed Brigham's leadership taking the Saints to the west, along with Mother Smith deciding to stay with a mourning Emma could have shown a common history that the two major Mormon traditions could respect. Having Mother Lucy addressing a crowd and telling them she agreed with the westward flight, while simultaneously announcing her determination to stay in Nauvoo was just a bit weird. I suppose telling the story from Lucy's viewpoint and having her be narrator is intended to show that this is not a patriarchal version of the history. But in that case, I would have hoped for a version of the story that was actually closer to what Lucy wrote in her history of Joseph and portions of the history that involved Lucy. For example, I believe when Jane Manning was struggling with whether to accept the offer of being sealed to Joseph and Emma as a daughter, she talked with Mother Smith (Lucy).
This movie could well be entered as evidence in a case that Mormons are taught of a nearly perfect, infallible Joseph who didn't have plural wives, but adored his sweet Emma to the end of his life. Yet minor additions to this film would make this a powerful vehicle for promulgating more correct historical information, which would simultaneously support the Church's desire to impress upon individuals why it is desirable for members of the Church to avoid evil and criticism.
I wonder if the screen play to this movie is available. In any case, it would be fun to put together a screen play for a version of this story that would be similarly faith promoting, while reflecting much more of the true history.