Several politicians have said recently that they describe themselves as "Christian nationalists."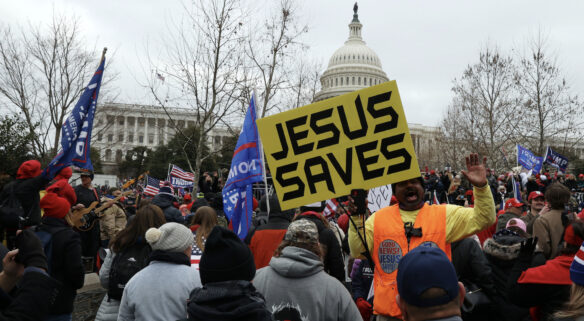 This story discusses the trend:
Representative Marjorie Taylor Greene, a Georgia Republican, and other conservatives have called on Americans to embrace Christian nationalism in recent days, drawing intense backlash from some fellow Christians and non-religious individuals alike.

In Saturday (July 24) remarks to the conservative Turning Point USA Student Action Summit in Florida, Greene argued that Christian nationalism is "a good thing."

"That's not a bad word," the GOP congresswoman said. "That's actually a good thing. There's nothing wrong with leading with your faith….If we do not live our lives and vote like we are nationalists—caring about our country, and putting our country first and wanting that to be the focus of our federal government—if we do not lead that way, then we will not be able to fix it."

Her remarks drew accusations that she was a "Nazi" and comparisons to the Taliban, the Afghan militant group that enforces an extremist version of Islamic law. Other Republican lawmakers have touted the ideology and taken aim at the long-standing principle of the separation of church and state in recent months.

"Christian nationalism is the belief that the American nation is defined by Christianity, and that the government should take active steps to keep it that way. Popularly, Christian nationalists assert that America is and must remain a 'Christian nation'—not merely as an observation about American history, but as a prescriptive program for what America must continue to be in the future," Dr. Paul D. Miller, professor of the practice of international affairs and co-chair for global politics and security at Georgetown University, explained in a 2021 article for Christianity Today.
So, what do I think about this from the Latter-day Saint perspective? I would not describe myself as a "Christian nationalist," and I don't think the Church supports Christian nationalism, but I think the opposition to such a description is WAY over the top compared to the supposed threat. And there are some points of the Christian nationalist perspective that are worth considering.
First, let's consider what it means to be a nationalist. Church leaders have spoken out against prejudice caused by nationalism over time, including this from Elder Ballard just five years ago:
"We need to embrace God's children compassionately and eliminate any prejudice, including racism, sexism, and nationalism," Elder Ballard said. "Let it be said that we truly believe — and truly live — the words of the Book of Mormon prophet Nephi: '(The Lord) inviteth … all to come unto him and partake of his goodness; and he denieth none that come unto him, black and white, bond and free, male and female … and all are alike unto God.'"
So what did Elder Ballard mean by eliminating the prejudice of nationalism? To sum up, he did not mean that loving your country is a bad thing or that considering your country's interests first is a bad thing. He was concerned about nationalism that creates prejudice. In my opinion, he is concerned about caring more about nationalism than about God and the charity and love of the Savior. If I may suggest another way of looking at it, I believe the Brethren are concerned that nationalism may become an idol that prevents us from focusing our attention on the Savior.
This issue is discussed at length in this post, which addresses nationalism when it comes to politicians who support President Trump and many other subjects. Please read the entire post and the comments.
Here is how I see it:
Eliminating nationalism in the U.S. seems politically correct, especially in the days of the nationalist president Donald Trump, but what about eliminating Brazilian nationalism or Japanese nationalism or French nationalism?

Are the prophets saying that no latter-day Saints in these countries should have nationalist feelings? Should they not love their countries and have feelings of patriotism?

The first point is that we must separate nationalism from patriotism. I believe Elder Ballard has no problem with people feeling patriotism, and in fact latter-day Saints are among the most patriotic Americans, and I can report that Mormons are also patriotic towards their own countries in the many countries where I have traveled.

The issue, it seems to me, is when nationalism becomes "xenophobia" (fear or foreigners) or jingoism (an aggressive nationalism that includes military force). It seems to me that Elder Ballard's concern is when nationalism turns into ill will towards other countries or cultures and results in only caring for insular concerns. The Gospel is about charity for all people regardless of nationality, skin color, etc. Elder Ballard is warning that nationalism may decrease love in the entire human family.

So, patriotism and national pride has its place. There is nothing wrong with rooting for people from your country in the Olympics or shedding a tear when your country's flag is raised.

But there are times when national pride can become ugly. World history is filled with horrific nationalist wars. National pride can sometimes turn into ethnic pride. And the Church is making it clear that such nationalism is just as bad as racism and sexism.
So is nationalism bad? Again, not necessarily. When considering a policy, shouldn't politicians consider how it affects the people in their own nation first? Shouldn't Japanese politicians be concerned how a policy would affect Japan and French politicians be concerned about what will happen in France? I think the answer is obviously yes.
So, even though I don't describe myself as a "nationalist," I don't buy the media hype that people who adopt such a description are necessarily wrong or evil.
But what about "Christian nationalism?" Well, Latter-day Saints are Christians, but we are not generally Christian nationalists, I think. We believe that Christ visited the Americas, and we believe that the Americas are a special land, but we don't necessarily believe this applies to individual nation-states. We believe that the U.S. Constitution is inspired and we Americans are patriotic, but this does not mean we are disdain other nationalities. The Church of Jesus Christ of Latter-day Saints is for all people worldwide.
As Elder Charles Didier of the Seventy said in 1976:
In conclusion, I would say: keep your national heritage in your heart, be proud of it, cultivate these values in your families as long as they are building the kingdom of our Father in heaven. As soon as it comes out of these boundaries, it is used more to create differences among people than to bring them together. We are one nation; we have one eternal Father; we are brothers and sisters—different, but with the same eternal goal of helping to bring to pass the immortality and eternal life of man.

The final word is given by our Lord as a commandment, not only as an objective: "I say unto you, be one; and if ye are not one ye are not mine." (D&C 38:27.)
To the extent that being a Christian nationalist means you are promoting true Christianity in your country, including building up the kingdom of God and promoting the Gospel of Jesus Christ, I have no problem with it.
But there are dangers, of course. What version of Christianity is promoted? Many Christians don't consider members of our Church Christians. Will Christian nationalism lead to bigotry against Jews, Muslims and others? People sometimes forget it was supposed Christians who killed Joseph and Hyrum Smith and issued the Missouri extermination order.
Many secularists believes that Christian nationalism will inevitably lead to a "Handmaid's Tale" dystopia. If you have never read the Margaret Atwood book or seen the movie or TV show, "The Handmaid's Tale" tells the horrific story of Christian nationalists mounting a coup against the U.S. government and instituting a fascist anti-woman theocratic state.
I am going to declare these concerns WAY over the top. If you actually take the time to talk to a Christian nationalist (and I have many friends sympathetic to this viewpoint), they feel they are primarily on the defensive. They have no desire to tell other people what to do and how they should worship. But they would like a world where there are fewer abortions, fewer groomer teachers trying to brainwash children into thinking they are a different gender, and more people concerned about the loss of jobs and traditional families in the U.S. What these Christian nationalists want is a return to the world we had just a few decades ago, not some radical imposition of forced Christianity.
It seems clear to me that Latter-day Saints should be much more concerned about the spread of woke ideology in the schools and universities, and the negative effects this ideology is having on Church members, than Christian nationalism that probably will have no negative effects at all on the Church.
So, I am going to sum up by saying that I would not describe myself as a Christian nationalist, and I don't believe Church doctrine supports Christian nationalism, but I also don't see it as a huge threat. Don't fall for the hype.