I take notes at funerals. I don't know if I'm the only that does that, but I find when I'm attending a funeral my heart and mind are more inclined to listen to the Holy Spirit and what he has to tell me.
Last week my Uncle Don passed away at the age on 97. He was my grandmother's twin brother, she having preceded him in death in 2006. Uncle Don was a frequent presence in our family's life, even though we lived in Arizona and he lived in Utah. When Uncle Don would come to visit, you could count on a fun time, lots of good, thought provoking conversations and the inspiration to be better and do better. He always called life a "spiritual high adventure" and lived that way. These themes were repeated in the many tributes that his family gave of him during the service.
Here are some of my notes:
The point of this life is to learn to focus on what is important. What is important? Following the Savior, keeping your covenants and the commandments so that you can make it back home to Him. We should have a "homeward bound mindset". One of the granddaughters sang the song Homeward Bound.
"The biggest thing Grandpa helped me do was to get my testimony" And what a great gift that is to help others gain and maintain a testimony of Jesus Christ and His gospel. We do that when we focus on the things that really matter. The things that really matter are serving others — as in personal, on your door step ministering, attending the temple, and reading the scriptures.
As for scriptures, my cousin Keith held up Uncle Don's scripture set from 1985. Uncle Don kept track of every time he read the Book of Mormon. From 1985, to his death he read the Book of Mormon 97 times. I am completely inspired by that, and am planning on reading the Book of Mormon all the way through by the end of this year.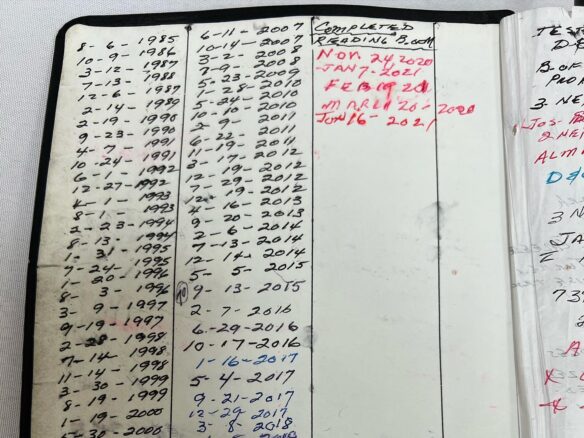 During this life make corrections and right choices. Be on the righteous trial back to our Heavenly Father, be bold and brave, bring people along with you.
Thank you Uncle Don for your example and good life.