Mitt Romney is about to be sworn in as the junior Republican senator from Utah. This is a time for him to send important messages to his constituents. For example, he could discuss the failings of the increasingly socialist Democrat party. He could consider concerns about religious liberty. He could talk about the importance of following the Constitution. He could opine on the government shutdown and border security. So many potential things to discuss and Mitt….pens a pointed op-ed lambasting Republican President Trump.
You can read that op-ed here.
Key paragraph:
To a great degree, a presidency shapes the public character of the nation. A president should unite us and inspire us to follow "our better angels." A president should demonstrate the essential qualities of honesty and integrity, and elevate the national discourse with comity and mutual respect. As a nation, we have been blessed with presidents who have called on the greatness of the American spirit. With the nation so divided, resentful and angry, presidential leadership in qualities of character is indispensable. And it is in this province where the incumbent's shortfall has been most glaring.
What is going on with Mitt Romney? There have been plenty of conspiracy theories, that Romney is working with insiders to bring down Trump at the behest of the Deep State, for example. I don't think that's it.
If you watch the Netflix documentary on Mitt and follow his public career, his behavior is actually quite easy to understand: he went into public service out of a sense of duty and obligation, not because he is power hungry. He is speaking out against Trump because he truly feels Trump's behavior is repugnant and below the dignity of the presidency.
There are a myriad of problems with this, but the biggest is that Romney simply has no self-awareness.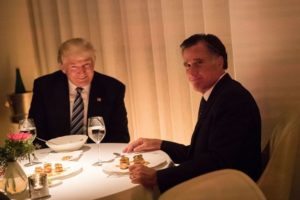 Romney relentlessly attacked Trump during the 2016 campaign. Then, when Trump got elected Romney went crawling to Trump for a Cabinet position (see the photo above). When Trump turned him down, Romney went back to criticizing him. When Romney decided to run for the Senate, Trump offered an endorsement, and Romney happily accepted it. And now Romney is back in attack mode against Trump.
Does Romney, after all of the charges of flip-flopping during his two unsuccessful presidential campaigns, not see the irony of the master flip-flopper doing his thing regarding Trump?
Romney will always be supported by a majority of Utah voters, but here is how Republicans outside of Utah see Romney's behavior: self-righteous sore loser. No integrity. More concerned with being loved by the DC establishment than being principled.
But don't take it from me. Here is the comment from Romney's own niece, Ronna McDaniel, who heads the Republican National Committee:
Ronna McDaniel on Twitter
(@GOPChairwoman)
POTUS is attacked and obstructed by the MSM media and Democrats 24/7. For an incoming Republican freshman senator to attack @realdonaldtrump as their first act feeds into what the Democrats and media want and is disappointing and unproductive.
Even worse for Romney, Trump's response instead of being the usual full frontal assault was somewhat restrained:
Donald J. Trump on Twitter
(@realDonaldTrump)
Here we go with Mitt Romney, but so fast! Question will be, is he a Flake? I hope not. Would much prefer that Mitt focus on Border Security and so many other things where he can be helpful. I won big, and he didn't. He should be happy for all Republicans. Be a TEAM player & WIN!
My take: Mitt is a good man. I would love to have him as a bishop or stake president or even a general authority. I do believe his intentions are good. But I don't think he comes across very well here. You can maintain your integrity while accepting that Trump is president and you need to work with him to get things done. Mike Lee and Rand Paul, both Republican senators who have problems with Trump, have shown the proper path here: be friendly with the president and work with him to get stuff done. Their tactics bore fruit in December with legalization of hemp, criminal justice reform and a less interventionist foreign policy.
Mitt likes to think of himself as the ultimate pragmatist. But he seems completely unaware that he appears to be acting out of emotion, not pragmatism. If there is anything we have learned in the two years of Trump it is that he does not like being attacked. Mitt might end up being the least effective Republican senator in the country. How is that a good thing?