A few weeks ago I proposed that Eliza had modified her journal. I also proposed that it would be very hard to discern if her journal had been modified.
At the time I proposed that Eliza originally wrote the poem to Jonathan, accepting his offer to be her public husband. I suggested that the "& Elvira" was added, and that the three instances of "your" in the final stanza might have originally been "our."
Looking at the manuscript, I can see that my original hypothesis about how the manuscript was modified does not stand. But the journal entry was clearly modified. The ink used on September 18th is the same as the ink used before December 12th, making a possible modification in November plausible.
Let me explain, and then we can see what you think.
Here is the lovely note I got from the Church History Library earlier today:
_______________________________________________________________________
Response to request #: CH28876
You requested:
/ Eliza R. Snow journal, 1842-1882 / Snow, Eliza Roxcy 1804-1887 / MS 1439 / Microfilm / .
Your digitization request is complete. Please click on the link/s below to access the materials.
https://eadview.lds.org/dcbrowser/MS%201439/
Sincerely,
John Dickinson
Church History Library
_______________________________________________________________________
The poem I'm interested in is on images MS 1439_f0001_00009.jpg and MS 1439_f0001_00010.jpg
Below is an image of what I think the journal might have looked like originally. I have digitally altered the image.
Eliza tended to leave nice gaps between her poems and the rest of her writing. Titles, while not always separated by a line from the poem, are usually separated by a line. You can see that as you read the rest of her journal.
There are numerous dark letters and portions of letters. While some of these appear to have been produced by a rough quill, others are clearly instances of Eliza re-writing letters.
It also appears that the text of the poem was modified in one word. The second stanza now reads:
Like two rays that kiss each other
In the presence of the sun.
But it appears rays was not the original word.
It appears the original word started with a and ended in s. A possibility that fits the space is angels:
Like two angels that kiss each other
In the presence of the sun.
Perhaps other letters were darkened to make it less obvious that "rays" wasn't the original word. Or it could be that after writing angels, Eliza realized that didn't scan as well as a single syllable word.
What is this journal entry about?
Eliza writes "Went to meeting in the forenoon & heard … an eloquent discourse from the 15th of 1 Cor. commencing with the 12th verse "Now if Christ be preached that he rose from the dead"
She then writes a beautiful poem about eternal marriage.
We know when Joseph Smith asked Joseph Kingsbury to stand as a pretend husband to Sarah Whitney, he promised Kingsbury eternal union with his deceased wife, Caroline.
It is possible that Joseph Smith had talked with Eliza and Jonathan about Jonathan standing as Eliza's pretend husband, with the promise that Jonathan would be eternally united with his deceased wife, Marietta.
An eloquent discourse on the literal resurrection of the dead could very well have prompted Eliza to write a poem celebrating the eternal union of her friend Jonathan with his deceased wife. In this case, "angels" would be an appropriate word for the second stanza, as one of the two was already an angel, and the two would not be united until they were both beyond mortality.
As I look at the final stanza, only one of the instances of "your" might have originally been written as "our." However a poem written about Jonathan and his deceased wife would naturally have ended in a stanza including three instances of the word "your."
To Jonathan & Elvira
I had originally proposed that "& Elvira" was added to a "To Jonathan" that was already written.
Looking at the journal, it is clear that "To Jonathan & Elvira" was written at the same time. But it seems entirely cramped the way the "To Jonathan & Elvira" is jammed between the title and the first stanza.
If the poem is written to Jonathan and Elvira, the word "angels" had to be replaced. Eliza would also have to explain why this poem is in this journal entry, which she proceeds to do in a manner that is located in an awkward location on the page, but which draws attention away from the fact that the dedication jams the title and first stanza together.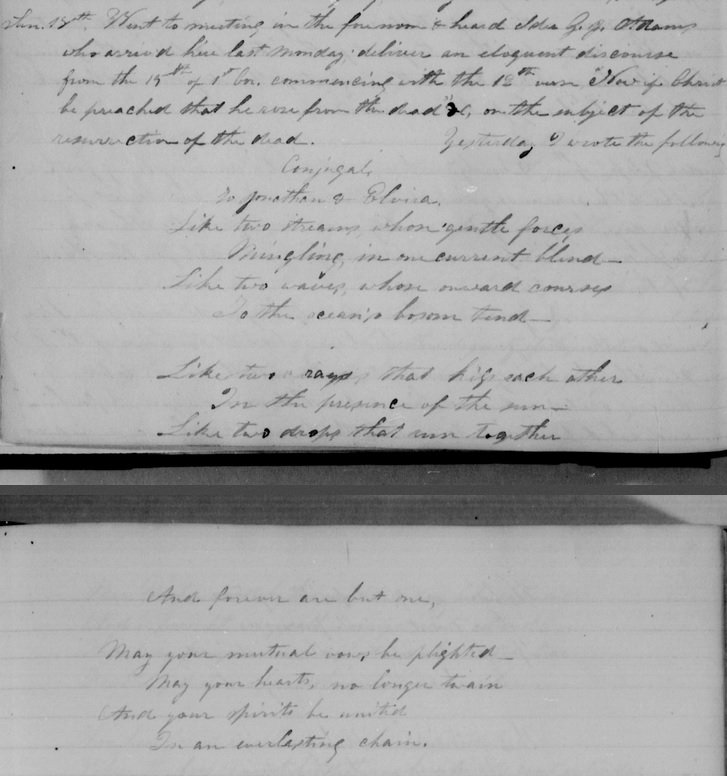 Conclusion: Inconclusive
I think a study of the manuscript of Eliza's journal shows that this journal entry of September 18, 1842, as currently extant, is within the parameters of reasonable variation given the rest of Eliza's writings.
However I do not think the extant form of this entry is completely above suspicion of having been tampered with prior to 12 December 1842.