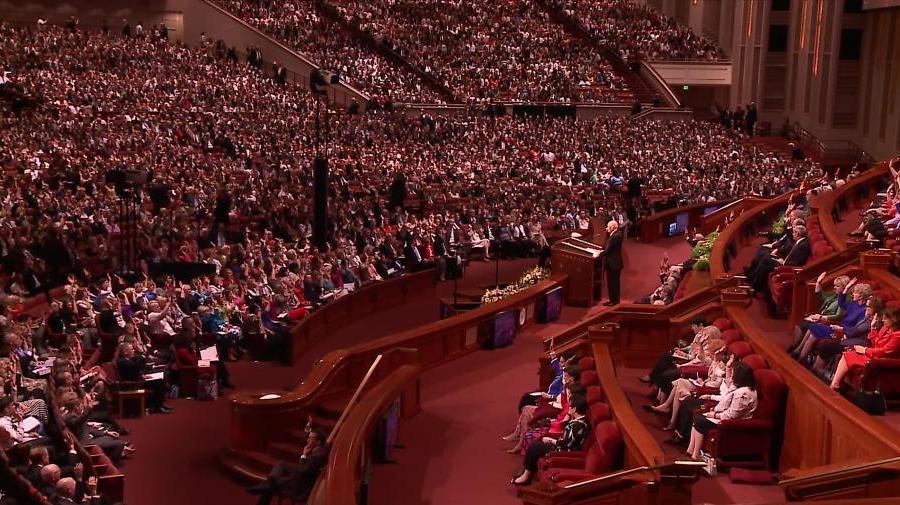 President Dallin H. Oaks will be conducting this meeting. President Russell M. Nelson presides.
Choir: Come Listen to a Prophet's Voice
Opening Prayer:
Changes in Church Leadership: President Dallin H. Oaks – Many members of the Presidency of the Seventy and the Leadership of the Young Woman General Board are released. Sister Bonnie H. Cordon is also released from the Primary Presidency.
New Members of the Presidency Carl B. Cook and Robert C. Gay to begin serving immediately. The following will begin to serve in August, when the other members of the Seventy whose release was announced depart service: Terence M. Vinson, José A. Teixeira, and Carlos A. Godoy. Numerous other General Authorities called.
Bonnie H.Cordon to be Young Women General President. Lisa Renee Harkness called to replace Bonnie Cordon's place in the Primary Presidency. Other organizations as currently constituted.
There are now 116 general authorities, with 40% born outside the United States.
Choir: Where Can I Turn for Peace?
Kevin Jergensen: Auditor's report. In all material respects, the Church is living the principles taught to it's members, of living within a budget and being honest in its dealings.
Elder David A. Bednar:

I rejoice in the opportunity to sustain our leaders, and am eager to serve with and learn from the new individuals sustained to the various areas of responsibility.
Example #1: In the New Testament we learned of a rich young man who asked the Savior what he should do. When mention of obeying the commandments seemed less than the young man sought, the Savior invited the young man to sell all he had and follow the Savior. But this was more than the young man was willing to do.
Contrast that with Amulek, who had many resources. Yet he heeded the voice of the prophet, Alma, and invited Alma into his home. Amulek then put away his riches and was rejected of his friends.
Example #2: Moroni and Governor Pahoran wrote to one another. Moroni accused Pahoran of wrongful neglect. Pahoran responded and told Moroni of challenges of which Moroni had not been aware. What explains Pahoran's measured reply to Moroni's angry accusations.
Example #3: President Nelson spoke of attempting to follow the counsel President Monson gave, to study the Book of Mormon. He, as President Eyring, was inspired by the effort, and recommended the effort to all of us. What explains the immediate and heartfelt responses?
The Savior said, "Take my yoke upon you, and learn of me; for I am meek and lowly in heart: and ye shall find rest unto your souls." (Matt 11:29) Meekness is strong, not weak. Active, not passive, Restrained, not aggressive. A meek person is not easily provoked, and readily acknowledges the accomplishments of others.
Recall how Naamah overcame his pride to meekly wash in the river, as counseled by the prophet. And for this willingness to accept, he was healed.
Meek is something we become, not just something we do.
My friend's had a son, Brigham, who was diagnosed with a rare disease. When the family was attending the temple, Brigham cryptically said, "One more day." He passed away the next day.
If we were to be told that we would have a short time to live, we might plead for more time.
But the key to being successful is to sacrifice in today. Sacrifice comes from the words "sacred" or holy and "facer" or to do. How are we living so that our deeds are holy?
One woman had saved for a long time to be able to go to the house of the Lord and receive her ordinances. I learned from this sweet sister that personal sacrifice drives our commitments and gives our lives meaning.
My family had saved to buy surgical equipment. Then we learned that the amount saved had been so devalued that the amount saved for so many years was only enough to buy a single pair of tweezers. Then my mother took me downtown with her. She took out a piece of jewelry her father had given her and sold it, so that I could have the equipment necessary to become a dentist. Can you imagine what kind of student I was after that?
What is the value of even a beloved gold bracelet to the life of our Savior? As we honor and are grateful for His sacrifice, we will feel the desire to seek the well-being of our brothers and sisters, to sacrifice ourselves on their behalf. Speak your love, and then speak it again.
May we enjoy the peace and rejoicing that only the sacrifice and atonement of the Lord Jesus Christ can provide, every time we have the opportunity to live one more day.
Chor and Congregation: Choose the Right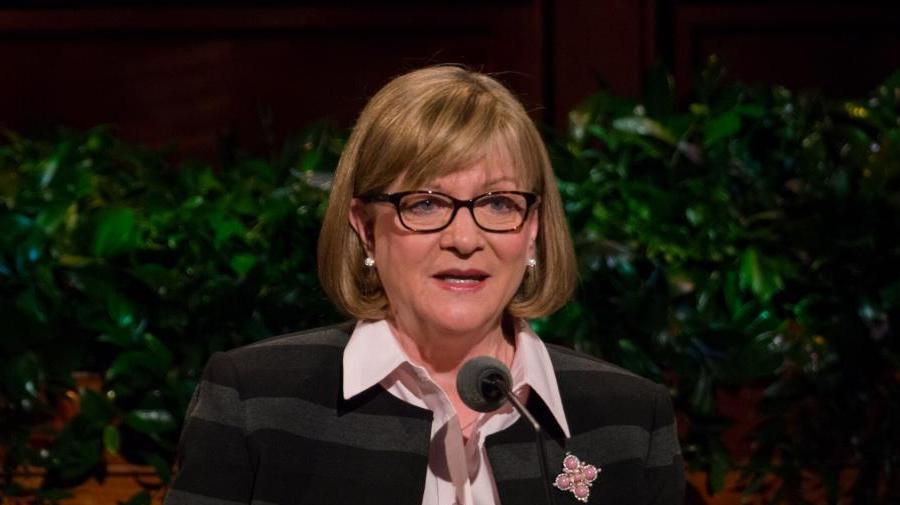 [Wow, Sister Oscarson's bio had already been removed. That is consistent with the fact that video for the past session's talks are already posted online. So much better than years in the past where we had to wait a week or more for the official content to become available. The above is an image from one of her past talks.]
I lived in a small branch in my teen years, and was often called to do tasks typically performed by adults. I was called to be the branch music leader. I felt needed and useful. That experience helped build my testimony.
Each person has unique abilities and talents that help move this work along.
Every young woman in the Church should feel valued. They have something to contribute in all areas of this work. I obtained agendas from two ward councils and provided them to young women, asking if they saw anything where they could offer their services. Each identified ways in which the could help, and there wasn't really anything on those agendas with which they could not help.
Just as our Aaronic Priesthood holders are invited to assist with their older Church collleagues, our Young Women are also able and eager to serve in ways that will prepare them for their future. Our Primary children are being invited to participate in temple preparation.
Bishops and counselors provide leadership for the Young Women and their leaders, just as they are charged to lead the young men of the Aaronic Priesthood. Opportunities to serve in meaningful ways help much more than just participating in activities that merely entertain them. Our Young Women are preparing to become members of the powerful Relief Society organization. The work of our Heavenly Father is to bring to past the eternal life of His children.
The ordinances of exaltation help us establish covenants with God, to prepare to return to meet God. President Nelson urged us to "keep on the covenant path."
John and Bonnie Newman are recipients of this promise. One Sunday Bonnie asked her husband to make a commitment to either come to Church with her or select another congregation where they could worship together as a family. He began to attend her Church, and attended the LDS congregation for 39 years before he eventually took the step of becoming baptized. John's family was surprised to see what a difference baptism made in the life of this man who had been an active participant in his local LDS ward for so many years.
Our Savior himself was tempted, and we too will be tempted. There are those who draw near to godliness, but the scriptures say, "from such turn away." In our own lives, casualness leads to casualties.
When visiting with someone, he asked why we take bread and water every week. He suggested that in his Church they only took communion twice a year, and it was very meaningful. Then we suggested a situation where the man might be harmed and saved. He admitted he would want to thank that person every day. But he countered, "your Church is boring, and mine is lively." We asked how he would act if he was in the presence of his Savior. He replied, "I get it, I get it." He came to Church that Easter and continued to return.
May we treasure and honor the ordinances that form the covenant between ourselves and God. Amen.
Family Home Evening was something we did every week. I remember the "test" we did, which sent the child about the house enacting a list of activities. I looked forward to the time it would be my turn, and it helped an active boy make it through those evenings.
As a boy I would get irritated with what I thought were our excessive prayers, thinking, "Haven't we just finished praying?" But as a parent I feel I can't pray enough.
Parenting is like being an on-call physician. Much of our teaching occurs in informal settings, just like we see with the Savior. Some of the best teaching moments start as a question on the part of a loved one. Be ready to give an answer to any man (or child) for the reason for the hope that is within you.
Once after a game of trying to be stronger, gripping hands, a father said, "I hope your hands will be so strong that they will never touch a woman inappropriately."
Our most impactful parental teaching is our example. One young man said, "You think my father is a good man in Church, but…." We waited for what might follow. He continued, "But he's a better man at home."
As parents cherish each other and offer righteous example, we will be able to provide a Christlike example in our homes.
Choir: As Zion's Youth in Latter Days, The Iron Rod
Some of us have experienced a fracture in our families. Orson and Parley Pratt both sacrificed for one another. But in 1846 a strain developed. Parley attempted to reach out, but was ignored. Parley decided there could not be a reconciliation if Orson did not reach out.
Orson wrote to Parley after learning of an ancestor, Lt. Pratt. He admitted that there were none more interested in family history than the two of them. He begged pardon for being so backward in not writing to Parley. Love for their ancestors was the catalyst that mended the rift between the two brothers.
Family history and temple work is not just for the dead, but blesses the living. This is far more than a hobby. The blessings we receive include increased understanding of the Savior and His sacrifice, increased faith, increased ability and motivation to repent, increased refining and sactifying influences in our hears, increased love and appreciation for ancestors and living relatives, increased power to discern what needs healing, increased protection against the adversary, and increased power to mend hearts and make the wounded whole.
Ezekiel saw a vision of a temple with waters gushing out of it. The waters would heal everything where the river came. Temple blessings like these river waters of Ezekiel's vision, have power to heal.
Rod was recipient of a heart from a young man whose family had slipped into casual activity, and none of them had received the ordinances of the temple. But the night before the young man, his mother, Betty, promised she would see that his work was done. In time, Betty and her family were able to come to the temple, and they had Rod come with them, where he stood proxy for the young man whose heart had saved his life.
A fwe years later Rod was sealed in the temple and asked me to attend. Then he wished to introduce me to his donor family. [OK, so I'm crying, and my daughter is crying.]
As we accept President Nelson's invitation to reach out to find our families, we will experience blessings and healing. Orson and Parley Pratt experienced it. Betty and her family and Rod experienced it. And we will experience it.
Choir: I'll Go Where You Want Me to Go
Closing Prayer: Elder Peter F. Meurs
Presiding – President Russel M. Nelson
Conducting – President Dallin Harris Oaks
Choir – Come Listen to a Prophet's Voice
Opening Prayer –
Talk – Kevin Jergensen – Auditor's Report
Talk – Elder David A. Bednar – Be Ye Meek
Talk – Elder Taylor G. Godoy – Sacrifice Brings Meaning to Life
Rest Hymn – Choose the Right
Talk – Bonnie L. Oscarson – Needed and Useful
Talk – Elder Taniela B. Wakolo – The Ordinances of Exaltation
Talk – President Devin G. Durrant – The Teaching of Parents
Choir – As Zion's Youth in Latter Days, The Iron Rod
Talk – Elder Dale G. Renlund – The Healing Power of Temple Blessings
Choir – I'll Go Where You Want Me to Go
Closing Prayer – Elder Peter F. Meurs