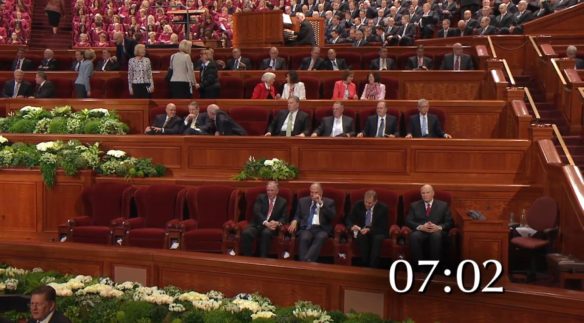 Live coverage of the Saturday AM session of General Conference. Post will be updated after each speaker.
President Dinter F. Uchtdorf, Second Counselor in the First Presidency of the Church will be conducting this meeting. President Thomas S. Monson presides.
Music is provided by the Mormon Tabernacle Choir
Choir: The Morning Breaks
President Dieter F. Uchtdorf: It is a beautiful day today in Salt Lake City and we extend a warm welcome. Our dear prophet has asked that I conduct this session.
Choir: Let Zion in Her Beauty Rise
Opening Prayer: Elder Kim B. Clark (I think)
Choir: Do What is Right
 Henry B. Eyring – I rejoice at the opportunity to be with you. I welcome you most warmly.
General Conference has always been a time of gathering. The Lord has provided means for General Conference to reach out to you, wherever you may be. Let us remember the millions around the world who are gathered with us. Wherever you are, please know we feel you are with us in spirit.
I would like to speak to you of another sort of gathering, a gathering that has been going on continually since the forming of the Church. I speak of the gathering of the family of God. Before we were born we lived with Heavenly Father as His spirit children. The names "brother" and "sister" are not just terms of endearment. God is our literal spiritual Father. He wants us to progress and advance. He prepared a plan where we would come to earth in families. Jesus Christ would come to earth to rescue us from death and sin. We rejoiced in this plan. But we come here not in complete darkness. We are given a portion of light to determine right from wrong.
Our sense of right and wrong is especially keen when we are teaching our children.
Families are the basic organizational unit in the eternal realms. Though families are not perfect, they come closest to the perfect love of Heaven. Only a portion of humanity may learn of Jesus Christ or hear of the fullness of the Gospel in this life. Yet Heavenly Father provided a way for all to accept (or reject) the salvation promised us before we came to this life.
Elijah prophesied that the hearts of the parents and the children would be turned to one another. On April 3, it will have been 181 years since the key to this promise was restored, when the sealing power was restored in the Kirtland Temple.
I bear testimony that Elijah did come. The affection you feel for your ancestors is part of the fulfillment of that prophecy.
To gather God's family requires more than just warm feelings towards our extended family. It requires priesthood ordinances. God knew He could trust you to perform this work on behalf of your ancestors. The Lord gives no commandment lest He prepare a way to accomplish that which He has commanded.
Many years ago, I met a salesman who had been sent to sell computers to the Mormon Church. This unbeliever commented on how ladies were using filing cards to perform genealogical work, wearing tennis shoes so they could run faster. We did not buy that salesman's computers, because the required technology had not yet been invented.
But computers alone are not enough. I was faced with two records, where the names were different but there was reason to believe the records referred to the same person. As I prayed, I knew with surety what to do.
We do not know what marvels God will inspire to assist in the work, but the work will always require inspiration given from God through us to determine what to do with the information about our ancestors.
The youth have become involved in this great work. It has strengthened their testimonies and have caught the vision admirably. This is the work of our generation. Paul said that God would gather together all on heaven in on earth.
The partition between the present and the past is broken down as we do this work. Heavenly Father wants His family home, in glory. He watches over us and thanks you for your efforts in gathering together His loved ones. Amen
M. Joseph Brough – Heavenly Father knows what we need better than us. The package He has assembled is vast, including prophets and many other things to help us return, to help us know we are never really alone.
Once when my father was correcting me, my grandmother said, "Monty, aren't you being too hard on him?" When my father replied he was just correcting me as a parent should do, she replied, "And so am I."
Tolerating wrongful behavior without loving correction is not true love. God tells us that righteousness is happiness.
Once I was faced with the need to give up my beloved dog, Blue. My father did not make the decision for me, but asked me to ask Heavenly Father. I received an answer that my parents had been called to be my parents, and I should do what I could to make their way easier. It still tore my heart to give Blue away, but I knew I was doing the right thing to support my parents.
For God so loved the world that He gave His only begotten son. Christ pleads with us to come and follow Him. Christ suffered for all that we might not suffer if we would repent. No wonder the scriptures tell us to teach repentance.
First – be with the youth. There are some things we can do that will matter most. To lead youth means to be with them.
Second – we must connect the youth with heaven. There will necessarily be a time when they are alone, and they must know how to reach out to heaven for the strength and guidance they will need.
Third – we must let the youth lead.
Let your covenants be paramount and our obedience exact. Then you can call out to God in power and He will respond.
Once I struggled with a challenge for about a year. As I sat in the Logan temple, I wondered if God really cared. Then the temple president, Vaughn J. Featherstone, walked in. Coming up to me, he told me, "I am so glad to see you here." My prayer was answered.
Elder Weatherford T. Clayton – As a medical doctor, I have often seen mothers welcome their newborn children. It is such a tender moment.
That tenderness is the feeling God has for us, His children. We are literally brothers and sisters.
I will be forever grateful to my mother from bringing my siblings and me into this world and teaching us God's commandments.
Father, knowing we would be subject to physical death and sin, gave His only begotten son. Jesus Christ lived a perfect life, keeping His Father's commandments. He went about doing good and entreating all to follow His example.
At the end of His life, Christ prayed, "Father, if Thou wilt, remove this cup from me. Yet not as I wilt, but as Thou wilt."
Because Jesus Christ paid for our sins, we will never be alone if we turn to Him. He declared, "Behold, I am Jesus Christ, who the prophets testified would come into the world… I have glorified the Father by taking on me the sins of the world." After three days, Christ arose from the tomb, leading the way so that we, too, will conquer death.
I feel God's tenderness when I sit at the bedside of people as they pass away.
I went to visit a widow who was suffering from cancer. As I approached the bedside, I realized that she was no longer suffering, because she had died. She had returned home. Her daughters were there, and there was a feeling of peace, because of a faith that transformed what could have been terrible grief into sweet peace.
If we endure to the end, Christ will hold us guiltless in that final day. May we choose well, that we may return to Heaven and dwell with God for eternity. There is so much to life that what occurs between birth and death. May you become holy, without spot. Come and have faith, life a happy Christ-filled life. You will be able to find peace and purpose in this tumultuous life, and eternal life in the world to come.
To those who have wandered away, please come back. Christ can heal your hearts and forgive your sins. I know this is the Church of our Lord, Jesus Christ.
Choir and Congregation – Glory to God on High
Elder Dale G. Renlund – The glimpses we obtain of heaven gives us faith and supports us as we strive to emulate Christ.
Les Miserables gives us the chance to see the difference between the past behavior of an individual and the essence of the man. A question is asked of a bishop, should a shepherd recoil from a sheep because of the sickness of the sheep? Later the bishop is faced with an ex-convict, Jean ValJean. The mercy that bishop shows to the ex-convict transforms the life of that man.
Jesus Christ views disease in His sheep as conditions that can be healed, conditions that need healing. He asks us to bind up what is broken and stag then the sick.
The Savior's immortal ministry is characterized by empathy. He did not dodge sinners in abject horror. He ate with them. He lifted and edified. He seeks us to offer healing and hope.
The Gospel of John records the Lord's empathy and its affect on a sinner. A woman was brought before the Savior, and she was to be stoned for adultery. After questioning, Jesus replied to the accusers, "Let him without sin cast the first stone." Jesus did not condemn the woman, but did command her to give up the sin.
God is empathetic, but that does not mean he is open-minded and accepting of our sins. Amulek tried to trap Alma by saying, "Will Christ save his people in their sins?" The answer was, no, that God will not save us *in* our sins. God is clear about what is acceptable. This is not because He wishes to have mindless followers, but because he wishes us to choose to be like Him.
For this reason, Church leaders cannot alter His will in order to be convenient or more popular. We who are sinners must reach out to others with compassion and love. Our role is to help and bless. The Savior rebuked those who recoiled from those who were deemed to be sinners. He spoke a parable of a Pharisee and a publican. The Pharisee thanked God he was better than all others. The publican smoke upon his breast, requesting that God would forgive him.
A repenting sinner draws closer to God than the self-righteous individual who condemns the sinner.
There was a time when the people of the Church began to be lifted up in pride. There was a law that there should be no persecution against those who did not belong to the Church. Similarly in our day there should be no persecution against others, whether they are outside the Church or inside the Church.
As a child, I was picked on because I was an American and a Mormon. I was seen as the embodiment of unpopular US policies. I was rejected because I was not part of the state-sponsored religion.
We must raise our voices against bigotry. Everyone, including people of religion, has the right to raise their voices in the public square. Yet no one has the right to be hateful towards others in that public square.
For us to ask for respect, we must be respectful. Our genuine conversion fills us with perfect love for others. Our Savior feels in our day the same as he did during his life about sin and sinners. He loves us so much that He provided us the way to become clean. He also showed us how to show respect to all and hatred to none.
May we show His love, that no one need feel alone or hopeless.
Christ loves us. I love and adore Him and am profoundly grateful for Him. Amen
Elder Ulisses Soares – Ammon taught King Limhi, and King Limhi invited his people to lift up their eyes and repent.
This mortal life is a time of testing, which will require that we press forward with faith in Christ.
The Savior taught, "In the world ye shall have tribulation." Jesus Christ lived a sinless life. Yet he suffered terrible pain to help us with our afflictions. He removed every impediment to our peace on this earth. His mercy is to all, and will be available to those who accept Him and humble ourselves before Him.
We have reason to lift up our heads and believe in Christ, with unwavering faith.
"Serve God will all diligence of mind." Christ said, "Keep my commandments. He that loveth me will God love."
Let us willingly do all that God and Christ require of us.
When I was a mission president, I received a call informing me that a missionary's sister had died. The missionary was stunned by this adversity, but he rejoiced in his sister's life. He told me he would continue to serve his mission to be worthy of the blessings God had for him and his family.
If we are not rooted in steadfast faith in God, the troublesome experiences can rob us of the will to hold to the gospel. The adversary is always on the lookout to attack, to tell us there is no reason to heed God. The adversary fighteth against God continually.
We must not allow the adversary to deceive us.
Through faith we can overcome overwhelming obstacles. This is the faith that allowed the people of Limhi to overcome their bondage. I testify that the power of unwavering faith will free us from unbelief and suffering. God is real. He loves us and listens to us. Christ is our redeemer.
Not now, but in the coming years, in the Portugese hymnal.
"Jesus Guide us with His hand.
If we listen to His voice, He'll tell us by and by.
Later, He will explain."
Elder Mark A. Bragg – We are troubled on every side, but not cast down.
We are children of God, and seeking the Light is in our DNA.
When I was working for a large bank, I attended an executive program at the University of Michigan. A professor spoke of how all living things have an inherent inclination towards the positive, towards light, and away from the negative, or darkness.
As people turn towards the positive, the light, the attributes of Jesus Christ are present. We will always find light in three areas:
1) The Church is a beacon of light to the world. Thousands of young men and women in Paraguay and Argentina met and learned of the gospel, then returned to their families to share that light with them.
2) The light of the gospel is the path that shineth more and more. Through the light of the gospel families can be healed. And our families must be a source of light to those around us. As we form families with faith, the home becomes like the temple and shines out. More and more families are being sealed to one another for eternity, and joining themselves to their deceased family members.
3) The light of Christ is the manifestation of a loving Father. Everyone who comes into this life is given this light to guide them in choosing the right. Wherever there is human life, there is the light of Christ.
One time there was a fire in an LDS Church. The commander was very concerned about the possibility that sacred relics, such as sacrament cups, might be destroyed. We assured him that there were no sacred relics, and the sacrament cups were very replaceable. Yet he still wished to do more. So they firefighters went through the building and rescued the paintings of Jesus Christ that hung throughout the building.
May we seek the holy light of Christ. Amen.
Choir: Teach me to Walk in the Light of His Love
President Russell M. Nelson – We live in a troubled time.
The Savior warned us that the adversary would stir up anger in the hearts of men. But God did not intend for us to face these trials alone. God sent His only begotten son. Christ gave himself that we might be saved.
How may we draw the power of our Savior into our lives?
The more we know about the Savior's ministry and mission, the more we understand His doctrine and the power He has to save. I challenged the youth to study everything the Savior said in the scriptures. I gave this challenge, having already accepted it myself.
When I finished that exciting exercise, my wife asked what impact it had had upon me. I replied, "I am a different man."
Christ declared, "My Father sent me, that I might be lifted up upon the cross."
The atonement is doctrinally incomplete if we use shortcut phrases, as though the event had living capabilities without our Father and His son. It is the Savior who suffered. It is the Savior who broke the bands of death. It is the Savior who delivers us from physical and spiritual death. There is no amorphous entity called the "atonement" on which we can turn for help. The Savior acted according to God's plan that we might gain help and eternal life.
The power of our Savior is best understood when we connect it directly with Him.
Joseph Smith spoke of Jesus Christ, saying that it was His life and mission that was the core of our Church, that all other things were only appurtenances to it.
As you learn more about Jesus Christ, we are drawn to participate in another key element – choosing to have faith in Him. True disciples of Jesus Christ are willing to speak up. They are devoted to Him.
As I met with leaders of other religions, they thanked me for our members willingness to speak up for strong families. It is mentally rigorous to look to Him in every thought.
I recently learned of a fearless young Laurel. She was asked to participate in a school competition at the same time she had committed to participating in a Church meeting. She was told she would be disqualified from the state-wide competition if she did not remain the entire duration. She chose to keep her commitment to the Relief Society meeting. When asked why, she replied, "Well, the Church is more important, isn't it?"
As faithful disciples, we repent and follow Christ into the waters of baptism. Gratefully, God allows for these ordinances to be provided for ancestors, who died without receiving these blessings.
A mother wrote, "These are troubled times. How blessed we are to have the words of the prophets and apostles to assist us to navigate through life."
Another element in drawing to ourselves the power of Christ is to reach up. Recall the woman who had faith that she would be healed, if only she could touch the hem of the Savior's robe. Many of us have mirrored this woman's faith. We have stretched out in faith towards the Savior, pleading for His power to help us. When the Savior knows we truly want to reach up to Him, to draw His power in our lives, the Holy Ghost will teach us what to do, God's power will flow into us.
The gospel of Jesus Christ is filled with His power, available to every earnestly seeking daughter or son of Heavenly Father.
I declare that God lives. Jesus is the Christ. Thomas S. Monson is God's prophet, who I sustain with all my heart. Amen
Choir: Rejoice, the Lord is King
Closing Prayer: Elder Jorge F. Zeballos
Participants
Presiding – President Thomas S. Monson
Conducting – President Dieter F. Uchtdorf
Choir – Let Zion in Her Beauty Rise
Opening Prayer – Elder Kim B. Clark
Choir – Do What is Right
Talk – Speaker 1 – President Henry B. Eyring
Talk – Speaker 2 – Elder M. Joseph Brough
Talk – Speaker 3 – Elder Weatherford T. Clayton
Rest Hymn – Glory to God on High
Talk – Speaker 4 – Elder Dale G. Renlund
Talk – Speaker 5 – Elder Ulisses Soares
Talk – Speaker 6 – Elder Mark A. Bragg
Choir – Teach Me to Walk in the Light
Talk – Speaker 7 – President Russell M. Nelson
Choir – Rejoice, the Lord is King
Closing Prayer – Elder Jorge F. Zeballos