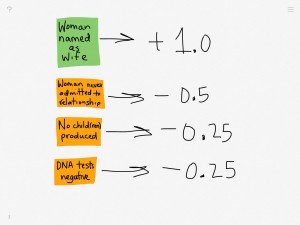 A few weeks ago I proposed that I would be blogging this year about Joseph's plural wives and such matters. Then I got distracted.
I think we  should establish guidelines for the importance we attribute to different women as wives.
For now, we'll accept women where there is documentation or oral tradition either from contemporaries or their descendants. I think this gives us a list of women that includes roughly 40 individuals.
I'd like to start, then, with each such woman having a score of 100% (or 1.0). Then as we consider various factors, that score may be decreased. If there are mitigating factors, a "penalty" may be reduced. Thus, as I go forward to talk about the various women, we can focus on those individuals whose "score" gives us greatest confidence that she is of import. This scoring matter can also give structure to the discussion of each woman.
Here's a proposed structure:
Factor
Mitigation
Score
Named as wife
+ 1.00
 Not accused by contemporary
–  0.50
 No child(ren)
–  0.25
 Used language suggesting sex occurred
+ 0.12
 DNA negative
–  0.25
 DNA inconclusive
–  0.12
Stated marriage was
only "for eternity"
Max 0.25
Credibility of report
– 0.00
Strong support for statement
– 0.00
Motive to lie
– 0.06
Before we get into it, do you have any modifications to this scoring system?
By this scoring system, Emma would score 100%.
What other modifications would you like to see? What do we do for women who were sealed to Joseph after death but there is no evidence they were ever ceremonially linked to Joseph in life? What about women who were sealed to Joseph after death, but only Bennett's accusations link them to Joseph in life?
What other factors come to mind that you'd like to see as a scoring factor across all wives? Do you think there should be different weights to the scores, or different mitigations. For example, what of women where a third party claimed the woman had roomed with Joseph? What of the credibility of the individual claiming such cohabitation. What of alleged statements by discredited third parties?
Part of my purpose here is to make sure that we don't inaccurately pay more attention to any one woman merely because her life was long and she had a tendency to write a lot. I don't want the record overly-distorted by the loudest voices in the room.
While we has out these scoring matters, I'll work on a post that discusses the reproductive history of the women who became plural wives prior to Joseph's death. My purpose here is to present the data others have long had in a manner that allows others to see what I am seeing.