Does it seem to you that the world is more divided now than any recent time?
It certainly seems that way to me. The divisions seem to be popping up in every sphere: politics, culture, religion, in families and even in leisure activities.
For the first time ever, the Oscars involved a physical confrontation in which a presenter made a joke about an actor's wife, and the actor walked onto the stage to slap the presenter.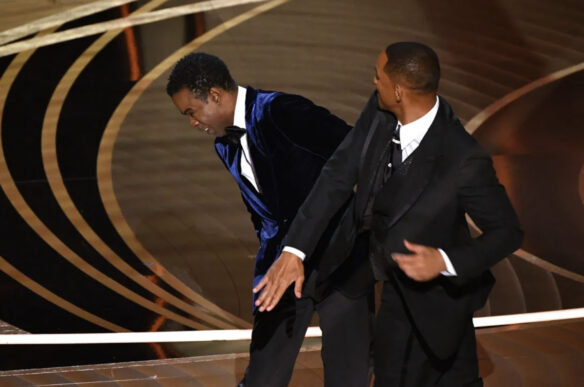 Personally, I found the joke in very poor taste. Making fun of a woman who is losing her hair should definitely be out of bounds, but the point is that this is yet another sign of division and conflict in a world filled with it.
During the pandemic, there was conflict between mask wearers and non-mask wearers and the vaccinated and the unvaccinated. Now we are being told that we as Americans must consider Russia our enemy, and if we don't we are guilty of treason, even if the United States is not at war with Russia. When it comes to cultural issues, it seems like we are supposed to be outraged every day. Biological men take the place of biological women in women's sports events, and if we question this at all we are condemned. If we ask teachers not to discuss sexuality with very young children, we are condemned yet again.
Long-standing boundaries of behavior and social mores are being erased, and yet those who want to maintain even a semblance of the boundaries are somehow the bad people?
My wife and I have noticed we know a half-dozen married people — latter-day Saints married in the temple — who are either divorced or heading towards divorce. In our lives, this seemed to happen all at once — all of a sudden a married couple who seemed happy was suddenly unhappy.
It seems obvious to me that these conflicts are part of Satan's plan to cause division and contention and conflict in the latter days.
President Wilford Woodruff warned in 1896:
"There are two powers on the earth and in the midst of the inhabitants of the earth—the power of God and the power of the devil. In our history we have had some very peculiar experiences. When God has had a people on the earth, it matters not in what age, Lucifer, the son of the morning, and the millions of fallen spirits that were cast out of heaven, have warred against God, against Christ, against the work of God, and against the people of God. And they are not backward in doing it in our day and generation. Whenever the Lord set His hand to perform any work, those powers labored to overthrow it."2
Church doctrine says that it was always so. Satan is about division and the Lord is about unity.
The word "devil" comes from the Greek word "diabolos," which has one meaning of "to divide," "to separate" or "to throw against." Regarding our pre-mortal life, Church Institute instruction puts it this way:
Our Father in Heaven asked, "Whom shall I send [to be the Savior]?" Jesus Christ answered, "Here am I, send me" (Abraham 3:27). He was the Father's "Beloved and Chosen from the beginning" (Moses 4:2) and was always meant to fulfill this role. But Lucifer interrupted and offered himself along with a proposal that would have destroyed the agency of man and exalted Lucifer above the throne of God (see Moses 4:1–4). Heavenly Father responded, "I will send the first" (Abraham 3:27). Lucifer rebelled and became known as Satan.

Division among spirits caused a war in heaven. A third part of God's children turned away from Him and followed Satan (see D&C 29:36–37). These rebellious spirits were denied physical bodies, were cast down to the earth, and continue to make war against the Saints of God (see D&C 76:25–29). The rest of God's children shouted for joy because they could come to earth and because Jesus Christ was chosen to overcome sin and death (see Job 38:7).
Meanwhile, the Savior wants us to be unified and united.
Jesus said in John 17:20-22:
20 Neither pray I for these alone, but for them also which shall believe on me through their word;

21 That they all may be one; as thou, Father, art in me, and I in thee, that they also may be one in us: that the world may believe that thou hast sent me.

22 And the glory which thou gavest me I have given them; that they may be one, even as we are one:
The Lord has said, "If ye are not one ye are not mine" (Doctrine and Covenants 38:27).
The Church Gospel Topic on Unity says:
We can seek and promote this standard of unity in our families and in the Church. If we are married, we and our spouse can be unified in purpose and action. We can allow our unique qualities to complement one another as we face challenges together and grow in love and understanding. We can also be unified with other family members and with members of the Church by serving together, teaching one another, and encouraging one another. We can become one with the President of the Church and other Church leaders as we study their words and follow their counsel.

As the Church grows throughout the world, all Latter-day Saints can be united. Our hearts can be "knit together in unity and in love one towards another" (Mosiah 18:21). We appreciate cultural diversity and individual differences, but we also seek the "unity of the faith" that comes when we follow inspired leaders and remember that we are all children of the same Father (see Ephesians 4:3–6, 11–13).
How do we achieve unity? I firmly believe that daily prayer and scripture study helps, as does attending Church meetings and the temple and of course doing your callings. My wife and I have been doing these things for years now, and we get along better than ever, so on a personal level, these simple steps really do work.
But the very first step must be a recognition that Satan is causing division and contention. As we watch or listen to General Conference this weekend, perhaps it might be worth looking at how often the speakers urge us to be unified and to avoid contention.
And then as we head back into the world next week, when conference is over, we will notice how many forces there are in the world pushing us towards division and conflict. The contrast should be obvious: love, charity and unity brings us closer to the Lord, while the opposite forces will take us in the wrong direction.